THPRD Board election
Most of Cedar Mill is unincorporated, so we need to rely on the Tualatin Hills Park & Recreation District to provide some of the services that cities generally provide to their residents. In addition to sports and recreation facilities, parks and trails, and natural areas, we also rely on them to provide spaces and events that build community, including preservation of historic properties and providing community centers.
While a park district Board election may seem trivial compared to national politics, the result of this election will probably have more impact on your life! In light of that, we asked the nine candidates running for four of the five seats on the THPRD Board of Directors to answer a couple of Cedar Mill-related questions. Seven of the candidates responded.
We hope this article is useful to you when you cast your ballot this month. Ballots are arriving by mail any day now, and are due on May 22.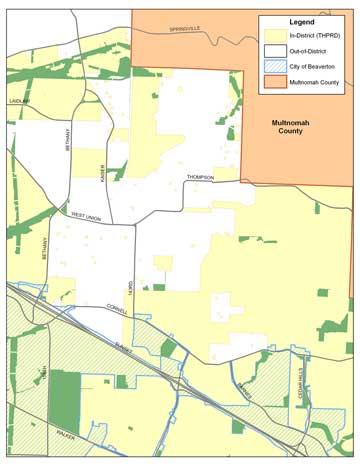 This map is from 2007 but little has changed in terms of out-of-district areas
The first question is "What can be done to increase the number of "in-district" households in the Northeast quadrant? (Cedar Mill, Bethany)."
We asked this because there are many properties in our area, referred to by the District as the Northeast Quadrant, that don't pay taxes to THPRD. The District worked with Washington County in the early 2000s to require all new development within THPRD's ultimate service boundary to annex into the district. Many of our residential areas and a good chunk of the commercial areas were developed prior to that so they are not in the district. In the past, we were told that this was a reason for the lack of parks. This isn't disctrict policy, per se, but it is part of the "matrix" that the District uses to decide how to spend money on new parks.
Position 2 candidates:
Wendy Kroger, "In a word: incentive. Right now, many of the households in the Cedar Mill and Bethany areas are not "in-district" and people who live there are welcome to walk our trails and enjoy our parks pretty much free of charge.
"For some, that may be all they want. However, I've heard from folks in the northeast quadrant who wish for more: a gathering spot, classes and programs nearer to where they live, a place where the area's history can be protected and shared, and a top-notch recreational/aquatics facility closer to home.
"Through the district's upcoming visioning process, I hope to hear ideas about and support for such a comprehensive gathering spot. "In-district" fees vs. "out-of-district" fees should be structured in such a way as to make it a "no-brainer:" people would want to be "in-district" so they could participate much more economically in the offerings of such a community anchor. Voluntary annexation is available now and would be even more worthwhile with the advent of such a high-quality comprehensive facility."
Amber D. Wilson-Valdivia, no response.
Position 3 candidates:
Ashley Hartmeier-Prigg, "Informing households that they can opt in and become in-district through direct mail and posting clear information on the THPRD website is a start. While informing these households of this option to become an in-district home, we can share with them great benefits of what it means to be in-district; including lower rates and earlier registration.
"We can also communicate that being in-district in THPRD means that you are helping invest in our community through green space and natural areas that are an important part of a healthy community. These spaces positively benefit mental and physical health of the people who live near and use these spaces. By supporting the district in this way, it enables more investment in things like regional trails that help lessen our reliance on cars."
Bill Kanable, "I would be in favor of incentives that allow homeowners voluntary property annexation into the district. The only incentive I could see that would work is a staggered tax percent exemption of assessed value over the course of several years (4-5). I don't know of any laws that would prevent this and it would need to be reviewed and approved by the full THPRD Board."
Position 4 candidates
Heidi Edwards, "When serving on the THPRD Board, I will commit to engaging with our Cedar Mill and Bethany residents to discuss opportunities and reasons by which Northeast quadrant households would benefit from annexing into THPRD. A multi-pronged approach to this engagement may require focus groups and open houses to engage community residents, leading to a promotion that engages households to "opt-in." Beyond that, I believe it would be beneficial for THPRD to complete an analysis and shared report of the cost vs. benefits of in-district participation. This would benefit the district when addressing similar questions throughout all of unincorporated and "opt out" communities."
John Griffiths, "An irregularity exists relative to THPRD parks and trails and their supporting taxes north of Highway 26. Developments built prior to 2004 were not required by Washington County to annex into THPRD and pay THPRD property taxes, but developments since then have been. As a result, today only about 70% of the urban area north of Highway 26 is "in-District".
"I spoke with a woman in the 30% at the CPO 7 candidate forum. She is out-of-District but her family routinely uses nearby THPRD parks and trails. She doesn't mind paying THPRD's out-of-District fee when her family signs up for a class or program because of the property tax she avoids. So, she asked me what could incent her to annex into THPRD? I asked if she would annex in exchange for THPRD putting an indoor recreation & aquatic center north of Highway 26 (a multi-million dollar proposition) and she gave me a "thumbs up."
"This illustrates a way forward. THPRD could make significant investments (at last partly supported by a bond measure) in or near out-of-District areas as an incentive, but a positive annexation vote by the residents would be necessary for the sake of equity. Another possibility could involve phasing in property taxes. Under Oregon law cities can phase in property taxes on newly annexed areas over 10 years, but special districts cannot. If this law were changed then there could be another incentive. In the meantime, the District periodically offers voluntary annexation programs where it pays the fees Washington County assesses when a homeowner annexes on their own. Scores of homeowners have thus far voluntarily annexed into the District."
Mahesh Udata, no response.
Position 5 candidates
Bhaskar Aluru, "I am very much interested in increase the number of in-district households in Northeast quadrant, I live in the unincorporated Washington County. I get asked this question all the time. First we need to increase the awareness to the citizens about how to become in-district, by paying some fee to the THPRD to become in-district."
Ali Kavianian, "Of course, as a board member and an "in-district" household I see the great things THPRD does and want more families to be "in-district." When it comes to Cedar Mill, Bethany areas, it is vital to visit what this community significantly lacks: a Rec/Aquatic center north of Highway 26. During my term on the board we have recognized this deficiency and have made it a serious priority in our Comprehensive Plan. I am dedicated to following the Comprehensive Plan and moving the ball forward on this topic. Our investments in the District north of 26 will allow for greater gathering places for everyone with more localized, accessible offerings for those that call Cedar Mill and Bethany area "home." Once completed, we anticipate voluntary annexations to increase as individuals and families will desire wanting to be part of a great district.
"It should be noted that, voluntary annexation is available during certain times, and THPRD covers the annexation process costs for those looking to annex in using that district's process."
Tya Ping, "THPRD needs to incentivize households that live "out-of-district" but within the service area to annex themselves into the district. Currently classes are slightly more expensive for out-of-district participant but not high enough to encourage joining the district. For many out-of-district patrons it is still cheaper to pay the extra out-of-district cost per class than it is to pay into property taxes and in-district class fees. THPRD should consider a per term registration initiation fee to help recoup the cost they are missing from all out-of-district participants. Only when the cost to benefit ratio favors being in-district will we see an increase of in-district households."
The second question is also related to the needs of the urban unincorporated areas. "If you are elected, will you work to increase support for cultural, historical, and community programs and offerings for the residents of Urban Unincorporated Washington County? If so, what are some programs you would support?
Position 2
Wendy Kroger, "In a word, yes. If a community doesn't recognize its cultural roots and historical past, it cannot be a complete community. Tasking our schools to teach us history is not enough. It's incumbent upon all of us to understand and share our own roots and stories with each other – especially in a community such as ours: we have come here from so many different places and cultures. Recognition of all who have called this place home is part of a complete community.
"Signage is one way to connect. THPRD has asked its Parks and Facilities Advisory Committee to research and design signs for some of our more historic parks and places: the Fanno Farm House, and Barsotti Park, for example. These will be ready for public view in the near future. We will learn from their experience and add more signs to more locations. Eventually, I hope a website will offer more in-depth information connected to the signs.
"The Parks and Facilities Advisory Committee has also been asked to research and recommend standards and criteria to assist the district when it becomes the owner of potential historic properties.
"Cultural, historical and community programs and offerings by their nature require a facility in which to gather, teach and share. It would also be helpful to connect with and support the various smaller historical societies and museums. I hope that as part of the upcoming district visioning process, we will find that our community as a whole understands the need for, and is willing to support, another recreational/classroom facility to serve the areas of eastern Washington County and north of Highway 26."
Amber D. Wilson-Valdivia, no response.
Position 3
Ashley Hartmeier-Prigg, "THPRD is the only elected body for unincorporated Washington County that is devoted to creating community. I believe it is critical to support our cultural, historical and community programming as these programs help our community engage and be informed about the heritage of our area.
"I think it would be really interesting for the district to include information about the native people who lived in this area as part of the information that the district shares at the Nature Park. In addition to what is happening in the ecosystem, information about the Atfalati people and how they lived and interacted with nature would be a great way to combine history and nature. I would like to see the district look for more historical and heritage programming opportunities and would support this if I am elected to the board."
Bill Kanable, "I support providing a path for working with Washington County and State of Oregon Historical groups to make sure the history in our area is not lost to time.
"I support working on cultural inclusion and draw lessons from City of Beaverton work on this matter. I see this as a critical part of the visionary process taking place for THPRD service area residents.
"I support working with Beaverton School District developing community programs as outreach beyond THPRD normal center locations. This will require BSD to step up to the table also but we all need to make sure our outreach moves past the limits our current infrastructure and maximizes the resources available to make this happen."
Position 4 candidates
Heidi Edwards, "Yes, I would like to increase support for cultural, historical and community programs for residents of urban unincorporated Washington County that reside within THPRD boundaries. THPRD serves a large, significant number of residents in urban unincorporated Washington County. Having lived in, and currently working in, unincorporated Washington County, I have a sincere interest in this work and want to serve our entire THPRD community.
"I would want to start by meeting with local residents and host forums and surveys to engage in conversations about what community members envision. From there we potentially could identify opportunities to engage with local businesses, schools, and cultural organizations such as the Washington County Museum, to host and develop programming. This might take shape in the form of cultural and historical events, park movie nights and concerts, or other events of interest. I believe engagement with community members to hear what they envision would be one of the first steps and I am open to exploring this when serving on the THPRD Board."
John Griffiths, "I support increasing THPRD's cultural, historical, and community programs within urban unincorporated Washington County. Such programs help us tell our larger stories to each other and further community-building in our growing and increasingly diverse District. I would like to see programing that starts with the story of the Native American tribes in the area followed by the stories of those who have immigrated into our area since. This would include tracing the social, economic, cultural, religious, and other aspects of these communities. This should be considered in the District's upcoming Community Visioning process, for which the District is currently seeking community volunteers to form a Visioning Task Force.
"One question is where to host such programs in urban unincorporated Washington County. One of a few approaches could be to fire up the fundraising to restore the John Quincy Adams Young House in Cedar Mill. Built in 1869, this historic house was purchased by THPRD in 2005 at the request of local residents. Following restoration, this house and its grounds could be an appropriate site for some of this programming. Larger programs, pending the construction of appropriate THPRD facilities in the unincorporated areas, could be offered in existing THPRD recreation centers. In the meantime, programming material could be developed or enhanced by increasing ties between THPRD and the various historical societies, museums, and cultural organizations in Washington County."
Mahesh Udata, no response.
Position 5 candidates
Bhaskar Aluru, "Yes I will increase the support for the cultural, historical and community programs and Urban Unincorporated Washington County, I would like to study how it is done under current policy, and convince other board of directors to do the same.
"Cultural : would like to see increase cultural programs in the THPRD & include all the neglected Unincorporated Washington County, by including multi cultural programs.
"Historical: invest in bring the local history to life by involving local communities & THPRD Awareness programs.
"My next big initiative will be be building new facility in Unincorporated Washington County."
Ali Kavianian, "The fact that someone is in Unincorporated Washington County (like our current home) or not, will not change my approach to how we work to provide quality programs which provide education, preservation, and a better bond with our communities. I find that one of the greatest values that I bring to the table is listening and understanding what those around me want. This applies to my family in my personal life, my clients in my professional life, and in the last 10-plus years of community involvement and leadership, I have applied these skills to better understand the needs and wants of our vast community.
"There are significant opportunities that we can bring to our district as a whole through cultural and historical programs. I will favor working with our amazing volunteers on our advisory committees to seek out what will be best suited for the needs of the different communities that we serve and will work to bring those to our residents. We are also starting our Visioning process for THPRD. This process will guide our decisions for THPRD's future and I am dedicated to making sure our residents' voices are heard so that we can keep THPRD on the right track!"
Tya Ping, "As a resident who grew in unincorporated Washington County (raised in Bethany and now live in Cedar Mill) this is something that I support. I believe we need more events that bring the community together to allow a place to connect with other neighbors. As Washington County is known for its diverse communities I would love to see more events that showcase the beauty of all the different cultures that make up Washington County. A cultural fair or food fair would be an enjoyable event where everyone can celebrate, connect, and learn about other cultures. It is when we celebrate and value our differences that we will help create a close knit community."