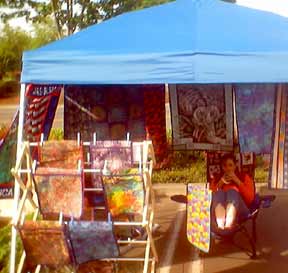 Fabrics from Provence will be at the market again this year
Cedar Mill Farmers' Market
After struggling for two years to run the non-profit Cedar Mill Farmers' Market after the founding volunteers moved on to other projects, Dina Gross was looking for some help. Though she had the dedicated assistance of her entire family as well as longtime volunteers and supporters like Ursula Davis and Bruce Bartlett, it was still just too much work. Dina had seen how the Lake Oswego market was sponsored by their community park district, and thought that was a good model.
After a lukewarm reception from the Board of Directors of the Tualatin Hills Park & Recreation District (THPRD), she felt discouraged. But then THPRD General Manager Ron Willoughby called her and said he liked her idea. So this spring THPRD hired Dina to run the market and took over its finances. They will help with publicity and logistics.
The market opened May 28 and will continue every Saturday morning until September 24, from 8 am – 1 pm. Located in the parking lot on the north side of Cornell adjacent to the Cedar Mill Safeway, the market features fresh produce including berries, cherries, and peaches from area farmers, bread and baked goods plus Tazza Café's slow-grilled sausages, hotdogs, and weekly grilled chef specialties for snacks and lunches. French linens, nursery plants, garden art, rain barrels, recycled wood benches and planters, hand-crafted jewelry and more add a dimension to the market which is missing at most others in the area.
Entertainment and children's activities round out a morning of fun and shopping for everyone. The market is always looking for volunteers too. It's a fun place for high-schoolers and scouts to help out in the community. To get involved or for any market-related questions, contact Dina Gross, 503-617-1719.