History in the News


Transportation in early Cedar Mill


Excerpted from her memoir of early days in Cedar Mill. Her grandfather, Samuel Walters, was the first pioneer to settle in the area.

Far removed from the automobile and airplane age was the transportation of our forefathers in the Cedar Mill area. As my grandfather had come to Cedar Mill to settle after hardships of crossing the plains by wagon train, so came other settlers to the area. As the courageous and weary travelers came, they eked out wagon trails to suffice for necessary travel for many years to come. Roads such as Leahy and McDaniel were only wagon lanes with numerous gates dividing the lands of pioneers.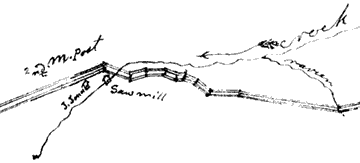 The 1868 survey for the "Road through Cornell Gap" includes this sketch of the mill vicinity
Sam Walters related witnessing as a small child a runaway team of oxen (oxen were used at the Cedar Mill for logging and hauling lumber) breaking down his father's gate before they were stopped. His father ordered him to stay at a safe distance while he attempted to shock the animals into stopping by hitting them full force across the faces with a long pole as they neared the gate. He succeeded in stopping them by this forceful act and quick thinking.
Families from as far as Vernonia and Banks would travel to Portland over these trails habitually stopping at the home of my grandparents or their neighbors. Their horses and wagons would be put up for the night and the families would be given food and shelter. The following morning their trip would continue to Portland for provisions. By evening they would return for a second night at their haven of the previous night prior to continuing their homeward journey.
Barnes Road was in existence prior to Cornell Road. It was over this that lumber from the Cedar Mill was hauled to markets. Again referring to Uncle Sam, he told of walking, as a young boy, to Mt. Calvary Cemetery to catch a streetcar to downtown Portland and many times walking the entire distance to and from Portland. He would then catch a trolley car to Council Crest which was for many years a favorite amusement park and picnic area.
The first survey for Cornell Road was made February 18, 1868 to provide a road through Cornell Gap. The survey started at Balch Creek near the Multnomah County line and proceeded west by a circuitous route to the present junction of Cornell and McDaniel Roads [now called 119th].
A second survey in 1892 was instigated by Young's mill to bring more timber to the mill and to provide better access for lumber products to Portland markets. Final survey, prior to building the road, was made in 1901 to avoid so much damage to property owners.
Cornell Road first became a corduroy road. It was common as wagons traveled to cut trees to fill ruts. Later a concentrated effort was made by homeowners to haul rails to build a corduroy road.
[From Wikipedia: A Corduroy road or log road is a type of road made by placing sand-covered logs perpendicular to the direction of the road over a low or swampy area. The result is an improvement over impassable mud or dirt roads, yet is a bumpy ride in the best of conditions and a hazard to horses due to loose logs that can roll and shift.]