Planning moves ahead for new K-5 school on McDaniel
Following the passage of Beaverton School District's capital construction bond measure in November 2006, plans are moving forward for two new elementary schools in the fast-growing north end of the District. Additional classrooms are also being planned for Sunset High School.
The yet-to-be-named school will be located on McDaniel Road just east of where it intersects 119th. Groundbreaking is anticipated for this summer with the projected opening set for September 2008. The attendance boundaries have not been finalized, according to Maureen Wheeler, district spokesperson.
"Later this spring, the community will be invited to nominate names for the new school," says Wheeler. "Sally Bunnell, resident historian and former BSD school board member, does a great job researching the history of the area. She will submit a report to the School Board along with community nominations. The School Board ultimately makes the decision on the school name."
The school will be constructed of masonry and will be two stories high. Play areas and an outdoor amphitheatre are proposed for the site.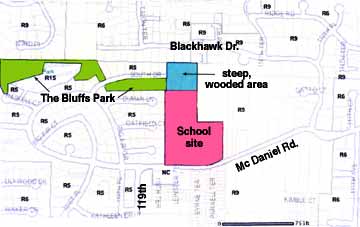 A group of local residents has been advocating for the two-acre parcel at the north end of the school property to be acquired by Tualatin Hills Park & Recreation District (THPRD) and added to The Bluffs Park. The property is considered too steep for school use. Developer Don Morissette has an option on the property if the school district decides to put it on the market.
The district paid a total of $4.2 million for the 10-acre property. The landowner refused to sell without including the two-acre slope. The "remnant" is close to the stub of 117th that runs south from Blackhawk. Residents north of the school are hoping that an easement can be included that will allow Bonny Slope and Ironwood children to walk to the nearby school.
THPRD General Manager Doug Menke says the district is interested in the property, and that purchase isn't out of the question but the district is exploring all its options.
One option suggested by a local resident is to sell a portion of the small piece of The Bluffs Park on South Road, currently undeveloped, to pay for the new piece. This would open access for residents of The Bluffs as well as Ironwood and Bonny Slope to the school property without having to walk along busy McDaniel.
Allowing more children to walk to school would be a great outcome both for the sake of their health and to cut vehicle use. We hope all the parties can come together and find a solution.