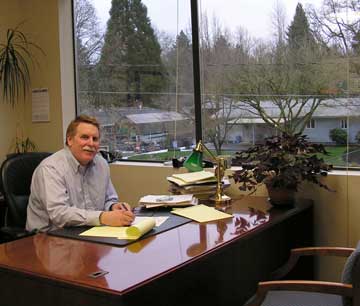 Dean Shade enjoys the view of Terra Linda from his office
Featured Business


Dean Shade Law


Many people think of Cedar Mill as a small town. And Dean Shade is our community lawyer. He handles primarily Family Law and Estate Planning from his office on Cornell opposite Sunset High, and he and his family have lived in Terra Linda since 1989.

He didn't start out to be a lawyer at all. He grew up in Oxnard, California and helped his dad in the family junkyard, driving tow trucks and using wrenches to take stuff apart. After graduating from UC Berkeley in 1974 with a degree in Business Administration, he did a U-turn and went to work on offshore oil rigs, doing "wire line work" that involved putting electrical and perforating tools into the bore holes.

He later worked in the Alaska fishing industry. He fished for halibut and salmon, and captained a tender, the Georgia Straits, collecting salmon from his set-net fishermen and transporting them across Cook inlet to the processing plant at the Kenai River. He became interested in environmental issues, and came to Lewis & Clark in 1977 to study Environmental Law. He wasn't sure he wanted to be a lawyer, but he figured it would be a great education.

After getting his law degree in 1980, he went back to Alaska for one more summer of fishing, and then returned to Portland, passed the bar exam, and began practicing. From the beginning he has maintained his own practice, at first sharing office space with other lawyers in a couple of east side locations and living on Sauvie Island.

He married his wife Sue in 1989. She grew up on Bonny Slope and loved the area, so they bought a house in Terra Linda. All their three children attended local schools. His youngest daughter Emily is now a junior at Sunset. Molly is a freshman at Pacific Lutheran College in Tacoma, and son Billy works for the Beaverton School District, as does Sue, a specialist who works on resource conservation.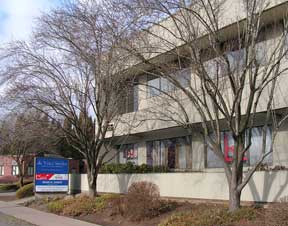 In 1999 he moved his office to its present location on the second floor at 31765 NE Cornell Road, which includes a reception area and a conference room. He shares the space with Tom Ormiston, owner of Viking Foils, Inc., who designs blades and other tools for the paper industry and markets them globally. Dean's assistant, Dorie Fimon, has worked with him since he moved his office to Cedar Mill.
Dean's practice is centered on some of the issues that most of us face at one time or another—families changing their form and family members working to provide for their descendants and others. To his clients he is a "user-friendly guide into the legal world," often providing advice as simple as whether a client really has a problem warranting a lawyer's assistance. If the client's needs are in an area outside his expertise, he refers them to a colleague. In many cases he can provide information that can help clients solve their own problems.
He believes in avoiding litigation whenever possible. He has a quote from Abraham Lincoln on his wall—On the Practice of Law—that includes the lines, "Discourage litigation. Persuade your neighbors to compromise whenever you can. Point out to them how the nominal winner is often a real loser—in the fees, expenses and waste of time. As a peacemaker, the lawyer has a superior opportunity of being a good man. There will still be business enough."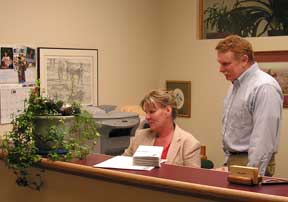 Shade's assistant Dorie Fimon has been with him ten years
This is especially true in the practice of family law. Shade says, "Bringing resolution to a problem, or calm to a chaotic family situation is rewarding. Often I can alleviate fears and stress. My job can also be frustrating, as when a client would rather be the righteous victim, even if that isn't helpful. If my family law client doesn't understand that the kids come first, I'm not the right lawyer for them."
In Washington County, families with children who are seeking a divorce must take a four-session parenting class and if they can't resolve their parenting issues, they must work with a county mediator. If they still can't come to an agreement, the court may order a family study so that an evaluator can make recommendations.
He notes that about half of all children in the U.S. don't live in what we once thought a "typical" family unit, with both biological parents who are married.
He says that since September all his clients have some kind of story relating to the bleak economic environment. He has probate estates that can't be settled because houses aren't selling. And when it comes to dividing up the assets in a marriage, in these tough economic times an asset divided can become a liability. He's been working with one couple that own a business together. They have been unable to sell it, and they realize that they will have to find a way to work together despite their divorce, or lose the business—they can't afford to fight.
Shade recommends that anyone with children at least needs a will that addresses guardianship and conservatorship issues and an Advance Directive. He offers a basic package for around $500 that suffices for most of his clients. This includes an introduction into disability and death issues and drafting appropriate planning documents. When trusts are added to the mix for estates without anticipated estate tax consequences, cost is generally about $1000. For estates requiring inheritance tax planning or other, more complex issues, the cost will be more.
The threshold for paying federal estate taxes has risen so much that fewer than 1% of the estates for people dying this year will pay, and if not soon amended the law will (temporarily) eliminate these taxes. Shade says that the future is uncertain and nobody really knows what will happen. More estates still face the prospect of the Oregon inheritance tax.
Shade used to belong to the Cedar Mill Business Association (CMBA) when it was more of a "social club" and he lost interest. He rejoined a few years ago and is glad that the organization is more active. He appreciates the group's activities that show pride in the local community, such as the landscaping work and the work with the schools. He wants to see it continue to meet both business and community needs.
He has been the Secretary of the CMBA since 2007 and began his tenure by simplifying and updating the CMBA bylaws. He has written up a new contract for the Administrator position, and is advocating for a more businesslike organization with an annual budget and better reporting.
"I'm not a networking, advertising kind of guy," he says. "But now when I walk into the meeting, it's a room full of friends. I'm not sure if I'm making any extra money from my CMBA involvement, but there's definitely a personal benefit in getting to know the people involved with other local businesses."
Shade is an outdoorsman whose hobbies include fishing, elk hunting, and camping. He enjoys watching his kids' sports. He reads the news, and rarely misses a crossword or sudoku puzzle. He is also active at St Andrew Lutheran Church.
Dean invites you to contact him with legal questions by calling his office at 503-644-5539. His office is located at 13765 NW Cornell, and his email address is dshadelaw@earthlink.net