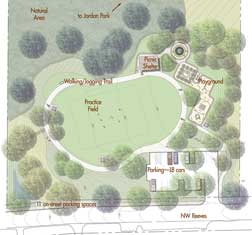 Husen Park site plan - click to enlarge
The siteplan for Husen Park improvements was presented to the THPRD Board of Directors at their February 2nd meeting, along with comments from staff and the community
Jackie Husen Park improvements slated for winter '09
Plans for the visitor facilities at Jackie Husen Park on NW Reeves were unveiled at a January 7 Open House at the Cedar Mill Library. René Brucker, Planner for Tualatin Hills Park & Recreation District (THPRD) told an audience of approximately 20 people that improvements will be funded from the Metro Local Share Project which stems from the passage of the 2006 Natural Areas Bond Measure 26-80. Construction is planned to begin this summer with completion by the end of 2009.
The combined Jordan/Husen Master Plan was approved by the THPRD Board of Directors in 2003. Since that time, another parcel has been added to Husen Park prompting revisions to the master plan. In addition, THPRD studies have indicated a shortage of athletic fields in this quadrant of the District, and the updated Trails Master Plan indicates the Cedar Mill Creek trail that will traverse Husen Park.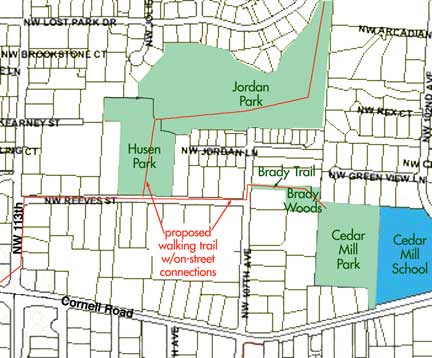 The Master Plan for Jordan Park called for a community trail stretching from Husen Park up through Jordan Park and into the neighborhood to the northeast. The original plan calls for an ADA-accessible trail that would be very expensive to build and that would disrupt a major portion of the natural area that surrounds Cedar Mill Creek. This aspect of the trail may be revised before development of Jordan Park, slated for sometime later this year or next.
Brucker introduced members of the design team from 2.ink Studio, who are designing the Husen Park improvements. They described how the design team tried to balance the various needs of the district with the natural features of the park. One option focused on providing a regulation soccer field. This option would have required a great deal of grading and a larger parking lot than was desired. Another option was to design the park for strictly "passive recreation" such as picnics and walking.
A compromise solution became the preferred alternative. The design includes a smaller practice soccer field located in the center of the park with an overall 2% slope. An on-site18-car parking area will be located at the southeast corner of the park. Scheduling of the practice field will be handled through THPRD's Recreation Department.
Also included in the concept plan is a small picnic shelter and a playground that will serve the neighborhood, and a one-tenth mile walking/jogging trail surrounding the field.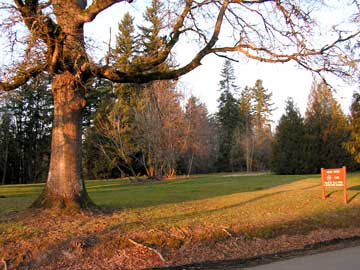 This large oak is among the trees that will be preserved
The central practice field will be irrigated and mowed, as will a grassy area around the playground. Surrounding areas will be a mixture of low-maintenance native grasses, shrubs and trees to complement the existing natural areas. Many of the large old trees, including the largest oak and cedar will be preserved. A few trees will have to be cut to provide access to the parking area.
Attendees at the meeting included several local residents, most of who were concerned that improvements would bring increased traffic, disruption to the narrow street, and increased hazard to pedestrians. Washington County is requiring a half-street improvement as part of the development which will provide 11 on-street parking spaces along the park frontage.
These and other comments will be included in a memo to be presented to the THPRD Board at their regular meeting on February 2. Interested residents are invited to attend, or to write to the Board with their comments. See the THPRD website for more information at thprd.org
Meeting attendees made several suggestions including adding an electrical outlet in the picnic shelter, perhaps locked with a key available when a reservation is made. They also asked to have a barbecue grill nearby. A drinking fountain is planned near the picnic shelter that includes a dog drinking bowl and jug-filling spigot.
There were no plans for a restroom facility, although an enclosure for a portable toilet is being considered. Someone pointed out that it would be important to provide restroom facilities if this is to be a connection in a longer planned Cedar Mill Creek trail that will eventually stretch from Barnes Road, through the JQA Young park property, and then across 113th to Husen/Jordan using street connections.
East on Reeves Street from Husen Park is the planned Brady Trail that will lead into Cedar Mill Park and provide access to Cedar Mill School. Once all of these improvements are in place, Cedar Mill will have many more options for people who want to walk and bike through our neighborhoods.