Local author's story included in new book
Knowing Pains is a book by and about women in their 40s that was published in October 2008. The publisher says: "Have you ever wondered how other women survived their 40s? You'll get an earful in Knowing Pains, an honest, humorous, thoughtful and diverse collection of essays by real women who aren't afraid to tell their age and tell it like it is."
We interviewed local author Kym Miller, who was asked to contribute an essay.
Describe the book for us – who is it for, what need is it filling?
The editor of Knowing Pains, Molly Rosen, was turning 40 and wanted to read a book about what experiences she might be facing in that decade. Surprisingly there was nothing out there. So she issued a request for submissions from women all over the country and then pared them down to 32 essays. These were all written by women in their forties who wanted to share their insights on sex, marriage, divorce, passion, obsession, etc. But the most amazing thing about the project is that 100% of the net proceeds are donated to breast cancer education, research and access to care.
How did you get involved in writing a chapter for this book?
My good friend Debbie Bonzell knows the editor, who asked her if she knew a writer who could do a piece on being happily married. It's funny because the piece turned out to be about a really frustrating time in our marriage, but ultimately it's about how we turned that around. I was so excited when I heard several weeks later that my essay, "My Ambassador of Fun," had been chosen.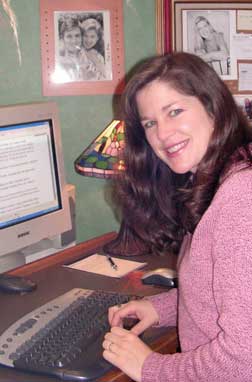 How long have you been a writer? What are some other projects that you have done?
Truthfully, I have always been a writer. My mother would fish crumpled up papers out of the wastepaper basket in my room and say, "Hey you never showed me this. I like it!" So really she was my first reader. But it wasn't until after law school and a brief stint practicing law that I realized I wanted to pursue writing as my career. That was about ten years ago and since then I have written a play about local poet Hazel Hall, several manuscripts which are yet to be published (I'm keeping my fingers crossed!), poems, articles and essays. [while raising three daughters]
Did you study writing in school, or take it up later?
During my last year of majoring in Political Science I realized I needed more credits to graduate so I begged a professor to let me into his creative writing class three weeks after the term had already started! He told me if I could write something worth reading he would consider it. I stayed up late that night and wrote a pretty horrible story on pig farming (of which I knew nothing!) but when he read it he found several sentences that for some reason impressed him and I was in. I owe a lot to that teacher because he gave me a break and then his class helped me further develop my skills.
Have you participated in any writing workshops or other supportive programs?
Oddly enough I find that in the writing workshops I give at local schools or at the Oregon Writing Festival I learn just as much from the kids as they do from me. One fourth grade boy who read us his poem about skateboarding told me that he thinks everyone should write about something they know about. Which, of course, reminded me not to write anything else on pig farming!
How long have you lived in the Cedar Mill area? What do you like about it? Where did you live previously?
Nine years ago we moved from a very cookie-cutter neighborhood into a particularly magical house in Bonny Slope. The local blueberry field, little park, amazing Montessori school, and friendly people are just a few of the reasons we love our neighborhood. As a writer, I am continually using the Cedar Mill Library and find it to be a great place to do research and find wonderful books. I often walk there from our home—which seems like a great idea until I have to tackle the hill on the way back up.
Do you know other local writers?
Being involved with Knowing Pains has introduced me to Ana Ammann and Natalie Serber, two Portland writers who also have essays in the book and who are wonderful sources of inspiration and laughs.
Any projects that you're currently working on that you'd like to tell us about?
Right now I am working on two projects: a novel based in the Cedar Mill area around the early 1900's, and a book proposal about our family's year without buying.
This fall I will be teaching a writing class through THPRD and would love anyone who has a story in him or her—but doesn't know where to begin—to come check it out.
Knowing Pains is available from the publishers website, knowingpains.com, and from Amazon and select local bookstores, such as In Other Words.