Eyesore on 113th should be cleared soon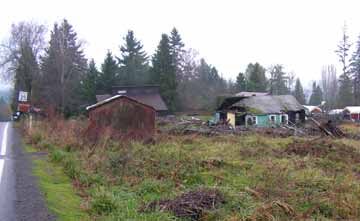 The abandoned and partially demolished structure on 113th just south of Harmony Lane should be cleaned up soon, according to Washington County Code Enforcement Officer Marshall Decker.
We reported on the property over a year ago, after the county declared the property abandoned and requested that the owners, Celino Properties LLC, clean up the mess.
A citation was issued after this failed to happen. According to Decker, the owner of the property, Anacleto Celino, is quite elderly and his daughter is operating on behalf of the company. "She seemed very surprised that the situation had gotten so far out of hand. She apologized and said that she would take the building down," Decker said.
A previous attempt this winter to take down the structure and begin clearing the land was stopped by Clean Water Services because the owners had no grading permit and no erosion control in place. It is expected that this problem will be overcome and demolition will proceed. No new information about the planned development for the property is available at this time. A trial date for the abandonment citation was set for April, but if the problem has been taken care of by that time, it will probably be dismissed.