Highway 217 Improvements
The Oregon Department of Transportation is in the final design phase of a $34 million highway modernization project on OR 217 from TV Highway to U.S. 26 (Sunset Highway). Construction is slated to begin on this project in summer 2007 and will include the following elements:
Adding a third northbound lane on OR 217 from the TV Highway on-ramp to Sunset Highway
Building retaining walls along OR 217
Improving drainage on the highway
Paving and striping the project area and all the OR 217/U.S. 26 interchange ramps
Lengthening the Wilshire Street overpass to accommodate the wider highway
Improving visibility and safety on the Wilshire Street off-ramp in the OR 217/U.S. 26 interchange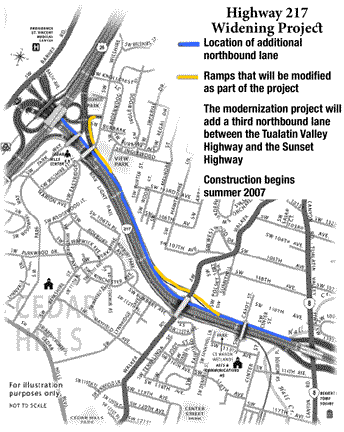 Once complete, motorists will have three northbound through lanes between TV Highway and the Sunset Highway. This will help eliminate the weaving that occurs between TV Highway and Walker Road as motorists are simultaneously entering and exiting the highway. In addition, sight distance and safety will be improved when traveling between OR 217 northbound and U.S. 26 eastbound.
Schedule
The project is scheduled to begin construction in summer 2007. Due to the complexity of the work, this will be a multiyear project with completion slated for September 2009.
Traffic Impacts
The high traffic volumes on OR 217 require that all lanes be open without restrictions during daytime hours. Closing the lanes during the day would create backups and serious safety concerns. As a result, much of the work will take place during nighttime hours when traffic volumes are lower. Motorists will experience single and double lane closures on the highway during the overnight work hours. As much as possible, daytime work will take place outside the travel lanes behind barriers.