Annexation update
The topic of annexation continues to be in the news. This is always of interest to us here in Cedar Mill, since most of the community is unincorporated Washington County, and we've been told that we're in the long-term sights of Beaverton.
Annexation reform bills
Three bills are currently in front of the House Committee on Agriculture & Natural Resources (because there is no Land Use Committee in this year's legislature). House Bill (HB) 2050, HB 2638 and HB 2760 all have similar aims—to restrict "island annexation." These bills all aim to curtail "cherry-stemming" where a city annexes only a roadway (thus eliminating protests of pesky residents) and then later claims that the roadway encircles a desirable piece of property.
This type of annexation occurs under ORS 222.750 when a city annexes land that is at least partially surrounded by city property. Island annexation under current Oregon law can be carried out without the vote of affected citizens—those in the city and those facing annexation. It is the method that Beaverton used to incorporate the controversial Peterkort property that WalMart had their eye on. If any of these bills were to pass, roadways would not count for purposes of island creation.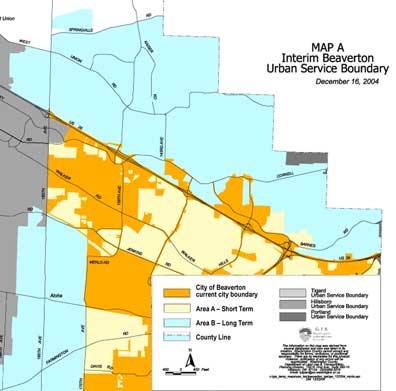 From a map that is part of the 2004 Urban Planning Area Agreement between Washington County and area cities that was adopted in 2004. Note the numerous road (right-of-way) annexations.
Two of these bills also restrict the use of bodies of water for creating islands but in different ways. HB 2638 excludes anything but an ocean; and 2760 eliminates shallow and intermittent streams. Here in Cedar Mill we're awash with little streams so it is pretty relevant to us. (Many of the streams that used to be intermittent now run all year because they are fed by yard runoff from all the new subdivisions.) 2050 doesn't change the water references in 222.750, which includes "ocean shore or a stream, bay, lake or other body of water."
2760 and 2050 both also contain language phasing in the additional taxation caused by annexation, but it's felt that this would violate the state's "equal treatment" requirements so whichever bill emerges from the committee probably will not include this type of provision.
Washington County commissioners have been opposed in general to "cherry stem" annexation so it is expected that they will support this move.
Oregon Communities for a Voice in Annexation (OCVA–see ocva.org) is recommending support for HB 2760, which is co-sponsored by both our State Representative Mitch Greenlick and State Senator Brad Avakian. The hearing is occurring on March 6.
Beaverton plans
In the January issue of The News, we reported on a move by the Beaverton planning department to alter the way the city applied zoning designations to recently annexed properties. The changes were approved by the City Council, but appealed by Save Cedar Mill. Although the appeal was scheduled to be heard at the February 12 meeting, the discussion was tabled and later the proposed changes were withdrawn by city staff.
The city's spokesman, Joe Grillo, says that the issue was moot because the city had caught up to the backlog of annexed property by applying city zoning to the new areas. However, the retraction may be part of a renewed examination of the Urban Planning Area Agreement between Washington County and Beaverton which lays out who will be responsible for providing services in the long term to areas within the Urban Growth Boundary.
During a two-day retreat last month, County commissioners spent several hours discussing the provision of urban services to the unincorporated areas, and while no conclusions were reached, it may be that the once-certain fate of our area—inevitable annexation into Beaverton—is still in question.