Cedar Mill Business Association Member News

Village Gallery News & Events
Celebrate the Arts: The Village Gallery will be participating in Jacob Wismer elementary school's "Celebrate the Arts" night on 3/15 from 6-8 pm. Village Gallery artist members will be demonstrating a variety of media including watercolor, acrylic, mixed media, progressive monotypes, collage on canvas, colored pencils, kid's drawing, quilling and jewelry making. Jacob Wismer is located at 5477 NW Skycrest Parkway.
Annual Meeting & Party: Gallery members and visitors will learn about the gallery's goals for 2007, meet the 2007 officers, enjoy snacks and a demonstration by a mystery artist. Wednesday, 3/21 @ 6 pm at the Village Gallery.
Artist of the Month: The Featured Artist for March is Estera Nanassy, oil paintings.
Show of the Month: The theme for March is Textures. This is one of two juried shows scheduled for 2007 and prizes are awarded. Stop by and view the winners!
The Village Gallery of Arts is a non-profit cooperative teaching gallery for arts and crafts. 12505 NW Cornell Road. Next to the Cedar Mill Community Library. 503-644-8001.
Arts Patrons wanted
The Village Gallery of Arts is inviting local businesses and neighbors to join the Village Gallery as a Patron of the Arts to bring stability to this unique art and gallery resource. The gallery is a non-profit cooperative teaching gallery for arts and crafts operating in the Cedar Mill area since 1963.
The gallery's mission is to provide high quality teachers at reasonable prices and to give emerging artists the opportunity to show their work. The gallery offers art classes to students of all ages with local and national artist teachers. The gallery participates in Beaverton School District school art fairs, offers children's art classes in the gallery and displays art regularly at senior residential facilities.
The gallery is facing challenges created by increased lease costs and higher teaching fees. The gallery receives no tax-payer funding. It supports itself through fees for classes, membership dues, sales from the Gallery and tax-deductible donations. Allen Greene, Gallery fundraising chairman, says, "The goal of the Patron of the Arts program is to increase services to the community and at the same time maintain affordable membership dues and class fees."
The gallery is seeking monetary gifts at all levels. Patron benefits include invitations to gallery events, the Art Focus monthly newsletter and a certificate of recognition. To learn more about the Patron of the Arts program, contact Allen at the Gallery at 503-644-8001.
High Performing Credit Union
Sunset Science Park Federal Credit Union (SSPFCU) is one of 464 "High Performing" credit unions, out of 9,500 U.S. credit unions. The "High Performance" standard is a measure of how well credit unions are serving members.
"We are very proud of our small credit union and this accomplishment," said Judy Makela, CEO. "We are truly doing what Credit Unions are meant to do: People Helping People…give back to members…they are the owners."
Membership in SSPFCU is open to companies on Science Park Drive and companies within the Cedar Mill community, their employees and extended family members. SSPFCU is at 11000 NW Murray Blvd, Suite 200, phone 503-643-1335, www.sspfcu.com.
Sisters Open Giftique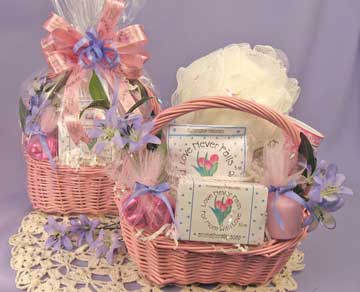 Two views of the "For Mom with Love " basket is just one of many elegant and fun gift baskets available from Giftique Oregon
Giftique: Affordably Elegant Gift Baskets, was started in 2006 by two sisters, Leona Bolton and Jeanne Liberty, who wanted to create elegant gift baskets for all occasions with price ranges that are affordable to everyone. A third sister, Lynne Hoyt, is their full-time employee. Jeanne says: "Whether you are in search of one beautiful gift for a friend or family member, or several for corporate clients, customers, or employees, we can help you find just the right choice for any occasion. Our baskets are not pre-made; every basket is made to order." Giftique is a new member of the Cedar Mill Business Association for 2007. Free delivery in the Cedar Mill area. Nationwide shipping via UPS ground is available. Visit the company website at www.GiftiqueOregon.com.