Cedar Mill dentist helps needy Jamaicans
By Holly Richardson, Dental Assistant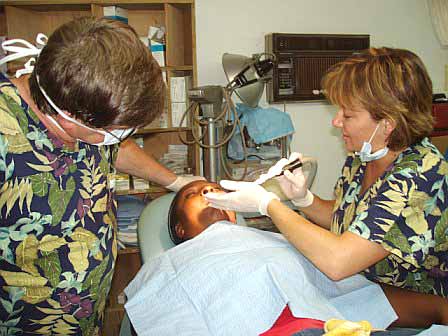 Dr. Daniel Blickenstaff's church, Murray Hills Christian Church, goes on a medical mission to Jamaica every year. Last August, Dr. B and I joined them. We were in a small town 45 minutes west of Montego Bay called Falmouth. The clinic is only open when visiting medical professionals are there which is approximately one week every other month. Word travels fast and people come from all over to be seen at a price they can afford- 500 Js for the dentist and 400 Js for the doctor (approximately 60 Js in one American dollar).
The clinic runs on a first come first serve basis so patients start arriving at 4:30 in the morning. They wait for hours in the sweltering heat and humidity in hopes of being one of the 15-18 we can see in a day. Unlike Americans, the last patient of the day is as polite and grateful as the first one. We worked 4-1/2 days, saw 77 patients and extracted over 200 teeth. Unfortunately, there were not enough supplies or equipment to do any fillings. Besides, the need for extractions was so great there was little time for anything else.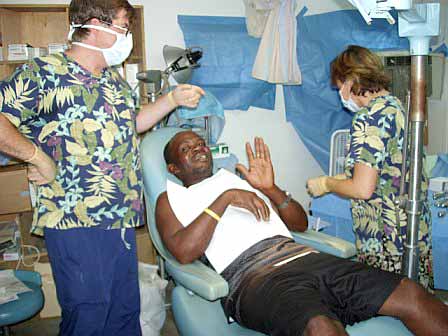 It was very challenging and at times I questioned whether I could last through the day. We used substandard equipment, had limited instruments, and no x-rays. We also did all the dentistry standing up. The room we worked in was a constant 74 degrees except when the air conditioner quit, then it hit 90! The best part of the day was when helpers from the front delivered Ting—a carbonated grapefruit drink served half frozen. Awhhhh, the simple pleasures!
Most striking is the abject poverty in Falmouth. There is a huge gap between the haves and the have-nots—most being have-nots. Most of the houses are no bigger than garden sheds and most Jamaicans do not own a car. One man, Hector, earned a meal with us every night by sweeping the patio at the hostel where we stayed. Nobody seemed to know how he survived otherwise. One particular part of town is referred to as "the Dump," It is the poorest part where people build houses from whatever they can scrounge up. A dangerous place for visitors, we were not allowed to go there.
One and a half days were spent being tourists. We traveled into Montego Bay to Doctor's Cove to lounge on the beach, swim and snorkel, followed by shopping and dinner. Another day we went to Dunn's River Falls. These are waterfalls that you can climb from sea level up 600 feet. The water is warm and the experience very invigorating! From there we went to Ochos Rios for shopping at the craft mall. Jamaicans can be very pushy when selling their wares. I learned not to hold anything they handed me because they don't like to take it back! The day ended with enjoying Jamaican Jerk Chicken at a Bar-B-Que on the way back to the hostel.
A return trip is scheduled in April, this time with a group from the University of Missouri Medical School. Dr. B's wife Sharon and his daughter Rebecca are going this time, as well as my daughter, Lindsey. Having been before and knowing a little better what to expect, we will be more prepared the second time around. Some of the equipment has been serviced since then and we will be taking some much-needed supplies. We are looking forward to going again as it is very rewarding and humbling. Nothing makes you appreciate home more than living in a third world country for a week.