CMBA Meeting Notes


SBA & banner designs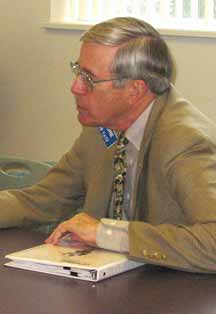 Robert Cato talks with a member at the March meeting
During the March CMBA meeting, Robert Cato, a local retired executive, presented information on SCORE (Senior Corps of Retired Executives). He explained that SCORE is an all-volunteer organization that is part of the U.S. Small Business Administration (SBA). SCORE offers free confidential mentoring/counseling with qualified professionals, both face-to-face and by internet and email.
The first counseling session is held at the Portland office in order to let you see what resources are available. Subsequent sessions can be arranged at your convenience, including at your business location.
The Portland SBA/SCORE office also offers workshops on a variety of topics including Business Plans and Marketing. Cato then discussed SBA loans. The SBA does not provide loans. Instead they provide a loan guarantee and you deal directly with a local bank or loan company. Cato concluded his presentation by talking about Business Plans: The Road Map to Strategic Success!
To request SCORE counseling or learn about their business resources, visit the Portland office at 601 SW Second Ave, Suite 950, email scorepdx@wa-net.com or call 503-326-3441. www.scorepdx.org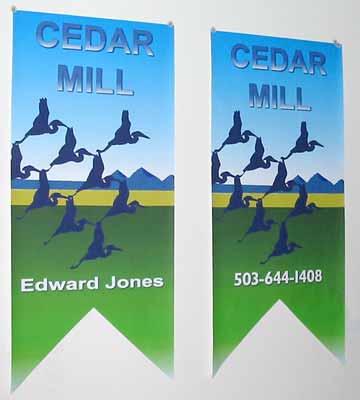 We also heard from Bill Rawson, CMBA President, who presented the concept drawings for the new Cedar Mill street banners. These banners will go on 19 light posts. The Spring/Summer banner features flying herons. For Fall/Winter, there will be a mill on one banner and a waterfall on the other. Sponsorship includes paying for the signs and flowerpots for one year. Sponsors must be CMBA members. Bill will finalize the banner proofs and then obtain printing price estimates.
Membership letters to 130 businesses were printed and mailed by the Cedar Mill Bible Church on March 24. If you didn't get one, you can print and use this form (PDF file) or sign up and pay online through PayPal.
The next meeting of the CMBA will be held on Tuesday, April 17 at noon in the library meeting room. Free pizza will be provided, bring your own beverage. The topic will be credit cards for small businesses (see page 1). Please join us!