Featured Business
Tilly's gelato and more…
By Dawn Anderson
Have you discovered gelato? This creamy, frozen Italian dessert has only 4-8% fat—regular ice cream has 10-25%. Longtime local residents Paul and Barbara Anctil first discovered gelato on a trip to Australia last year. Although Barbara had recently retired from St. Pius X Catholic Church, they decided to open up a gelato shop in Cedar Mill. "I quickly realized that I would be much happier doing something," says Barbara. Paul had retired 13 years ago from Anctil Heating & Cooling. So they searched for someone to teach them the art of creating gelato. They found Leonardo Mazero of PreGel, one of the Italian companies that supplies them with the gelato base, and took several of his workshops.
The Anctils have transformed the former Hobitt space next to Walgreens. It is the perfect place to meet friends. Paul and Barbara envision Tilly's as "a neighborhood place to come and sit, meet friends, and eat gelato." It's called Tilly's, Paul says, because they wanted a friendly name that's a play on their last name.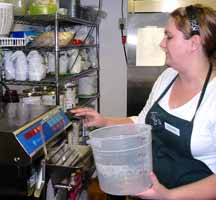 Nicole Paul makes gelato in the back room at Tilly's
The gelato is made fresh daily on the premises. Tilly's also offers sorbetto which is dairy-free along with some fat and sugar-free gelatos. With 18 flavors you are sure to find a favorite. What's the most popular gelato in Cedar Mill? "It's Lemon Sorbetto," replied Barbara. That's also her personal favorite while Paul loves the White Chocolate Raspberry Razzle – a custom flavor created by Barbara. She tries to add one new gelato flavor each month. Barbara says, "I can't wait for the Sunset Farmer's Market to open so I can get fresh fruit to mix in the gelato."
Buying local is very important to the Anctil's. The shop features Kobos espresso and Stash teas. Kobos organic coffee is fair trade certified and locally roasted. "Our Kobos rep is Ed Menashe, whom you may remember as the guy who spent six years at the coffee kiosk in front of Bales Thriftway," says Barbara.
The lunch menu features grilled panini sandwiches and soups. The sandwiches are made with bread from Portland French Bakery. Harry's Soups, many of which contain organic ingredients, is also a local Portland company. It's made in kettles, not huge vats and delivered fresh. The Anctil's have recently added Caesar salad to the menu and also offer a daily special. Prices are reasonable and the service is fast and friendly.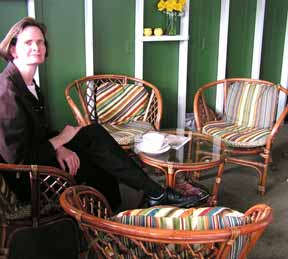 To the left of the entrance is a comfortable place to relax with a cup of coffee or gelato. Padded wicker chairs, low glass tables and an open canopy painted green and white create the feeling of a tea garden. The chair cushions were sewn by Tilly's neighbor, Ramona at Mad Hatter Custom Sewing. This carpeted area has a basket of toys that kids will enjoy playing with while you visit with a friend. At the far side are shelves containing items for sale that Barbara picks up in her travels.
When I recently dropped by for a gelato, customers were enjoying the sunny March day by eating outside at umbrella-covered tables in the courtyard. Indoor tables can be pushed together and a tabletop added for a larger gathering. Two walls of windows make it a cheerful place.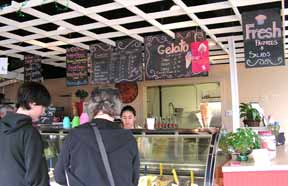 It can be hard to choose among all the gelato flavors
Their biggest challenge has been setting hours. They tried opening at 8 am for breakfast and found few people came. Although when they decided to change the hours and open at 10 am, a group of women from Sunset Athletic Club asked if they would continue to open early on Thursday morning. So now Tilly's is open at 10 am every day except Thursdays when they open at 7 am. "We're willing to open early if your group wants to meet here, please let us know," says Barbara. They are planning to stay open later in the evening as summer approaches.
The Anctil's chose their location because they love the Cedar Mill community. One of their regular customers is Mr. James from Mr. James Hairstyling, who comes in every morning to buy a hot chocolate for his wife June. Other customers include families with young children (Tilly's offers a child-size gelato cone). Older couples come in after church or while waiting for a prescription to be filled at Walgreens. Another group meets at Tilly's once a week for lunch and to play cards. Locals with home-based businesses are already discovering that Tilly's is a great place to meet clients.
"Our biggest surprise has been the amount of gelato we have sold during the winter and how quickly the shop has taken off," says Paul. "We were also surprised at how easy it was to find great employees." Twelve people work at Tilly's. Two are young moms and the rest are students. One of their employees, Nicole Paul, has taken over creating the gelato. Barbara taught her the process and she loves creating new flavors.
Tilly's had their first "Spirit Night" recently. A group from Cedar Mill Bible Church, raising money for a trip to Mexico, passed out flyers and met at Tilly's on a Thursday evening. The Anctil's donated one-third of the sales and a gift basket to be raffled off. Employees also donated their time and tips. "We're open to having Spirit Nights for other community organizations," says Barbara. The Cedar Mill Community Library will be having a Day at Tilly's during their plant sale on May 5.
The Anctils joined the Cedar Mill Business Association last year. They hope that CMBA members can work together to help each other find solutions to business problems. They are also interested in learning marketing and advertising tips. You can find the Cedar Mill News at Tilly's every month, to read while you eat your gelato.
Stop by or call to order takeout. 503-626-6063. Tilly's is located just west of Walgreens at the corner of Cornell & Saltzman, behind Mike's Auto Parts. Open 10 am to 6 pm Monday-Wednesday, 7 am to 6 pm Thursday, 10 am to 8 pm Friday-Sunday.