Sheriff's Levy deserves your vote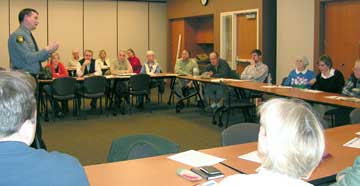 Sheriff Rob Gordon visited CPO 1 in April to discuss the levy and hear citizen law enforcement concerns
The Washington County Sheriff's Department provides near-urban-level services to Cedar Mill and other urbanized unincorporated areas through the Enhanced Sheriff's Patrol District (ESPD—for more information see January 2008 Cedar Mill News article). The current levy will expire in June, so a renewal levy is on the May 20 ballot.
The levy is assessed on county property tax bills for those who live within the ESPD (all of Cedar Mill is included). Currently 49 cents per thousand dollars of assessed value, the new levy increases the amount to 63 cents per thousand. Just thinking about all the miles those folks drive explains the increase
Voters in the ESPD have routinely supported the levy in past elections by more than a 60 percent margin. To be adopted in the May election, however, the levy must pass with a double majority—over 50% of registered voters need to vote, and over 50% of them must support the levy.
Sheriff Gordon has joked that the ongoing battle between Democratic presidential candidates is the best hope his department has, since it makes Oregonians more likely to vote in the primary. Be sure to get your ballot in by May 20. If you don't want to mail it early, you can drop it off at the library.