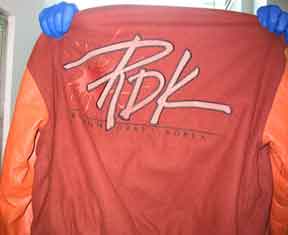 Do you know this jacket? Detectives think it was dropped by the robber.
Cedar Mill 7-Eleven Store Robbed THREE Times in a Month!
The 7-Eleven Store on the corner of Saltzman and Cornell was robbed three times in May and Sheriff's detectives believe the same suspect is responsible for all three incidents. Detectives are asking businesses and residents in the Cedar Mill area to provide any information that might help to solve these crimes.
On Sunday, May 4 at 2:46 AM, Sheriff's Deputies received a report of a robbery at the 7-Eleven store on N.W. Cornell. The store clerk reported that a white male, 5'4" tall, wearing a black ski mask, a black button down shirt, and black pants, robbed him at knifepoint. He said the suspect came into the store carrying a kitchen knife and demanded the money in the register. The clerk complied and was not hurt. The suspect got away with about $15 in cash and two packs of Camel Wides cigarettes.
On May 14 at 2:07 AM, a suspect fitting the same description entered the same 7-Eleven store wielding a large silver-bladed kitchen knife. This time, HE wore bright red ski gloves and immediately ran toward the back counter and the cashier standing next to the till. The suspect demanded all the money in the till while menacing the cashier with the knife. The suspect grabbed cash and three packs of cigarettes (Winston) and ran westbound on Cornell.
One of the Sheriff's K-9 unit dogs led officers to a bright orange leather jacket near the bushes around the corner from the store. Inside the right pocket was an opened pack of "Camel Wides" (the same brand stolen during the May 10 robbery). The K-9 track also led to the discovery of the black ski mask used in the robbery—it was found in the middle of the road at the corner of Saltzman and Barnes. The suspect was not located.
On May 29 at 4:29 AM, suspect entered the 7-Eleven, walked behind the counter, and threatened the clerk with a large kitchen knife. This time the suspect was wearing a baseball cap with a blue bill and blue top, but the front section of the hat was white with some writing on it. He was wearing a red bandana over his mouth and nose, a dark colored jacket, dark gloves, dark pants (possibly camouflage), and black shoes. The suspect took $20 in cash then left the building and proceeded south toward N.W. Cornell Road.
Sheriff's detectives are asking anyone with possible information about these robberies to contact Detective Andy Hayes at (503) 846-2500.