Cedar Mill Farmers' Market
Mark your calendar for the Cedar Mill Farmers' Market every Saturday from now through September. Located in the Safeway parking lot, just west of Murray on NW Cornell, across from Sunset H.S., it is open from 8 AM to 1 PM.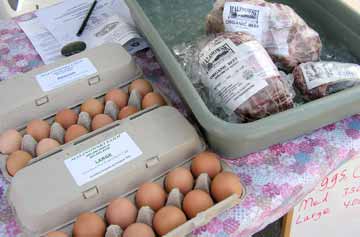 Malinowski Farms raises grass-fed organic beef and chickens up on Springville Road, and they bring their incredibly fresh organic meat and eggs to the Market every Saturday. The tasty lean beef, processed in a USDA approved facility, will spoil you for factory meat forever. Support local agriculture and treat your family to the healthiest beef you can buy.
The spring cold spell has slowed down some crops such as the strawberries, but we expect to see plenty in the Market by June 7th. Farmers this year (arriving with lots of produce in the next couple of weeks) include old favorite Lone Elder Farms, run by Tyler again this year! Also, Baird's Orchards will soon be with us with asparagus, cherries and other goodies. Visit Duyck's Peachy Pig Farm as well as DeMartini Family Farms and new farmers Green Acres Farm and Martinez Family Farms, both from the Canby area. Townsend Farms are excited to be back for the 10th year, hoping to have plenty of strawberries soon. Galin-Flory Farms will also be back with their beautiful berries and tomatoes, eggs, and plums later in the season.
The market will be loaded with booths so come on out to show your support and see your favorite vendors like Debbie the Olive Lady, Malinowski Farms Organic Beef, Mireille's Les Couleurs de Provence linens and french pastries, Pacific Flames soy wax candles, Pink & Charlie's Handmade Soap, Bobbi's Sew Fine handmade aprons, bags, wine vests & more, and Massene & Kamel's Market Baskets.
We'll have lots of great garden goodies -- West 40 Nursery, Dem Rootz bamboo & more, Down Under Pots, Bauer's Flowers, and of course, the most beautiful cut flowers anywhere, brought to you by Vanessa's Farm. Look for some garden art in our early weeks as well, with Roberta and her concrete cast leaves and more joining us June 7th.
Our favorite potter Darris Dietz started his every-other week schedule last week. Last year's very popular local jewelers are all coming back, so come see what they have been making this year. New this year: Chair Massages by Maya, the Cedar Mill Local Artist Co-op, LunarCat handmade origami ornaments & other Asian-inspired crafts, and Don & Joann's Workshop (the word "unique" doesn't begin to describe these artistic birdhouses and planter boxes). Some have called to ask, and yes, Viva Cucina will be back, joining us on June 7th so don't worry! Oh, let's not forget the Master Gardeners with us weekly to answer your garden questions.
If you're hungry when you get to the market, Pete will be cooking up delicious sweet waffles as well as fantastic savory waffles, topped with incredible, fresh-from-the-market toppings. Also we'll have Great Harvest Bread back, and Sweet Ole Larry plans to pop up kettle corn for us every week this year. I can smell it already!
The Cedar Mill Farmers' Market is sponsored by Tualatin Hills Park & Recreation District. Thanks, THPRD for keeping our Market going, now in our 10th season! Thanks also to New Seasons Market for a grant to sponsor our music again this year. THANK YOU, Market volunteers. You're the best!