Featured Business


Comfort Keepers

With a veritable "tsunami" of aging baby boomers getting ready to retire, caring for the elderly is certainly a growth industry. Several companies have started franchise operations to provide the care that will be needed. One of the most highly regarded companies, Comfort Keepers, has a franchisee here in Cedar Mill.

Leomarie Lind and her husband Curtis moved to Oregon a few years ago for Curtis' job with Intel. Leomarie had three children in two schools, and wanted a job that she could do on her own schedule. She had done some caregiving for an elderly neighbor and found it very satisfying, so she explored her options for opening a caregiving agency.

She decided that working through a franchise would provide the structure and training to make the business successful. She chose Comfort Keepers because she liked the philosophy and the services it offered, and she was encouraged after talking to several other franchise owners.

Comfort Keepers serves a growing market for in-home care. Services range from simple companionship, transportation, cooking and cleaning, to physical care including bathing and feeding. Their caregivers don't provide medical services, but they can supervise medication to make sure clients take their medicines on time and in the right quantity. Clients are mainly elderly, although the company has cared for people with permanent disabilities and people recovering from hospitalization.

Most Long-Term Care Insurance policies cover their services. In the past, policies only covered care in licensed facilities, but these days it's widely recognized that helping people stay in their own homes as long as possible is not only better for clients' welfare, it's also cost-effective. Some companies offer eldercare as part of their menu of employee benefits. Hourly rates vary depending on the client services provided, but generally range around $20.
Family supplement
Many of the services Comfort Keepers offers are the things a family member would do if they weren't busy working and/or taking care of their kids. By employing a caregiver, the family can be assured that their loved ones are safe and comfortable and have a good quality of life. Instead of feeling stressed because of the responsibility and the chores, the family can concentrate on spending enjoyable time with their elderly relatives.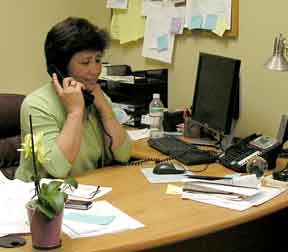 "What the client wants should determine whether they should stay in their home," says Leomarie. "Some people like the social activity available in a senior facility. But a lot of people prefer their familiar environment, and we supply the services that allow them stay there."
A weekly game of cards or a trip to the bingo parlor, a daily phone call to check on their welfare, someone to take them to appointments or do the shopping and cleaning—these simple services can make a big difference. Some clients need more to be able to stay in their homes, up to and including 24-hour live-in care. Comfort Keepers caregivers are trained to monitor physical and behavioral changes in their clients, and they stay in close contact with family members.
Licensed employees
Comfort Keepers employs about a dozen trained caregivers on an ongoing basis, with several more people "on-call." They only hire experienced caregivers, and then give them additional training in practical techniques, such as how to transfer people with limited mobility. The company provides video training on a wide variety of topics, so caregivers can learn new skills as needed.
Leomarie notes that, "it takes a person with a big heart and a good sense of humor, someone who is patient and kind. It helps to be a 'jack-of-all-trades' who can perform a wide range of services, and it also helps to be a bit of a 'clean freak.'" For the right person, caregiving is a remarkably rewarding career choice.
Most of her caregivers choose to work part-time. Some are students, some are semi-retired, some have kids of their own and appreciate a job they can do when their children are in school. The pay is not high, but the work is satisfying. They are always looking for potential employees.
The Lind's franchise is the first Comfort Keepers in Oregon, although the company has over 500 franchised offices throughout the United States, Canada, and worldwide. Leomarie says that Oregon regulations are very "pro-client" and require licensing for all personal caregivers, unlike many other states. This ensures a higher quality of care but makes it harder to start an agency here.
Leomarie spends most of her time in the office, on the phone and meeting with prospective clients and with her caregivers. She also does a lot of networking, promoting her business at the Beaverton Chamber of Commerce, at area churches and senior centers.
Leomarie was born in the Phillippines. She came to the US to attend graduate school at a Baptist seminary in Berkeley, where she met her husband. They have lived in California and Arizona. Curtis earned his Masters' degree in Human Resources, focusing on international HR, and they lived in the Phillipines for three years. He came to Oregon with Intel, but now works for Columbia Sportswear.
She joined the Cedar Mill Business Association last year. "I like the personal contacts you can make in a small group like this," she says. "And it's a great feeling to participate in community activities like the Adopt-a-Landscape project! I feel so proud when I pass the place we did our weeding!"
Leomarie says that personal referrals are her best source of new clients. She gets some inquiries through the franchise's website, comfortkeepers.com, and also runs ads in the yellow pages and local newspapers.
The office is located in the Westlawn Professional Building at 1225 NW Murray. Their phone number is 503-643-2010. The Comfort Keepers website has a great depth of information at www.comfortkeepers.com.