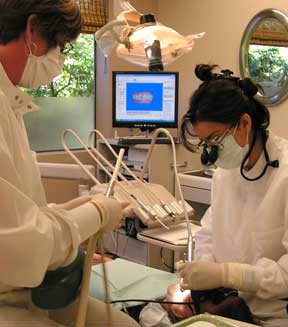 Dr. Motlagh and her assistant perform a routine cleaning in ond of the bright and pleasant treatment rooms.
Featured Business
daVinci Smiles
Dr. Maryam Motlagh changes lives. As a dentist certified in Neuromuscular and Cosmetic Dentistry, she treats patients for a variety of painful and embarrassing conditions with techniques that correct problems with jaw alignment (Temporomandibular Joint, or TMJ) and with solutions for poor tooth alignment, stained and irregularly sized teeth and other problems. Her "smile makeovers" have provided hundreds of patients with increased confidence and relief from pain.
In addition to cosmetic and neuromuscular dentistry, Dr. Motlagh's practice includes many regular dental patients who come to her through referrals from existing patients. She and her staff of hygienists and assistants provide care with a lot of extras to make the experience as pleasant and comfortable as possible, including a virtual-reality DVD player with Bose noise-canceling headphones, so you can enjoy music or a movie while you have your teeth worked on!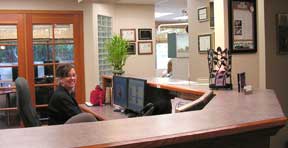 Office Manager Jennifer Fraser at the reception desk
Periodontal (gum) disease is a major cause of tooth loss, and Dr. Motlagh's clinic offers laser sterilization of infected areas after regular therapeutic cleaning. This treatment has been shown to be much more effective than mechanical cleaning alone.
Crowns and restorations are all done using "biocompatible" materials—composite or porcelain, never mercury metal fillings or crowns. This gives a better bond and natural looking restorations.
Neuromuscular dentistry is a dental specialty that deals with the muscles of the face and jaw. She says, "Many individuals do not realize that muscles play an important role in dentistry. The way your natural teeth come together can cause headaches, pain in the jaw, sore muscles, neck pain, limited range of motion of the neck, upper and lower back pain, poor posture, pressure behind the eyes, stuffy ears, ringing in the ears, grinding teeth, breaking teeth, dizziness, vertigo, fatigue, and more. All these symptoms can be due to a bite being off by less than a millimeter. The science of neuromuscular dentistry (NMD) evaluates and treats your overall oral health by considering how your muscles, teeth and joints harmoniously work together."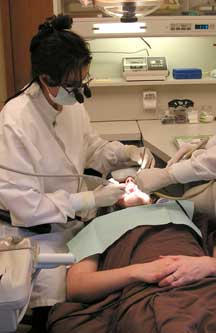 Patients can use the VR headset to watch a movie while they have their dental work done
According to Dr. Motlagh, 86% of women (and a smaller portion of men) have some degree of TMJ disorder. This can be caused by injury, thumb-sucking or use of pacifiers, or just naturally poor alignment of teeth. She uses an electromyelogram (EMG) to diagnose the exact muscles that are causing problems, and treats the disorder by using a computer to determine the best way to reshape the bite to relieve stress. Dr. Motlagh herself suffered with TMJ, and that's part of the reason she was determined to learn how to help others.
Many of Dr. Motlagh's patients want brighter smiles. For some, this can be achieved with the Zoom® chairside whitening treatment. Others opt for porcelain veneers, the modern equivalent of "caps" placed over the teeth. While the Zoom® treatment can be effective for as little as $300, a full mouth rehabilitation can run as much as $45,000. The clinic can help patients with financing for major treatment options.
The clinic also offers the Invisalign® system for straightening teeth. After studying the patient's bite with computer imaging techniques, transparent appliances are created that gently and progressively move the teeth into proper alignment, without the ugly "hardware" that used to be necessary.
The practice on Cornell was begun by a colleague as Sunset Dental Care in 1996. When Dr. Motlagh took over the practice in 2002, she changed the name to daVinci Smiles to reflect the intersection of science and art that characterizes her work.
Dr. Motlagh received degrees with honors from Lewis & Clark College and OHSU after graduating from Tigard High School. After about a year of providing general dentistry, she completed post-doctoral studies at the Seattle Institute of Advanced Dental Studies, and then attended the Las Vegas Institute for Advanced Dental Studies in Cosmetic and Neuromuscular Dentistry. While all dentists are required to complete 20 credits of continuing education each year, Dr. Motlagh usually completes over 200!
Dr. Motlagh lives in the Cedar Mill area with her husband Shahin, a network and software engineer, and their two-year-old son. She loves music, and plays a Persian string instrument similar to the dulcimer. She has played in the Greek and Persian Festival in Portland. Her husband helps keep all the computer equipment in the office running and up-to-date.
Dr. Motlagh is currently accepting new patients, and the clinic offers a complimentary cosmetic consultation during which the doctor can use computer imaging to show you how your smile can be transformed. Visit them on the web at davincismiles.us to view the Smile Gallery to see what she's done for others. The office is located at 13765 NW Cornell, Suite 100—across from Sunset High. The office phone is 503-643-9855.