Sunset High School Band to Host 2007 Sunset Classic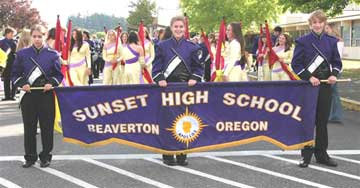 On Saturday, September 29, Sunset High School will be hosting the 19th Annual Sunset Marching Band Classic at the Hillsboro Stadium. This is the 2007 season opening show of the Northwest Marching Band Circuit. Sunset High School Band is the defending 2006 NWMBC Class AA Champions. We invite you to come and support the Sunset Marching Band and Colorguard! You will hear great music as well as see the colorguard team perform with their colorful flags, rifles and sabres.
Over 5000 band enthusiasts and supporters will be attending the event. Local businesses and individuals are invited to sponsor a trophy or plaque. All trophy sponsorships include advertising and sponsor recognition in the program, and the sponsor's name is engraved on the award. Finals and preliminary trophy sponsorships include two complimentary tickets to the event, recognition by the MC, and sponsors are invited to present their trophy in the awards ceremony.
We also have many volunteer opportunities. Over 200 volunteers are needed, ranging from concession, ticket, and souvenir sales to assisting as hosts for the bands. Everyone (aged 14 and up) is welcome to volunteer and will be given free admission to the event.
The Sunset Classic is our major fundraiser for the school year. This year, in addition to performing at home football games and in competition, the Band and Colorguard will be going to Orlando Florida in April 2008 for the All American Music Festival. We hope you're able to join us September 29 for this program of music and pageantry. Thanks for your support! For more information, including ticket prices, directions to Hillsboro Stadium, sponsorship and volunteer opportunities, please see our website at www.sambanotes.org