Bonny Slope Bobcats aim high
In late August, visitors were introduced to the new Bonny Slope Elementary by the Fifth Grade Ambassadors, a group of students who have volunteered to help younger students find their way. These kids gave up part of their summer to work with staff learning about the school and becoming more confident leaders.
The school colors, crimson, black and cream, are reflected throughout the building, which is filled with light and art. Large windows in external walls and between rooms let in natural light and give the two-story building an open and inviting feel.
The school has room for 600 students. The attendance area was set by adjusting the boundaries for nearby schools. 2008 enrollment is about 430 students, with fewer in the upper grades because fifth-graders were given the option to finish up at their old schools. Kindergarten classes have around 28 students each.
Education at Bonny Slope will be based on the Primary Years Programme (PYP), which is part of the International Baccalaureate (IB). Based in Switzerland, this international movement provides curriculum, training and evaluation to around 2400 schools in 129 countries. It employs "best practices" in education to "help develop the intellectual, personal, emotional and social skills to live, learn and work in a rapidly globalizing world." Six themes provide the framework for study: who we are; where we are in place and time; how we express ourselves; how the world works; how we organize ourselves; and sharing the planet. Six subject areas make up the curriculum: language; social studies; mathematics; arts; science; and personal, social and physical education.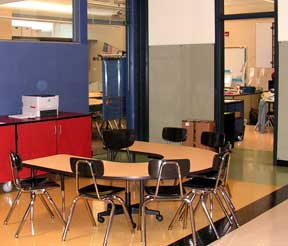 It takes three years for a school to gain full IB accreditation. The school must use the program for a full year as a "candidate" school, and then receive a visit from an IB team to evaluate its success. Bonny Slope would be one of the first elementary schools in Oregon to achieve this if they are successful. There are several Middle Years Programme schools, and a number of high schools that are accredited IB schools. Sunset has 27 students enrolled in its IB program. For more information, visit ibo.org.
An Ice Cream Social was held for incoming students in June. As part of the program, students gave a short history of the Bonny Slope area that gave the school its name. This reflects the "where we are in place and time" theme of the PYP.