Business News April 2020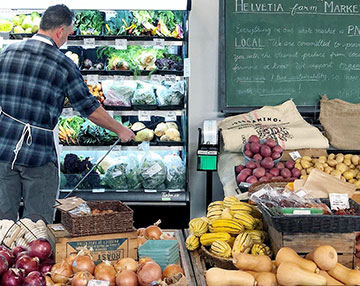 Sunset Credit Union
Sana Reiki
Western Oregon Dispensary
Stride Strong Physical Therapy
World of Smiles
Bethany Family Pet Clinic
Helvetia Farm Market and Marion Acres
Village Gallery News
Tire Factory closes
Refinish First closes
CK Hoffman Design
Dennis 7Dees
DuFresne's Auto Service
Cedar Mill Business Association
Cedar Mill Farmers Market
Cornell Farm Nursery & Café
Sunset Credit Union
As we all continue to track the latest developments surrounding the Coronavirus (COVID-19), we want you to know that Sunset Credit Union continues to take action to ensure we keep our employees and members safe, while delivering the best member experience possible.
Because we are considered an Essential Business our branch will remain open to serve you during normal business hours. We will be limiting access to our lobby and will be conducting transactions through our drive thru only. Our ATM will also be available 24/7.
We are still available by phone at 503-643-1335.
Our online and remote banking allows you access to your accounts virtually anywhere, anytime, pay your bills and when you use our remote deposit service, you can deposit your check(s) simply using your smartphone. If you aren't already set up for these products and services, please consider doing so now. Our mobile apps are also a great way to access your accounts anytime from anywhere.
Sana Reiki
For the month of April, Sana Reiki is supporting the community with relaxation and relief from insomnia and anxiety with remote Reiki sessions. For only $40, you'll receive a 45-minute, relaxing session. Visit SanaReiki.com or email jessica@sanareiki.com to book a session.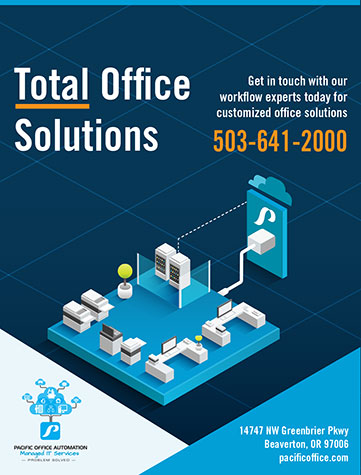 Western Oregon Dispensary
Monday-Saturday, 10 am-9 pm, Sunday 10 am-8 pm, 760 NW Dale (Dale at Cornell)
We have added Plexiglas sneeze panels to the store, and buckets of sanitizing wipes for all customers. We are limiting the number of customers allowed inside at one time, and we are also taking online orders via Leafly with curbside delivery. Visit our website to learn more.
Stride Strong Physical Therapy
Stride Strong Physical Therapy has launched a telehealth program so patients who are sick or self-isolating can still get the benefits of receiving treatment from their Physical Therapist virtually via computer or phone connection.
During these 30-60 minute sessions, your therapist will provide a session similar to what you receive in the clinic by taking you through updated exercises, and provide analysis and advice regarding your condition. Commercial insurance and Medicare is accepted for these virtual visits.
Call us today to get set up, at 503-208-6278.
World of Smiles
Like many other local businesses, World Of Smiles is closed to help prevent the spread of COVID-19. We are still available to established patient families for true dental emergencies. As the situation evolves, we will issue updates on our website and social media profiles. We hope that everyone in the Cedar Mill Community will stay safe and healthy, and enjoy this unexpected extra time with family.
Bethany Family Pet Clinic
Monday- Friday 8 am-6 pm, Saturday 8 am-5 pm, and Sunday 8 am-3 pm. 15166 NW Central Drive
We plan to stay open daily, although our hours have changed, and may continue to change, depending on pace of business.
Curbside Concierge Service is our current mode of operation. This will help us all to maintain appropriate social distancing. No customers are permitted in the building. Call us before you arrive, or when you arrive to discuss your pet's needs. We will run medications or food out to your car and take payments over the phone.
Finally, if you need dog and cat flea and parasite preventatives before the summer season begins, we are well stocked at Bethany Family Pet Clinic. We are anticipating shipping delays for some ordered products, like those from online pharmacies. Our prices are very competitive to the online resellers, in some cases even less expensive.
Please call 503-614-9061, or email us with your needs. We are here for you and your pets, just as you are here for us. Visit our Facebook page for updates. Thank you for your understanding and support.
Helvetia Farm Market and Marion Acres
Monday-Saturday, 8-7 & Sunday 10-6, 23137 NW West Union Rd., Hillsboro
We are open, stocked, and ready to serve you in any way we can!
We want to say thank you. Your support has had a ripple effect that is truly powerful. Since everything at Helvetia Farm Market is from a LOCAL company, every dollar you spend is supporting the local producers who fill our shelves with over 1,400 Pacific Northwest products! This is making a huge impact for all of the farmers and producers who have recently lost so much of their business. Trust us, we've talked to them, and they are so thankful for you!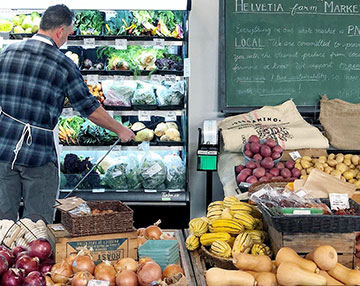 In this time of uncertainty and change, we need to come together and support each other. We will all get through this together, and we are ready to do our part. So, when you do need to venture out and get food, we'll be ready to serve you, and our community, in every way we can. See our listing in the Grocery article for more information.
Village Gallery News
Village Gallery of Arts is temporarily closed in response to the coronavirus crisis. In the meantime, you can still support your local, community art gallery.
Stay home, stay healthy and take a virtual gallery tour! Go to villagegallerarts.org, and then click on the "Artists" tab at the top of the page to browse examples of many of our members' portfolios. Enjoy!
Consider supporting your Gallery by joining as a Studio Member: One annual fee with no commitments, and you get the member price on all classes! Please contact Donna at dragonzs@comcast.net to join as a Studio Member.
If you'd just like to make a tax-deductible donation: Please contact Donna at dragonzs@comcast.net.
Further information will be posted on our website as this situation evolves:
Watercolor winners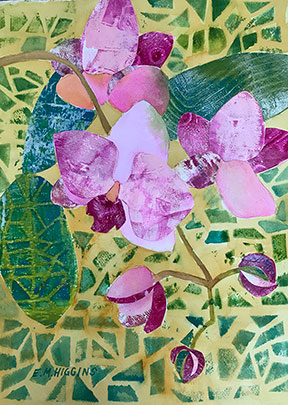 We are pleased to announce and congratulate our artists who entered and were selected by jury into the Watercolor Society of Oregon 2020 Spring Show: Sherry Hanson, Leslie Dugas, Elizabeth Higgins, Donna Zenobia-Saffir, Kay Gifford and Chris Kondrat.
In all, 80 artists were chosen out of about 300 entrants. What great local talent we have! Sadly, the exhibit was cancelled and VGA is closed. But when the gallery reopens come visit to see the wonderful art our members create!

Tire Factory closes
The Tire Factory store on Murray, just south of Highway 26, has closed for good. Owner Bud Holden thanks the community for your support over the years.
Refinish First closes
Our friends Clare and Dave Luton thank everyone for eight great years, but at this time they are no longer accepting new business.
Dennis 7Dees
9 am-5 pm for curbside pickup or delivery, 10455 SW Butner Road, 503-297-1058
There is nothing better for our mind, body or spirit than getting out in the garden and connecting with nature. We were so happy to get everyone started in their gardens this weekend — lots of seeds, vegetables, herbs, and soil. We were able to quickly ramp up our online ordering system, so visit us online and then come by for curbside pickup.
Thank you for the continued support and attention to practicing safe distancing between our team and fellow shoppers while visiting us. In addition, we are really getting the hang of phone orders and curbside pickup. It's this kind of creativity, respect, and awareness that has allowed us to stay open and serve our community.
DuFresne's Auto Service
Monday-Friday, 6 am to 5 pm, 10690 NW Cornell Rd., 503-646-2940
DuFresne's Auto Service is open as an essential business. We are following Protocol for the virus by sanitizing, locking doors, having no contact, and operating business through our Espresso Window. We also have Loaners sanitized before and after. Stay Safe!
CK Hoffman Design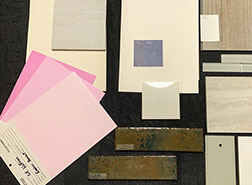 Now more than ever, we need to create beauty and comfort in our homes. With the Governor's "Stay in Place" order, Caryl is operating CK Hoffman Design from a remote platform and offering Virtual Design. Through the wonder of the Internet, we can design and plan your dream project.
With many of us staying safe at home, now is the most opportune time to connect, start planning and figuring out the specifics for your home remodel project. Whether it's advice on how to spruce up a room or two, selecting paint colors, art work, accessories, or finally planning that "dream" kitchen or bath remodel, we at CK Hoffman Design, are here, ready and happy to assist you. We are also offering 40% off our regular rates, so that's just an added bonus as well. You can find more information at our website at ckhoffmandesign.com.
Cedar Mill Business Association
Since all in-person meetings are cancelled until further notice, Facebook is a great way to stay connected through this time! We also plan to have remote meetings through Zoom video conferencing. We will have a "test run" sometime in April and then relaunch again on Tuesday, May 12th at 11:30 am with our regular meeting time and date. We hope to provide the usual, basic content including introductions, announcements and a speaker – just about everything as usual except for lunch!
We are still actively inviting new businesses to join. Now is actually the perfect time to get on board with us—you'll gain new insights and business tips, add additional avenues of exposure for your business, and create more brand awareness.
Please visit us at cedarmillbiz.com to learn more about us and to find out what we're all about, and to take a peek at our Member listings in our fabulous Shop Local Directory. We also invite you to learn more about the Member and Sponsor opportunities that are available.
Cedar Mill Farmers Market
We are planning on opening May 2nd as scheduled. At this time, Farmers Markets are considered as "essential businesses and services that are exempted from the shut-down requirements," just like grocery stores. We are and will continue to closely monitor the situation. We are working hard to implement creative strategies to make it a successful and safe market in these "uncharted waters." We are encouraged by what the currently "open" farmers markets are doing. We are in contact with the other markets in our area, sharing our insights and encouragement with each other as we move forward in our season.
The market will be different this season. We are first & foremost concerned with everyone's safety. We will put into place safety practices & guidelines that will need to be strictly followed to protect you, our vendors & staff, and all those attending the market. We will make sure that all comply with these practices & guidelines.
We love our community and feel that by continuing to have our outdoor farmers market, we will offer some brightness to everyone's lives, relieve some of the stress on the grocery stores, and of course support our local food / business economy. We care about each and every one of you. The way we do business will be different for all of us this season but the Cedar Mill Farmers Market Board is committed to working with you as we find our way through the changes required this year.
Please email us if you would like to be included in our weekly email communications. Just send an email to ourcmfm@gmail.com and put "newsletter" in the subject line.
Also, this year we could definitely use some volunteers to help us make our market an even safer place. Please consider volunteering! Together we can make it through these times.
Cornell Farm Nursery & Café
9-5 daily, 8212 SW Barnes Road
Planting an edible "victory garden" is the ideal solution for safely enjoying the great outdoors during the shelter-in-place order issued by Governor Kate Brown in response to the Coronavirus pandemic. For this reason, Cornell Farm Nursery is planning to remain open with adjusted hours, while continuously working to make gardening safely accessible for all our neighbors.
Cornell Farm recognizes the importance of gardening to physical and mental health. We are urging the community to plant gardens of fruits, vegetables, and herbs, which will provide healthy, fresh options for the menu during a time when many are preparing most of their meals at home.
Nursery customers are encouraged to utilize our website resources to ensure the success of their gardens. We will continue to offer a variety of guides, tips, calendars, care manuals, and knowledgeable staff, which provide a wealth of information on edible gardening and beyond.
We have adjusted our hours of operation in order to allow for consolidated staff and deeper cleaning procedures. We are working hard to provide many options for minimizing contact while offering our customers the supplies they need. In addition to modifying sanitizing and social distancing procedures, we are:
• Making our catalog available to shop online. (We'll be making more available each day, so keep checking back.)
• Taking phone orders for both our nursery and cafe at 503-292-9895.
• Drive-though style, no-contact order pickup for our nursery
• Increasing the number of delivery slots every week for plants delivered to your door.
We look forward to resuming normal hours and operations when it is safe to do so.