Business News August 2020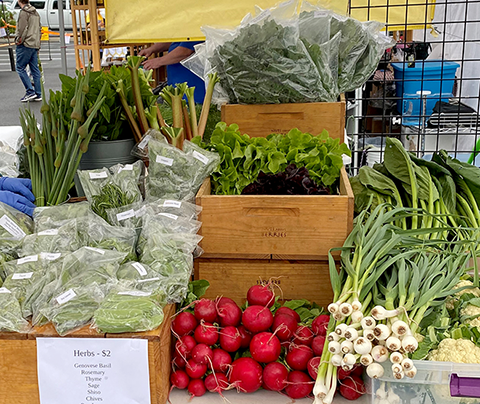 Sunset CU helps over 100 local businesses with PPP Loans
The Paycheck Protection Program has been extended to August 7th for businesses to apply for government assistance. With the Coronavirus (COVID-19) taking a toll on local businesses, Sunset Credit Union has stepped in to help many of them survive during this crisis.
"We're an approved Small Business Association (SBA) 'Paycheck Protection Provider,' " said Sunset Credit Union President, Rhonda Baggarley. "So far we've helped over 100 Washington County businesses get much needed funds so they can continue to operate."
The PPP is a Small Business Administration (SBA) loan that helps businesses keep their workforce employed during the Coronavirus (COVID-19) crisis. Not every lender is approved to fulfill these loans, which makes Sunset Credit Union a much-needed resource for local businesses.
"Many of the businesses we've helped weren't even aware of us, but our members have referred other people and companies to us because of our service and commitment to the community," said Rhonda. "It's tough for everyone now, so we're proud to help as many people and businesses as we can. The government has extended the program until August 7, so if a business is looking for help during this pandemic, they should see us as soon as they can."
Sunset Credit Union is open to anyone who lives, works, worships or attends school in Washington County. To learn more, stop by their office at 1100 NW Murray Blvd, visit their website at sspfcu.com or contact them at 503-643-1335.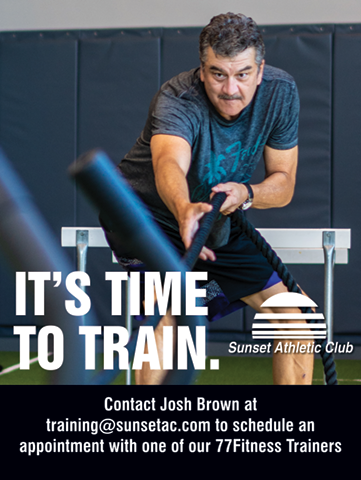 Village Gallery
Thursdays, Fridays, Saturdays, 10 am – 4 pm, east end of library building, 12505 NW Cornell
We are excited to be open, and we are aware that we have a great responsibility to keep our patrons as safe as possible. The Gallery is marked for appropriate social distancing which limits visitors to a total of four at one time; hand sanitizer is provided (disposable gloves on request); and masks are required (disposable masks available on request) in compliance with our Governor's most recent order. We value all those who visit the gallery and, in spite of obstacles, we want your visit to be as enjoyable as possible.
If you can't visit or take classes, remember to check out our virtual tour.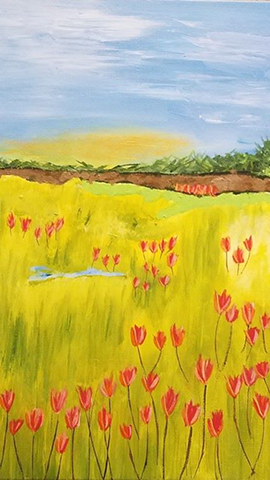 Big, Bold Paintings for August:
July 16-August 26: Cheryl Carpentier: "Lucy's Field of Flowers," acrylic. Inspired by our new puppy, Lucy.
July 30-September 9: Lana Nelson: "Island Twilight," oil on canvas. Can you hear the drums, guitar and ukulele under the palm trees?
Featured Artist for August: Emily Stevens: "Wetland Blues," textile and fiber art. I feel that using fabric in my artwork creates a soft edge and also has the potential to create texture and dimension in a three dimensional way. This show highlights my textile artwork of birds. I also enjoy illustrating and painting people and nature.
New Show Opening August 20-September 30: "Home Is Where the Art Is"
Featuring both 2-D and 3-D artwork created by our members during the Coronavirus shutdown, this exhibit showcases images, feelings, or messages concerning the current crisis, or reflecting experiences, healing, safety, or places of refuge, or simply new creations from the time spent in home isolation or quarantine.
Classes are Back!
With precautions and appropriate spacing, in-person classes have begun!
We are limiting participation to six students plus the instructor. This will not only reduce the chances of exposure to the coronavirus, but will increase the time and attention the instructor can provide to individuals. We are asking both teachers and students to wear protective face coverings, either a mask or a scarf covering nose and mouth. Gloves will also be available. Registration will be online only and we will have a limited number of class days to avoid overlap with visitors to the gallery.
Please check our website frequently for further online offerings as they become available: www.villagegalleryarts.org.
Cedar Mill Farmers Market is bursting with fresh produce!
Saturdays, 9 am-2 pm, corner of NW Cornell Rd & Murray
August brings the best of the market season to us with an abundance of fruits and vegetables at the peak of summer. Everything is fresh, beautiful, and delicious!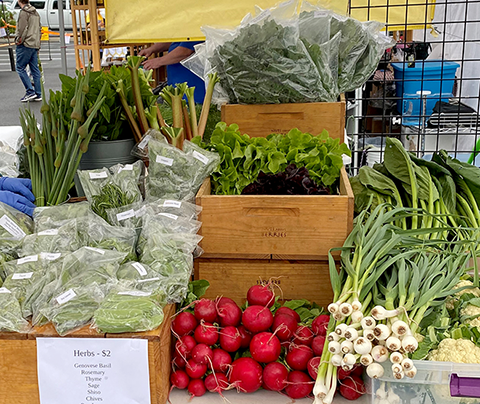 At the Cedar Mill Farmers Market, we are doing all we can to be a safe market during these crazy times. Even though things are different this season, we are all in this together, and we will get through this difficult period.
This season, we offer a large selection of lovely vendors, and we would love for you to visit them at the market or arrange an order/pick-up. Check out our website at www.cedarmillfarmersmarket.com and sign up for our weekly newsletter for more information.
If you have any questions/suggestions or want to be on our email list, please let us know by contacting us at ourcmfm@gmail.com.
We are offering a Double Up Food Bucks (up to $10 match) when you use your SNAP benefits. Stop by the information booth for more information.
A special thank you to this season's sponsors who make the market happen:
Tualatin Soil and Water Conservation District; Sunset Athletic Club; Safeway; Farmers Market Fund; Cedar Mill Business Association; North Star Property Management
Inside Out policy helps businesses meet physical distancing requirements
Inside Out, a new temporary land use policy approved by the Washington County Board of Commissioners on July 28, will allow some restaurants, bars, personal services, retail and recreational facilities in unincorporated Washington County to conduct business activities in their adjacent parking lots without a permit.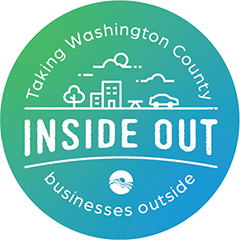 Inside Out provides businesses increased flexibility to maintain existing customer capacity while adhering to physical distancing restrictions due to COVID-19. The policy will remain in effect for the duration of the COVID-19 emergency.
"Washington County is committed to supporting businesses during this pandemic," said Kathryn Harrington, Chair, Washington County Board of Commissioners. "Inside Out will allow businesses to better facilitate physical distancing requirements while providing additional business flexibility."
No permit or other permissions are needed, but businesses must meet the following requirements of Inside Out:
Location must be adjacent to the business.
Hours of outdoor operation are 7 am-10 pm.
Ongoing compliance with all COVID-19 related directives.
Permission from the Oregon Liquor Control Commission if alcohol is served.
Location cannot reduce the number of ADA parking spaces or interfere with loading areas or pathways. ADA facilities can be relocated but must meet ADA requirements.
Visit the county page for updated and more complete information.
Open Air Beaverton Program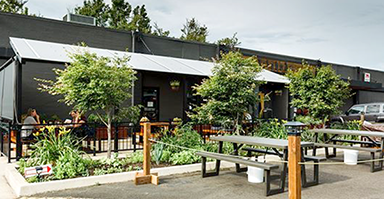 The City of Beaverton has launched a new program to help local businesses safely serve customers and promote small business recovery during COVID-19. Under this program, food, recreation and other establishments impacted by physical-distancing requirements are allowed to temporarily expand outdoors into areas normally reserved for vehicles.
Effective now through October 31, the program will allow citywide food and drink establishments, gyms, yoga studios, hair salons and other personal services and retail businesses to expand into private parking lots. Like businesses located in downtown Portland, Beaverton establishments will be allowed to temporarily expand into the parking lanes of city streets, with approval via a free city-issued permit. The city will pay for and place protective barriers around each permitted space for increased safety; however, businesses are required to supply their own tables and chairs.
For more information, including program details, specific requirements and the permit application, visit BeavertonOregon.gov/OpenAirBeaverton.
Fieldstone Cornell Landing hosts August events online
Estate Planning in 2020: Wills, Trusts, Probate, Estate Taxes and More!
Saturday, August 22, 2pm, RSVP to receive Zoom link
Join Michael Rose of Rose Elder Law for an in-depth look at how to avoid probate and reduce estate taxes through the proper use of trusts and wills. He will also review the most expensive mistakes of estate planning. Email sophiem@fieldstonecommunities.com for a link and to reserve your place.
Stronger Smarter Together
Saturday, August 29, 1pm, RSVP to receive Zoom link
Join us for our monthly dementia support group where we will discuss the joys and challenges of caring for a loved one with dementia. Email sophiem@fieldstonecommunities.com for a link and to reserve your place. We look forward to seeing you in person once restrictions are lifted.
Great Notion Timberland
Daily, noon-7 pm, 230 NW Lost Springs Terrace (NW corner)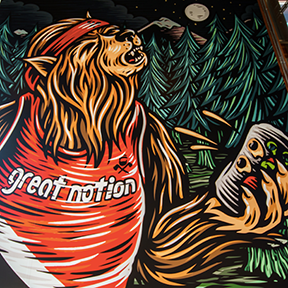 Great Notion Pub in the Timberland Center is now open for walk up to-go beer! We will be slinging cans daily from 12-7 pm, and you can check the pub's Instagram stories for updated availability @greatnotionbeaverton. No app pickups will be possible in Beaverton just yet, but we hope to add that option very soon. Dine-in service is still a little way off, but stay tuned over the coming weeks for updates. Come by for a 4-pack or two.
We ask that while visiting you follow the same guidelines in place at our NW taproom. This means that we will not be accepting cash. Come prepared with your card for now, and we plan to add touchless payment methods next week. Masks are required for entry at both locations, as well as any public indoor spaces in Oregon. Lastly, be sure to observe social distancing practices as much as possible. We can't wait to see you!
Adult watercolor classes at Catlin Gabel
Fridays, August 7 & 14, 1-4 pm, Vollum Building, Floor 2, East Campus Catlin Gabel School, 8245 SW Barnes Road, $50 each session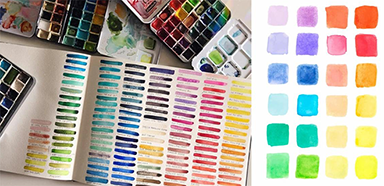 Birds are among us in our daily lives with their songs, bright colors and energy. Ronna Fujisawa offers workshops in Bird Art Watercolor, and at catlin.edu/communityprograms, students can sign up for the two remaining sessions. Due to COVID-19 restrictions, class sizes are limited to a total of nine students.
As an avid bird lover, art educator, and multi-media artista, Ronna Fujisawa teaches students to create watercolor paintings of local birds. Each class will cover various techniques of drawing, watercolor painting, rendering, and surface design. Although the teacher will supply photocopies of birds for reference, students are welcome to bring their own reference materials.
Woodpeckers: Friday, August 7
Workshop focuses on watercolor paintings of local woodpeckers.
Ravens: Friday, August 14
Workshop focuses on watercolor paintings of local ravens.
World of Smiles Pediatric Dentistry
At World of Smiles, we pride ourselves on providing a safe and healthy environment for our patient families. We have exceeded the standards set by state safety guidelines by implementing increased social distancing measurements, advanced team member PPE, and face mask requirements. To further protect the health and safety of our families, we have removed all porous toys and installed air purification units, germ barriers, and UV sanitation throughout our office. Providing dental care in a safe and healthy manner is our number one priority!
We are open five days per week and are always accepting new patients. For our tweens, teens, and the young at heart, check out our teen office! For more information, please visit visitworldofsmiles.com or call us at (503) 626-9700! We will be happy to hear from you!