Heritage trees at JQA Young House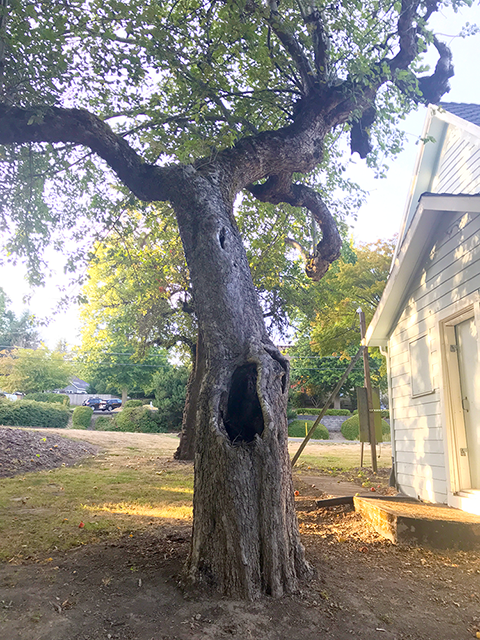 by Virginia Bruce, CMHS Exec. Dir.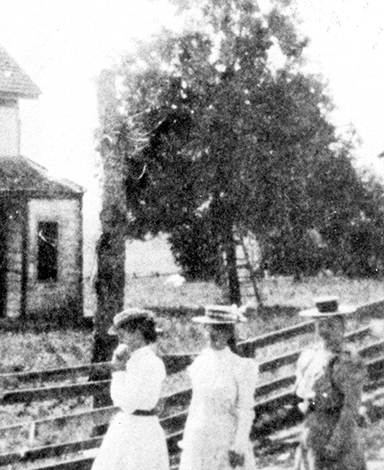 In the earliest photo we have of the John Quincy Adams Young House on Cornell, you can see a fruit tree with a ladder propped up against it. That pear tree, and the apple tree next to it, still stand next to the house!
The apple tree had a few branches that were very close to the house. Cedar Mill Historical Society (CMHS) Board Member Robert Dupuy, and our advisor Michael Panhorst, were concerned that they could damage the roof.
Rather than just cut down the apple tree, as some had suggested, we enlisted the help of Badger Tree Service, who donated their time and expertise in pruning the branches that were problematic.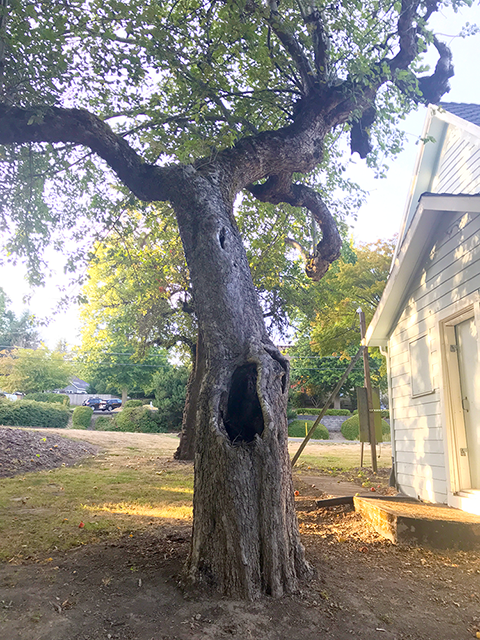 We are also working with Bartlett Tree Service (formerly Collier) since they are experts at maintaining heritage fruit trees. We were scheduled to meet with them just as the big windstorm followed by the horrible fire season hit, and they asked to reschedule for obvious reasons!

We aren't sure that the tree can be saved. It has a large bole, but our contact, Kyle at Bartlett, says old apple trees can survive in spite of that if the rest of the tree is healthy. If it can't be saved, we will try to propagate some cuttings. Wouldn't that be a great fundraiser?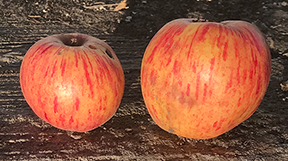 The pear tree is probably a Bartlett, and has delicious fruit, although it should be getting regular spraying because of pests. We're not sure what type of apple tree we have, but maybe someone more knowledgeable can identify it by the photo of the apples?
CMHS would be happy to work with a few neighborhood fruit-tree lovers to do a better job of caring for both trees. We will need to coordinate with the Park District because they own the property, but please get in touch if you'd like to help. Contact us at info@cedarmillhistory.org.
We look forward to resuming the Cedar Mill Cider Festival next year! Maybe by then we'll be able to produce our own hard cider from the fruit!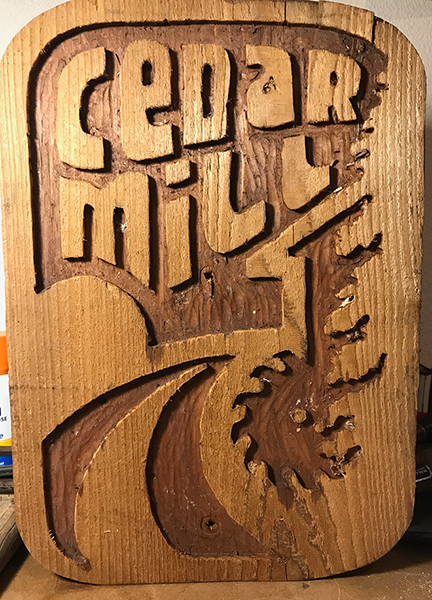 Mystery plaque
A neighbor found this plaque in her attic, and called us to see if we wanted it for the CMHS history collection. We were happy to accept it, but nobody we've talked to knows where it came from. Does it look familiar? Can you help us figure that out? Contact us at info@cedarmillhistory.org.
Join the CMHS Board!
We're still looking for folks interested in helping the effort to preserve and share our history story. You don't have to have lived here a long time, or even to know a lot about our stories. But we do need folks in the fields of finance, construction, communications (website development, newsletters, etc.), and some experience serving on a non-profit board is helpful too. But number one is enthusiasm and a bit of time to work on the big project to restore the JQA Young House and tackle our many other projects. Contact us at info@cedarmillhistory.org.