Origin of the Tualatin Kalapuyans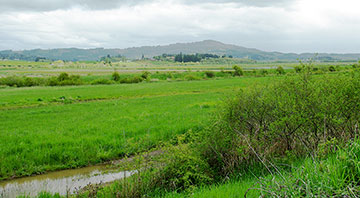 The Wapato Lake National Wildlife Refuge, approved in 2007, is a noncontiguous patchwork of Pacific Northwest rainforest near Gaston, in Washington and Yamhill Counties. In 2009-2010, the U.S. Fish and Wildlife Service began working on a 15-year comprehensive plan for the Wapato Lake National Wildlife Refuge. Until the land acquisitions for the refuge are completed and restoration work begins, the land is being offered for use by local farmers. [From David Lewis' article in the Oregon Encyclopedia]
The Tualatin Kalapuya lived in the Tualatin Valley, also called the Tualatin Prairie, for many thousands of years. Their principal resource was Wapato Lake, a vast lake near what is now Gaston, Oregon. Many villages were located around the lake. Today, the lake is a small remnant, as farmers drained the lake in the early 20th century to make way for more farmlands. Wapato bulbs (Sagitaria latifolia) were the major food resource from the lake, but the area was also known for waterfowl hunting, and as a place for gathering of weaving materials like tule and cattail.
Some of the major Kalapuyan tribes are the Santiam, Tualatin (also called Atfalati), and the Yoncalla. Each village enjoyed political autonomy, and its own sovereignty, but the major subdivisions had many political affinities among villages over a vast area.
Every culture has an origin story. The Kalapuyans have several origin stories indicating the deep history of these people in the Willamette Valley, and the autonomy of the major divisions in the tribe. In 1945, Melville Jacobs collected together a number of Tualatin origin stories into his "Kalapuya Texts," (University of Washington).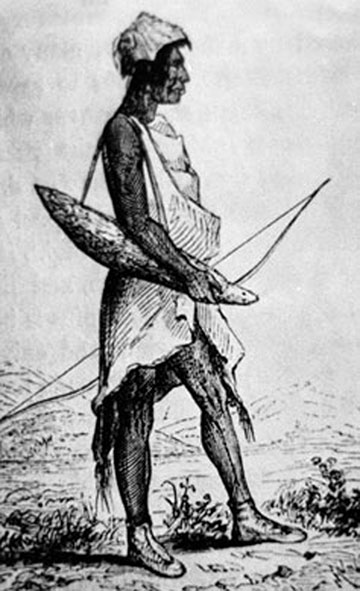 The 1841 woodcut by Alfred T. Agate is the only surviving full-body drawing of a Kalapuya person from that period and for several decades after.
The following is an English transcription of the Tualatin Kalapuyan origin story from Jacobs' book. The Kalapuya language version is also included in the book, and only a few people can read the language, one of them being Dr. Henry Zenk, the preeminent Kalapuya language scholar today. Zenk has extensive publications on the Kalapuya languages and cultural traditions that extend back into the 1970s.
A Tualatin Kalapuya ancient story tells how things came to be. Long ago the Tualatin country filled with many people. There was nothing of sickness. These people became the stars. The next generation of people became the pebbles. During the next age, there was a flood and the people became the water beings (salmon, steelhead, whale, Water Being, seal, etc.). In the fourth age, Crow showed the people how to hunt the deer and elk and other animals and to gather the camas, wapato, tarweed and other foods. A young man went to the moon first and then to the sun seeking water. Finding it kept by the sun, he released it and the water became the oceans, rivers and streams. The world was prepared for the fifth age and the Tualatin Kalapuya people.
David G. Lewis, PhD, is a descendant of the Santiam Kalapuya, Yoncalla Kalapuya, Chinook, Takelma and Molalla peoples of Oregon. David is an independent scholar, educator, and conducts public presentations around Oregon about Native peoples and the history of Oregon. Many of his writings are published on the website.