Bike lanes, sidewalks approved for Cornell


(revised 10-12-17)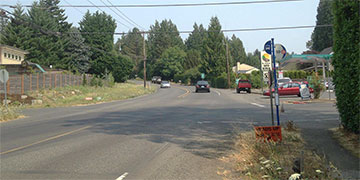 Cornell at 97th
Cornell Road will become more bike and pedestrian friendly thanks to an approximately $7.44 million Washington County road improvement project that recently got the green light. The project will add 6.5-foot-wide raised bike lanes and separated sidewalks on both sides of the road between NW 113th and 102nd. Construction is expected to begin in 2019.
County commissioners, who approved the project, opted for a "cycle track" design, which was one of four under consideration. The design features a bike lane that is wider by 1.5 feet than a standard striped bike lane or a buffered lane, both of which place bicyclists in the road with cars. The fourth option was a bike lane fully separated by a 4-foot wide planter and curb.

A typical cycle track design.
The cycle track design, which is used in parts of Portland, separates cyclists from the road with a shoulder and a raised lane. Walkers are separated from the bicycles by a six-inch-wide, two-or-three inches high curb. A cyclist could ride onto the sidewalk to avoid an obstacle in the cycle track.
Stephen Roberts, Acting Assistant Director of Land Use and Transportation for Washington County, says, "The "mountable curb" shown between the cycle facility and the sidewalk would allow cyclists to ride over it and utilize the sidewalk if needed to bypass an obstruction in the cycle track. Entry and exit from the track typically are placed at each cross-street. In this case, there are many driveways along Cornell Road, so these would provide cyclists with multiple locations to enter and exit the cycle track facility."
The board considered a 10-point criteria list, which included cyclist protection, maintenance, and bus compatibility. County staff had recommended the cheaper second option, the buffered bike lane, which was a 13% increase over standard bike lanes. The cycle track is a 21% overall cost uptick over standard bike lanes, but was deemed one of the safest options.
"Our board has long expressed its desire to provide bicycle facilities with a greater degree of separation from vehicular traffic in conjunction with major road improvement projects," said Roberts.
The standard bike lane ($6,140,000)was the cheapest option. Option 2, a buffered bike lane, would have been a 13% increase over the basic option. Option 3 is a 21% increas, while Option 4, a completely separated bike facility, would have been a 27% increase over a basic bike lane. All options will require additional Right-of-Way acquisition.
The bike and pedestrian project is part of the county's Major Streets Transportation Improvement Program (MSTIP 3d). It coincides with a sidewalk project proposed for Cornell between 87th and 102nd avenues. That project, which hasn't yet been selected for funding, would be paid by the Urban Road Maintenance District. It is number 599 on the URMD candidate map, and it is still open for comments from the public through Oct. 8.
Since Cornell Road crosses into Multnomah County just past 87th Ave., the Portland Bureau of Transportation has it in its sights for a future separated in-roadway bike facility. No other details have been given as to timing and extent, and the county is not currently in discussion with PBOT, Roberts said.