Development News October 2019
Life Time Fitness development appealed to state board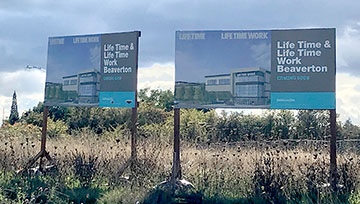 Signs and a fence have been installed on the site
The mystery "Beaverton Business Owners, LLC" client of attorney Mike Connors has filed an appeal to the state Land Use Board of Appeals (LUBA). According to Beaverton planner Jana Fox, "That is currently proceeding through LUBA's process. The decision by the City for Life Time is considered final after all local (in this case City Council) appeals have been exhausted. Once all local appeals are final (when the final order is signed, mailed and posted) a LUBA appeal does not hold up issuance of permits by the local government as the decision is considered final. A long way of saying, they can receive permits and start work on the site while a LUBA appeal proceeds at the same time."
We don't know the basis of the LUBA appeal, as Mike Connors was unable to spare time to let us know any details. We hope to have more information soon. Follow Cedar Mill News on Facebook where we'll post any information we get, and look for another update next month.
Milltowner Shopping Center update
Continuing delays in getting Washington County development approvals are slowing the development process. We have to wonder if the county wants all commercial developers to annex into Beaverton!
CVS Pharmacy will occupy the main anchor building at Cornell and Saltzman.
Cedar Hills Shopping Center redevelopment
We learned that the Department of Motor Vehicles (DMV) office located in the existing center has no plans at this time to move the office. David House, Public Affairs office of DMV, says, "At this time we have a lease through 2028 with an option to extend, and the property has not been sold yet. If it sells, the buyer would need to work with us on a transition plan that honors our lease contract and meets their needs, but we haven't been approached yet."
No word from Harbor Freight or any of the other businesses in the center.
Nike construction noise
Several neighbors complained on NextDoor about very early-morning construction noise from the Nike campus. County rules require developers to limit noisy activity to the hours from 7 am-7 pm. Land Use and Transportation reminded Nike about the rule and they have committed to remind their contractors about the noise limit hours. Pays to complain!