January 2014 Business Roundup
Child's Way Preschool/Kindergarten
A Child's Way was established in 1982 and has been in its current location for over 20 years. It has been nationally accredited by NAEYC since 1997. The developmentally based curriculum utilizes a multi-sensory, hands-on approach to learning. It is planned around the whole child, which includes Social-Emotional, Cognitive (Language, Math, & Science), Small Motor/Large Motor and Creative development. The daily schedule includes choice time, circle time, small/large group activities, snack, story, and outdoor time. Each class has two teachers.
A Child's Way will be hosting a Parent Information Night for those interested in the school on Thursday, January 16, from 7-8:30 pm. It is located in the Cedar Mill community at 12755 NW Dogwood Street, Portland (Christ United Methodist Church). During the Parent Information Night, parents will have the opportunity to visit classrooms, meet teachers, listen to a presentation on curriculum, and complete an application for the New Family Lottery. The New Family Lottery will run from January 16-21.
In the 2014-15 school year the following classes will be offered: Two's and Parents, Pre-3's, 3's, Pre-4's, Pre-K 3 day, Pre-K 4 day, and Kindergarten. All are welcome to attend. You may call the school office at 503-644-8407 or visit their web site at achildsway.com for more information.
Resolving to Get Organized?
NW Organizing Solutions knows that getting organized is one of the top five New Year's resolutions. Why? When things are organized, our lives have less chaos and stress. It saves money and frees up more time to enjoy life.
NW Organizing Solutions has several resources to help you achieve that resolution. This year their free e-newsletters will address organizing a different area of the home each month. Sign up to receive the newsletter at www.nworganizingsolutions.com.
They are also offering a "New Year's Resolutions" special. Schedule two three-hour sessions in January with Professional Organizer Beth Giles and receive the last hour free. Contact Beth at 503-709-0791 or beth@nworganizingsolutions.com to get your hands-on appointment scheduled and make it a truly happy new year.
Yoga for new moms
New mothers often find conflict when trying to find a moment for themselves, but need time to restore mentally, emotionally and physically. Yoga is here to help! This 2-hour postpartum workshop with Sally Hoesing, RN will offer poses to relieve the "mama posture," rediscover your pelvic floor, understand diastasis recti and discuss postpartum depression. Come together to share yoga and the experience of motherhood with your fellow moms! This workshop is open to women through the first year of the postpartum period. It will take place on Sunday, January 26 from 1:30-3:30 pm and is only $30.
Sunset Yoga is offering free introductory yoga classes for everybody from January 6-12. Those new to Sunset Yoga Center can choose from Level 1 and Gentle classes to get started on the road to health!
Village Gallery News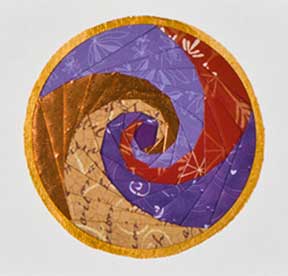 A folded-paper work by Patti Isaacs
The featured artist this month is Marilyn Davis, January 7-31. Artist reception: Saturday, January 11, 2-4 pm. She has many watercolor paintings on canvas and paper and has combined her love of watercolor painting and texture by painting on canvas and adding hand-painted papers to traditional watercolors to create the look and feel of collage. Visit her website at marilyndavisart.org.
Face Behind the Artwork: Village Gallery introduces this new quarterly event for 2014, free and open to the public. It's on Saturday, January 18, 1-3 pm. Patti Isaacs will be demonstrating Iris Paper Folding at the gallery. Learn the beautiful paper crafting technique of folding strips of colored paper to form a design. The center of the design is reminiscent of the iris of an eye or a camera lens. Patti Isaacs has been creating Iris Fold cards and framed wall art for more than nine years. Visit her website at pattiisaacs.com.
Featured Workshops:
Mary Burgess -Ukrainian Egg (Pysanky) Decorating: Saturday, March 1, 10 am-3 pm,$50 includes tools and supplies. Ages 15-adult.
Learn how to create beautiful intricate patterns on egg shells using a wax resist method in the traditional Ukrainian way. Egg shells are waxed and dyed using a kistka, a special waxing tool used to "write" patterns on the egg. Colorful dyes are applied in succession for a dramatic effect.
Linda Rothchild Ollis-Acrylic Potential-Transparent and Opaque: Monday, March 10, 9:30 am-12:30 pm, $60 includes supplies. Ages16-adult.
Are you ready for a new approach to awaken your painting potential? This class starts with a step-by-step process and completed painting by the instructor; students then create their own with supplies and tools provided. Visit her websiteat lrothchildollis.blogspot.com.
For more information: Please call the Gallery at 503-644-8001 or visit their website for additional information about membership, classes and specials.
Refinish First Earns Angie's List Award
Refinish First LLP has earned the service industry's coveted Angie's List Super Service Award, reflecting an exemplary year of service provided to members of the consumer review service in 2013.
"We are very pleased that the first year that we were eligible, we actually were able to obtain the award," says the owner, David Luton. "Although we are going into our third year of business, we didn't qualify for 2012. I am very proud of our team. We have worked hard to make our customers happy, and that is very rewarding in itself, but this award—it's like the cherry on top!"
Only about 5% of the companies Refinish First competes with in Portland/Vancouver metro are able to earn our Super Service Award," said Angie's List Founder Angie Hicks. "It's a mark of consistently great customer service."
Super Service Award 2013 winners have met strict eligibility requirements, which include an "A" rating in overall grade, recent grade, and review period grade; the company must be in good standing with Angie's List, have a fully complete profile, pass a background check and abide by Angie's List operational guidelines.
Refinish First LLC offers homeowners a way to refresh cabinets and woodwork with new finishes—paint or stain—or new facing, to make rooms look new again at a fraction of the cost of new cabinets. Contact them at 503-522-6188 or visit the website at refinishfirst.com.
UPS Store offers holiday recycling tips
After the holidays, houses are littered with piles of crumpled wrapping paper, holiday cards, pine needles and boxes of packaging peanuts. An easy way for individuals to do their part in keeping their community clean is by recycling. So while the ground may be covered in white, The UPS Store offers the following tips to make your holidays a little greener:
Recycle packaging peanuts, bubble wrap and air bubble packs. The UPS Store accepts clean foam packaging peanuts of all sizes, shapes and colors, bubble wrap and air bubble packs for reuse. For additional information on peanut recycling visit loosefillpackaging.com.
Reuse wrapping paper, bows, ribbons, tissue paper, etc. Also, save gift boxes and bags and reuse them throughout the year. Recycle those you can't reuse.
Recycle greeting cards. Save cards and cut them up to use as gift tags next year. They also make a great resource for children's art projects, or you can research organizations in your area that could use your collection of used greeting cards.
Use these tips to simplify your post-holiday cleanup so you can begin the New Year with a clean house (and a green conscience). The UPS Store, located at 10940 SW Barnes Rd. in Peterkort Towne Square, is open Monday-Friday 9 am-7 pm and 9 am-5 pm on Saturdays, and closed on Sundays. For more information, please visit their website.
Virtue of the Month: Joyfulness
Joyfulness is an inner wellspring of peace and happiness. It is beyond ordinary happiness because it is not an occasional emotional reaction to luck or circumstances. It is a deep sense of well being that fills us with delight and hope. We appreciate the gift of life, and savor its richness. We enjoy simple pleasures. We find the humor in things. We allow joy to carry us through the painful times. We take ourselves lightly and remember to play. Joy comes when we are being true to a soulful purpose. It gives us an abiding sense that all is well. Excerpts from Virtues Reflection Cards, by Linda Kavelin Popov. Please Contact Delaram Adyani at virtuesconnectionportland.com 503-267-0202 for more information on a free 30 minute consultation and a virtues pick for 2014.
Local Zen Teacher reading from new book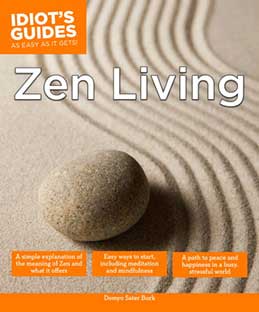 Domyo Sater Burk, Zen monk, sensei and spiritual teacher at Cedar Mill's Bright Way Zen, will give a reading from her newly released book, "Idiot's Guide: Zen Living," on February 6 at 7 pm at Powells Books at Cedar Hills Crossing, 3415 SW Cedar Hills Blvd. Domyo Burk will illustrate the ways that Zen practice and mindfulness can be used as tools to help simplify our modern, hectic lives. This free event is open to the public. Following the reading, attendees are invited to participate in a question and answer period with the author.
"Regardless of religious affiliation, anyone can get started on a path to living a more peaceful life," states Burk. "When people first hear about Zen practice, they may be intrigued, but feel confused about how to begin to bring the principles of meditation and mindfulness into their own lives. It's easier than you might think, and I hope my new book will give many people a nudge to give these ancient techniques a try," states Burk.
Domyo Sater Burk studied and worked as a wildlife biologist before beginning Zen practice at Dharma Rain Zen Center (DRZC) in 1996. She spent five years practicing intensively as a lay person, and then was ordained as a Zen monk in 2001 by Gyokuko Carlson Roshi. In the fall of 2011, Domyo Burk turned her Dharma work and her attention to the establishment of Bright Way Zen. For more information, please visit the website at brightwayzen.org.
Blue Frogs Jump Preschool
Blue Frogs Jump, a new preschool for children ages 2 ½ -6 in Cedar Mill, will hold an open house Saturday January 11, 10 am-noon. A winter enrollment special is offered for families choosing to enroll this winter— 50% off the first month's standard tuition plus an extra 10% off the standard monthly tuition for the entire 2014 year. (Offer expires 1/13/2014.) For those unable to attend the Open House, owner Michele Erard M.S. Ed, will offer 10% off the 2014 standard monthly tuition for the year, (expires end of day 3/19/2014).
Children enjoy an eco-healthy environment—less chemicals, more recycling, and increased safety guidelines. Erard says, "Our backyard play space is a certified wildlife habitat, meaning we don't use harsh chemicals in our yard, we participate in organic gardening, and provide the necessary elements for wildlife to survive: birds, caterpillars, and ladybugs."
For more information, visit the website or call 503-925-3919.
Cedar Mill Business Association news
The 2013 CMBA Annual Meeting opened with a surprise performance of holiday favorites and classics by the Sunset High School choir, led by band director, Christopher Rust.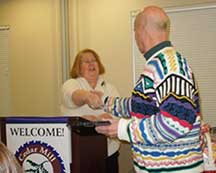 Sandi Proctor thanks Chuck Richards for his contributions to the community
The CMBA Annual Meeting is always held the second Tuesday in December. The Sunset Athletic Club hosts the event in their Fireside Banquet Room. Members got to know each other by teaming up to compete in a game testing local knowledge drawn from information gathered from the Cedar Mill News.
All food and beverage items were either purchased or donated solely from CMBA member businesses. Special thanks go to Burnt Ends BBQ, Kat's Kitchen, Pips Frozen Yogurt and Gelato, Pars Market, Poppa's Haven Coffee, Mountain Man Nut & Fruit Co., and Safeway.
CMBA President Sandi Proctor recognized several businesses this year for their outstanding support of the group's activities:
Michael Coates from Miller Paint for handling and storing the canopy used at the CMBA booth at the Farmers' Market; Carleen Prentice and Chuck Richards of the Sunset Athletic Club for their generous donation of facilities and support of the flower basket program; and Dan Larsen of the Cedar Mill Bible Church, where our monthly meetings are held. These four recipients go out of their way to lend their time, facilities and employees to Cedar Mill Business Association causes and events. The community is lucky to have such generous members.
Elections to the 2014 Board of Directors were held. The 2014 board is: Sandi Proctor, Dean Shade, Joanne Hollister, Lori Alexander, Lori Bitter, Robert Caldwell and Chris Baidenmann. Board officers will be announced at the January 14 meeting.
The meeting concluded with the annual raffle gift exchange. This is always good fun and a good time for members to give a little of themselves and leave with a special gift from another CMBA member.
For information about joining the Cedar Mill Business Association, go to cedarmillbiz.com.
Health Source offers screenings for cardiovascular research donations
Cedar Mill HealthSource Chiropractic and Progressive Rehab® wants to help start the New Year off right by providing Complimentary Community Health Screenings in exchange for a $10 donation to the American Heart Association.
The Health Screening, including a Health Risk Assessment, a $200 value, that will help track down even the smallest amounts of pain, including those suffering from a wide range of problems such as low back pain, headaches, neck pain, shoulder or arm pain, bulging or herniated discs, leg pain, numbness and more. Even X-Rays will be included if necessary. Our health risk assessment will also assess the daily stressors of our emotional, physical, and mental stability. There are some restrictions for federal insurance beneficiaries.
Donations will be accepted at the office located at 13305 NW Cornell Rd., Suite E 9, until January 31, but contributors are encouraged to call and set up an appointment at 503-746-5085 today. For more information on HealthSource, go to HealthSourceChiro.com. For more information, facts, or figures about cardiovascular health go to the American Heart Association website.
Rosson selected for Agent Advisory Council
Bob Rosson, of Peninsula Insurance in Cedar Mill, will help to improve the experience of Safeco Insurance customers after being selected as a participant on the company's Northwest Region Agent Advisory Council.
The advisory council program, which consists of eight regional panels along with a national council, gathers feedback from agents across the country to enhance both service and business results for Safeco and independent agencies.
"The Safeco Agent Advisory Council is more than just another industry panel," said Bob Rosson, who has been with Peninsula Insurance for 20 years. "It's a chance to help Safeco and my fellow agents continually improve our service. I'm honored to take part."
"Safeco Agent Advisory Councils provide valuable input as we strive for stronger relationships with our agents and customers across the country," said Matthew Nickerson, president of Safeco Insurance. "We are grateful for agents who are willing to add their voice and the feedback of other agents to improve our shared business opportunities and better serve our customers."
Peninsula Insurance has served the Cedar Mill community since 1992. Peninsula is an independent insurance agency, representing a number of insurance carriers offering auto, home, business, and life insurance.