Thought-provoking January Series
returns to Oak Hills Church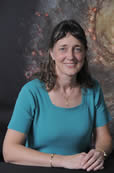 Jennifer Wiseman , January 24:
For over two decades, Calvin College, a midsized liberal arts college in Grand Rapids, Michigan, has been producing the award-winning January Series, a set of 15 talks presented by speakers from a variety of national and international points of view. Speakers in the past have included Salman Rushdie and Garrison Keillor.
This year's speakers include Senator Olympia Snowe—Fighting for Common Ground: How We Can Fix the Stalemate in Congress; Bill Rassmussen: Channeling sports: A Conversation with the ESPN founder; and Linda Smith—Renting Lacy: A Story of America's Prostituted Children. For more details and a schedule, visit the website.
The goal of the January Series is not to instruct the audiences in what to think, but how to think! In addition to the thousands of students who attend the talks on campus, there are 44 remote sites hosting a live webcast.
The speeches are presented live on 15 days from January 8-28, 9:30-10:30 am at the Oak Hills Community Church. Admission is free, refreshments are served, and childcare is available on request.
Local business owner and Oak Hills resident Sam Bosch and his wife Corinne brought the series to our area, which is the only Oregon location for the live telecast. After finding out about the possibility of the remote showings, they approached the Oak Hills Church, which gladly took on the project. One of Bosch's employees at Peregrin Financial Technologies helps with the technical aspects of the showing, which involves a projection screen and several internet connections.
The Oak Hills Community Church is located at 2800 NW 153rd Ave in Beaverton, just north of where Sunset Highway crosses Cornell.