Two nearby parks renovated
THPRD continues to complete projects made possible by their 2008 Bond.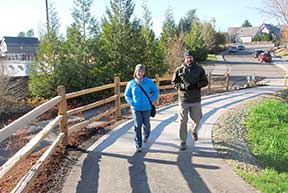 Joggers enjoy the new Hansen Ridge trail.
Hansen Ridge Park, 4075 NW 147th Ave., is a small neighborhood park in Bethany amidst vast wetlands. The new park features a play structure, swings and a picnic table. It also has meandering hard-surface pathways to make the natural area more accessible to visitors. The park is designed to eventually connect directly to the Westside Trail.
Interpretive signage will soon be installed at Hansen Ridge to provide visitors with a brief history of the property and its surrounding area, including the original Hansen family farmhouse, located just west of the park, across 147th Avenue.
Pioneer Park, 14545 NW Pioneer Road, Beaverton, is located just east of the Park District's main Howard M. Terpenning Complex. At the redeveloped site, the play area has been relocated from a forested area to an open area at the southeast corner of the site, adjacent to the central lawn. One of two basketball courts was removed to accommodate a picnic plaza, drinking fountain, bike rack and new play structure.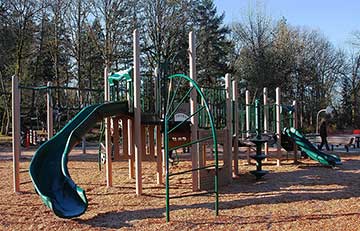 The Pioneer Park playground was relocated and furnished with new equipment.
The hard-surface trail was widened, and a boardwalk was constructed at the west end of the park to upgrade the lower loop of a figure eight trail that extends around the lawn's perimeter and into the natural area at the north end. Explorers can also access the upper loop, a reinforced soft-surface trail, through the natural area.
Pioneer Park is accessible via an improved entrance pathway off Meadow Road. Eventually, the park will connect to the Westside Trail at an entry point at the southwest corner of the park, near the newly constructed boardwalk.
Natural Resources will soon complete wetland and upland plant restoration at Hansen Ridge Park and Pioneer Park to improve the wildlife habitat for songbirds and small mammals. Improvements will include the removal of non-native plants and the installation of native trees and shrubs.
THPRD's $100 million bond measure is designated to preserve natural areas, develop new trails and trail connections, add athletic fields, and upgrade or expand parks and recreational facilities across the district. About 130 total projects have been planned, and more than half are now complete. For details, visit thprd.org.