Famous rocker alum visits Sunset High

Just before Thanksgiving, one of Sunset High School's most famous alumni, Tommy Thayer (Class of '78), returned to the school to visit with band students and to learn more about the school's auditorium renovation needs. Tommy is lead guitarist for the band KISS and he remembers well his years in Sunset's bands where he played saxophone and guitar under the direction of band director Dell Herreid, who was also a well-known Portland area musician with his own jazz orchestra. His influence on Tommy and several other students helped many of them become professional musicians.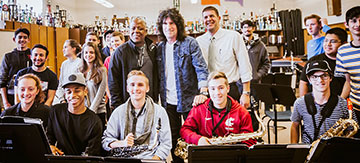 As an old classmate and lead "Play a Role" fundraiser, I had invited him to meet with John Huelskamp, Sunset's principal. Mr. Huelskamp led a tour of the school, informed Tommy of the repairs and renovations needed in the auditorium, and surprised him with a visit to the band room. Greg Hall, Sunset's current band director, was leading a jazz band rehearsal. After listening to a couple of tunes, Tommy spent several minutes answering questions from the students, signing autographs, and taking photos.
One question struck a chord with Mr. Huelskamp when a student asked Tommy for tips on making it in the music business. Tommy answered, "persistence and perseverance, don't take no for an answer." He told a story about when in the seventh grade at Meadow Park Junior High and just learning to play the guitar, he and his band tried out for the school talent show. They didn't make the cut but he took it as motivation to keep practicing to be good enough to make it in the next time, something that he has continued to follow the rest of his musical career during his time with the band Black 'N Blue, on up until he was invited to join KISS.
After visiting with the students, Tommy continued to tour the school with Mr. Huelskamp and Mr. James Farmer, Sunset's theater director, along with theater parent volunteer fundraisers Becky Redding, Lynda Gordon, and me. Tommy discussed the auditorium needs with the group and decided to make a generous donation with his family to support the Play A Role fundraising campaign. He is also making plans to host a VIP donor event next spring to help raise additional funds for the school. More about this special event will be announced in the coming weeks.
As of the end of 2017, the Play A Role campaign has raised over $57,000. To learn more about the fundraiser or join Tommy by making an online donation, go to the fundraiser website at https://bit.ly/Play_a_Role.