History in the News


William Cornell


Cornell Road is named after William Cornell, early contributor to the taming of the Cedar Mill area. His story is impossible to untangle from the story of the religious needs of the early community. He was probably the first licensed preacher to reside in the vicinity. He arrived in 1852 and took up a donation land claim along the road that bears his name, just east of what became the Multnomah county line. Many of you go to northwest Portland via that route. It is how the settlers took their produce to a growing Portland market and how the Cedar Mill took its lumber to the booming Portland housing industry. But who was this person, Cornell?

Methodist Episcopal quarterly conference records indicate Cornell was a "Sabbath School" teacher at Union School in 1858. That meant he taught Sunday School. It is not known when he became an ordained minister but the records reveal his license to preach was renewed in 1860.

Early meetings were held in family homes and the Union Schoolhouse but the population was growing and Cornell undoubtedly longed for a church building. In 1867 Wesley Chapel was constructed at the cost of $700. The small building stood a few blocks west of the junction of Cornell and Murray. It served the needs of the community for 24 years.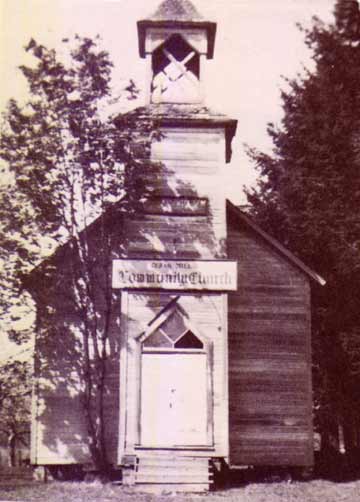 Wesley Chapel, built in 1892 in the Gothic Style. The structure was later used by Cedar Mill Community Church. (1949 photo by Carl Bruichert, Sr.)
Cornell eventually moved from the area and served as minister in the Innes Chapel, closer to his new home which was over by present-day Washington Square in Beaverton.
It is interesting to note that Wesley Chapel served the Cedar Mill citizens until the Owen Murray family purchased the land where the building stood. For some reason the Catholic Murray's relationship with the Methodists soured and in 1891, the Methodists were asked to vacate the premises. JQA Young's son Jasper donated some land on Cornell Road just east of the original building and a new chapel was built. Thissecond Wesley Chapel served the community for over 40 years. After that it stood vacant for a number of years, life swirling and growing around it where it shared space with an advertising board and tall grass. I remember seeing it when we moved here in 1964. It was demolished in 1965.
William Cornell eventually moved to Salem where he became involved in the growth of Willamette University. He is buried in the Lee Mission Cemetery in that city.