Kirke Johnson, November 3, 1944-November 20, 2014
Kirke was born of American parents in Rio De Janeiro, Brazil on November 3, 1944, where his father was overseeing the mining of strategic minerals for the American war effort during WW2. His father was a mining engineer, and his mother was a school teacher and fine musician. When he was a toddler, the family moved back to the United States. Kirke grew up in mining communities in Virginia, Arizona, and New Mexico, where he had numerous early camping adventures that helped develop his abiding love for nature and the outdoors. His love for cycling and technology became evident early on, when as a child he developed a way to launch match-head rockets electrically from his bicycle.
He attended the New Mexico Military Institute for high school. He was an excellent trombone player and played in the All State Band. He escaped the rigidity of military school, to which he was ill-suited, by working with the school barber, and by taking up cave exploration in his free time.
For college he attended New Mexico State University, where he was a member of the Reserve Officer Training Corps. While at NMSU he developed his interests in technology through the study of amateur and commercial radio.
After school he served his country as a member of the Air Force, where he upgraded from match heads to much bigger rockets. While training at White Sands Missile Range he undertook one of his earliest long-distance bicycle rides.
His reliability, integrity, stability, and soft-spoken manner made an impression on his superiors. He was ultimately given the great responsibility of being part of a missile launch crew in North Dakota where he was responsible for the operation of part of America's nuclear missile arsenal.
After his military service, he began his career as a computer programmer in Denver, and broadened his outdoor interests to include skiing and mountaineering.
He chose to move closer to his extended family, and took a programming position in Tacoma with Pennwalt Corp. The company transferred him to Portland, where he met his wife Kathi. They shared a mutual passion for hiking and nature, and married and had two children, Stephen and Heather. Kirke started his career with Portland Community College where he served with dedication for 28 years in a variety of information technology roles. He was a man of impeccable integrity. He had a quiet but strong sense of community involvement, and was committed to making life better for all.
Kirke was a scoutmaster with the Boy Scouts of America, where he shared his knowledge and love of the outdoors, spirit of integrity, and soft-spoken cheerful service with his children and others. He helped his son Stephen attain the rank of Eagle Scout.
His daughter Heather shared her love of bicycles with him and got him riding again. Nothing beats the simple pleasure of riding a bicycle, and Kirke became an avid cyclist and bike commuter. He got into shape and averaged 10,000 miles a year for seven years, which he proudly noted was far more than the miles he put on his car. He shared this pleasure with his wife with whom he did many long-distance bicycle tours, with his work, where he actively promoted bicycle commuting, and in the community where he organized and participated in group rides and actively promoted and exemplified bicycle safety. He was proud of his cycling granddaughter Violet.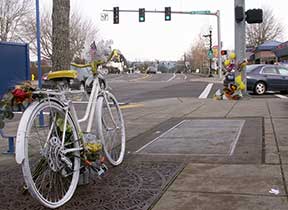 He was one of the founding members of "Connecting Neighborhoods," a subcommittee of CPO 1 that sought to improve ways for people to travel without cars. The group was very successful during the years it was active, from 2008-2011, including ensuring that bike lanes were added to all road projects in the area, and sharing safe routes with an annotated Google map (http://tinyurl.com/cpo1map). Kirke's "pet project," which still needs to be accomplished, was to assemble a trail that would provide a safe way for pedestrians and cyclists to travel through the pass between the Tualatin Valley and Portland.
Kirke was pursuing his love of cycling when a tragic accident with a semi truck took his life on November 20, 2014, at the intersection of Barnes & Cornell Road in Cedar Mill. He was a strong and vigorous 70 years young. He was a one-year survivor of cancer, had just retired, and was looking forward to realizing a long-planned trans-America bike tour with his wife.
Kirke is survived by his wife Kathi, his children Stephen and Heather, and his granddaughter Violet.
His memorial service was at 1 pm on December 6, at the World Forestry Center. In lieu of flowers, please make a donation for bicycle safety in his name to the The Bicycle Transportation Alliance or Kirke Johnson's fund c/o Virginia Bruce at the Sunset Credit Union on Murray Road in Cedar Mill. We are going to try to finish the Portland-to-Washington County Trail in his memory!