December 2018 Business News
Safeway Grand Re-opening after remodel
Saturday, December 8, 11-5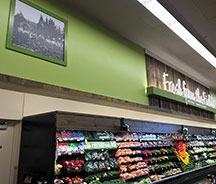 As part of the redecorating, Safeway's designers chose images from the Cedar Mill Historical Society collection.
Open House and sampling of holiday foods. Brownie & Rotisserie Chicken Walk! Win a free brownie or chicken every hour! Coloring contest, demonstrations, and more.
Wednesday, December 12
Grand Re-opening after the extensive remodel of the store. Games and prizes, and more sampling of holiday goodies!
Drive Up & Go
There's a new program that lets you order your groceries online at safeway.com, select a time and store, and drive to the designated space and call the phone number on the sign. Your groceries will be delivered to your car in minutes. Sounds like a nice amenity for our wet weather!
Hoffman Academy offers new classes for 2019
Hoffman Choir Club
Tuesdays, January 15-March 19, 5-5:50 pm, Hoffman Academy,
Hoffman Choir Club is perfect for the beginner or advanced singer between ages 8 and 13. Your child will learn and sing songs from the recent hit movie "The Greatest Showman!" Each choir member will have a solo, but learn the power of ensemble singing and harmonization as well. It will be ten weeks of singing activities, music theory games, and learning our favorite songs. We hope to turn kids on to learning music in a fun atmosphere! $90, or $60 if registered for other lessons through Hoffman, plus $15 registration fee.
Musical Beginnings
Wednesdays, January 16-March 20, 11:30-12:15, Hoffman Academy,
Parents of preschoolers will want to check out Musical Beginnings. This is an excellent way to ensure that a child will have success learning an instrument later and enjoy music deeply for a lifetime. The Musical Beginnings curriculum was designed to awaken children to the exciting world of music through singing activities, movement to music, drumming, listening to music of many styles, and exploring different instruments. One parent participates in the class with her or his preschool age child to help build a family culture of music making together. $125 for 1 child or $95 per child for 2 or more children.
Hoffman Academy also offers private and partner lessons in piano, guitar, and voice to students ages 5 through adult, as well as a pre-school music class for students ages 2-5. Find more information about these classes and tuition rates on the Academy website. Hoffman Academy is located at 12660 NW Cornell Road in Cedar Mill. For more information visit www.HoffmanAcademy.com/portland or call 503-336-3121.
Pharmaca events
Festive Glow Mini-Facials
Saturday, December 15, 11-3, Beaverton Pharmaca, free
Holiday stress and cold weather causing your radiant skin to suffer? Need to revive and beautify your skin for the holidays? Join us for mini-facials with our licensed esthetician Alicia. Featuring the skincare line Evanhealy, learn about proper facial care and the products you need to nourish and revive your skin. Call to reserve your spot for mini-facial. Mini-facials require a $10 reservation fee, and you receive a $10 off coupon valid on event day. Beaverton Pharmaca is located at 240 NW Lost Springs Terrace. Contact Patrick Healey at 503-596-3552 for more information
Holiday Beauty with Juice Beauty
Friday, December 21, 12–6, Beaverton Pharmaca, free
Get ready for a festive night out with a glowifying facial from Juice Beauty! It's a great time to pamper yourself, experience their beautiful skincare, and pick up a gorgeous Juice Beauty Holiday gift. Limited appointments available. Mini-facials require a $10 service fee, and you receive a $10 off coupon valid on event day.
Beaverton Pharmaca is located at 240 NW Lost Springs Terrace. Contact Patrick Healey at 503-596-3552 for more information
Village Gallery of Arts
Village Gallery is a non-profit educational art gallery in operation since 1963 at 12505 NW Cornell Road, next to the Cedar Mill Library. Hours: Monday-Saturday 10 am-4 pm; Sunday 12 pm-4 pm
Holiday Evening Hours
Friday, December 14, 4-8 pm
Enjoy refreshments while you shop for locally crafted decorations or gifts. We also offer gift certificates.
December Show—Sparkles & Gems
Open House Sunday, December 9, 2-4, free
Join us for refreshments and enjoy meeting our talented artists. December will be the perfect time to visit the Village Gallery of Arts to find the most beautiful and creative holiday gifts and ornaments! Show opens Monday, December 3
Winter Classes
Please see our website for information on our complete class lineup at www.villagegalleryarts.org.
To register, visit or call the gallery at 503-644-8001
Children's Art Classes
Mondays, December 3-17, 3:45-4:45 pm for ages 7-11 years, 5-6 pm for ages 11-16 years, $42
Come join an exciting class learning a variety of art. I will be developing your child's art ability where they are at and giving them an opportunity to try out different mediums so they can find what they will enjoy. We will be doing units in drawing, watercolor, acrylic, pastels, clay and mixed media. I am teaching fine art concepts and techniques with each lesson. We will be exploring a variety of subjects including landscapes, people, faces, animals, cartooning and perspective. This is a weekly class and you need to register a month ahead in order to hold your spot for that month.
Adult classes & workshops
Painting Small
Thursdays, December 6 and 13,10-1 pm
This class focuses on alla prima techniques to complete a painting in a few hours. Each student will finish two paintings that will make wonderful gifts for the holiday season. Oil and acrylic painters of all skill levels welcome.
Suminagashi Paper Marbling Workshop
Monday, December 3, 10-2:30, $65
Explore this fascinating Japanese paper marbling technique using water-based boku inks floated on plain tap water in a shallow tray. The name suminagashi literally means spilled ink!
Learn how to create intricate marbled papers using sumi inks dropped from small paint brushes into a tray of water and printed on rice paper. Patterns and special colorful effects are achieved using a bamboo stylus and eyedroppers. This process is meditative, mesmerizing, and creates subtle, found-in-nature patterns and rings that are one-of-a-kind. We will create dozens of marbled rice papers which can be later used to collage onto heavier paper and developed further.
Brave Color!
Tuesdays, January 15-February 26, no class February 5, 12–2:30, $179
Learn to mix watercolor with confidence in this six-week course! We'll unravel the mysteries of color theory, transparency/opacity, granulation and staining pigments. We will learn how to mix luminous color instead of mud, vibrant grays, shades and blacks with limited and split-primary palettes. We'll study value, intensity and color bias, and spend much of our class time making reference charts and color wheels which will be a great resource long after the class ends. We will put our color smarts to work through practice painting projects between classes.