Business News
Cedar Mill clean up
Saturday, May 7, 7-9 am, at the Cornell Road "overlook" west of the Cut Above/Coldwell Seal office.
Come and enjoy the fresh spring morning and help us maintain the landscaping on our "main street." Coffee and treats provided.
The work is fun and the results are immediate! Cedar Mill will shine after just two hours with your help. Age 12 and over, please.
BRING: Gloves and your favorite rake, shovel and weeding tool.
SUPPLIED: Reflective vests ~ tools ~ morning treats, delicious coffee and water
Your Cedar Mill Business Association sponsors this event. See you there!
Back Pain Relief Center
13305 NW Cornell Road in Suite E, next to the GoHealth Urgent Care.
HealthSource of Cedar Mill is changing its name to Back Pain Relief Center. Dr. Stephen Besser has been serving the Cedar Mill community since 2011. He is currently evolving his business under the new name of "Back Pain Relief Center" to provide people with a progressive brand of chiropractic. They specialize in short-term chiropractic care for your neck and back pain and of course walk-ins are always welcome. Beyond chiropractic care they offer massage therapy and same-day sports physicals. If you have experienced any injury or you want to get rid of chronic pain, they can help. Back Pain Relief Center is located at 13305 NW Cornell Road in Suite E right Next to the GoHealth Urgent Care. Call 503) 746-5085 for information.
Curvy Chic Four-Day Consignment Event!
Thursday 2-8 pm, Friday 10 am-9 pm, Saturday and Sunday 10 am-5 pm, 2505 NW Cornell Road
Pre-sale Thursday, April 28, 11 am ($5 entry fee at the door); Fashion Show Friday, April 29, 7 pm
Although the recession has eased slightly, most people are still watching their dollars carefully. Even so, the arrival of spring also heralds in a feeling of "out with the old, in with the new", especially when it comes to our wardrobes! Thankfully, Curvy Chic Closet, the largest plus size consignment event in North America, has answered our frugal prayers with their four-day, semi-annual Consignment Sales Event, allowing curvy women to indulge in a new wardrobe without even a smidge of guilt by trading in their own gently-used clothing for a massive selection of outfits and accessories from fellow attendees and more than 25 participating vendors.
If you want to consign your gently-used, size 14/XL-34 clothes, you should register at curvychiccloset.com to receive a consigner number and register for a drop-off appointment.
Attendees can treat themselves to a free fashion show, featuring designers such as ARTTwear, E.G.O.Boutique and Custom Designs, House of Solana, Rue21, and Sonshine Apparel, on Friday, April 29, at 7 pm at the same location as the event.
Curvy Chic Closet's founder, Becky Jarvis, states "I started Curvy Chic Closet after realizing that there were no plus size consignment events to help women buy beautiful gently used plus size clothing. 65% of American women wear a size 14 and above, yet we are left behind in the fashion industry at traditional brick and mortar stores. I am able to offer amazing shopping under one roof with over 20,000 consigned items (clothing, shoes, jewelry, purses, and accessories) for the plus size consumer.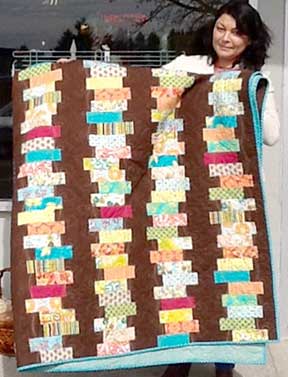 This exciting extravaganza kicks off with a special pre-sale event. Curvy Chic Closet is joining forces with Camions of Care, a nonprofit organization that supports menstrual hygiene management through the global distribution of feminine hygiene product care packages to women in need. Attendees can bring three non-food donations in exchange for FREE Presale Admission ($5 value). Items needed (and accepted any day) include toilet paper, paper towels, facial tissues, feminine products, shampoo, conditioner, and soap.
For more information about Curvy Chic Closet, visit their Facebook page.
Second Edition
Cathy Barber is the winner of the "Stacked Bricks" quilt raffled off at Second Edition for the benefit of the Cedar Mill Libraries! When Cathy came into the shop the next day to claim her prize, she commented, "my quilting friends will be so envious!" The handmade quilt was donated to the library by an anonymous patron. The raffle ticket sales netted more than $400 for the library.
Sunset Credit Union wants to help you start saving
'Save to Win' is Sunset Credit Union's free prize-linked savings program that rewards members for contributing to their own savings account. All you have to do is open a Sunset Credit Union 12-month 'Save to Win' share certificate with at least $25, and you'll be entered to win monthly and quarterly prizes. In addition to gaining regular interest on your savings, each additional deposit of $25 gives you more chances to win! Members can earn up to 10 entries per month, so the more you save, the more chances you have to win.
With monthly and quarterly prizes ranging from $25 to $5,000, members save money, gain interest, and have a chance at great cash prizes. With a Save to Win account, there's nothing to lose and everything to win! Talk to a Sunset Credit Union member service representative to open your Save to Win account and start saving today. To learn more about Sunset Credit Union and the 'Save to Win' savings program, visit their website at sspfcu.com, or stop by their office located at 1100 NW Murray Blvd.
Village Gallery News
Featured Artist: Kalyani Pattani
Opening Reception Sunday April 10, 2-4 pm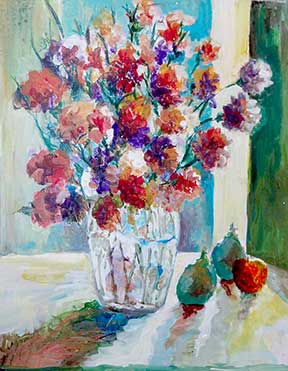 Floral in the Light by Kalyani Pattani
Kalyani's artwork is about depicting essential shapes and emotions. "I try to reduce the subject to basic shapes and introduce strong lighting effect with colors to emphasize the drama. I also love to explore different media and styles in my work." Kalyani earned a B.F.A. from the University of Texas at Austin and M.A. in Studio Arts from Sam Houston State University. She has exhibited her art in Texas, London (UK), Coventry (UK) and Portland OR.
Spring Shows
The Village Gallery April Show, which runs from April 2-May 1, is an Awards show. We are grateful to Blick Art Materials for supplying the award gift certificates, ranging from $100 for first place to $10 for honorable mentions. Please stop by during the month of April to see the award winning art and also featured artist Kalyani Pattani's paintings.
The Gallery's May Art Adoption Show is open May 2-May 28. In its seventh year, the show features 360 pieces of art created by local artisans. Each 6" x 6" canvas is priced from $20-$50. The proceeds of our annual fundraising show go towards general gallery operating expenses. For over 50 years, this gallery is run on 100% volunteer staffing.
New Class in April
Chris Keylock-Williams –
Watercolor: Perseverance…Staying the Course and Perfecting Your Paintings
April 5, 19, 26, May 3 and 17, 1-4 pm
Spring is a wonderful time to continue and add to your watercolor skills. Bring in some of your paintings and Chris will help you critique and find solutions. She will also do a demo. Chris is a signature member of the National Watercolor Society and has taught at the Village Gallery for over 20 years.
For complete details on all classes please visit villagegalleryarts.org.