History in the News
The Union Cemetery of Cedar Mill

Old tombstones bear memories of early settlers
Our Union Cemetery is celebrating its 155-year anniversary! In April 1858, Francis and Arvilla McGuire donated land on what is now NW 143rd, "for the use and benefit of a Burying Ground and Meeting House." It is one of a few remaining historical sites in the Cedar Mill community.
Many of the first settlers of Cedar Mill and surrounding area are buried in this beautiful little cemetery which boasts a huge spreading oak tree at it's center. Under that tree is a natural stone with the name "Hall" chiseled on it, marking the grave of the earliest Hall to be buried there. Near that stone lie such notable early pioneer families as the Findleys, Youngs, Barnes, Leahys, Stollers, and Saltzmanns.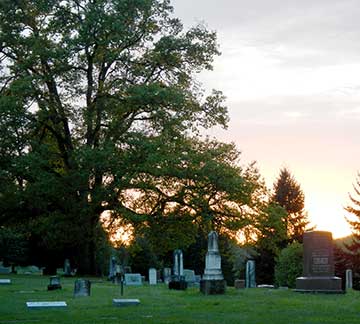 In 1903 the burial ground was incorporated under State law and named Union Schoolhouse Cemetery. A schoolhouse and a cemetery? Seemingly an odd combination, but back then, the schoolhouse also served as the community meeting house. Church services and school and community meetings were held there. No doubt picnics and social gatherings were held on the grounds as well—all right next to the cemetery. Death was very much a part of everyday life back then.
Reading the inscriptions on the grave stones make one wonder about the stories to be told about the lives of the people who occupy the graves—"After finishing life's duties she now sweetly rests," "Here rests a Woodman of the World," "Loved in life and lamented in death," and a more recent epitaph, "Don't sit under the apple tree..." bring character and understanding that bridges generations and sweetens life's experience.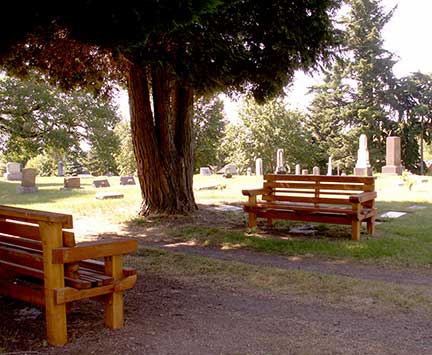 Since 1949, the cemetery has grown to include five acres and has become to be known as Union Cemetery of Cedar Mill. A Board of Trustees oversees the site. Volunteers devote their time to keep the cemetery a beautiful place of rest. Over the last 35 years, the grounds have been lovingly maintained by Patty and Carl Bartruff. Recently the cemetery was spruced up for Memorial Day weekend. Patty and Carl mowed, Mary Young and Beverly Plack cleaned and edged all of the veteran's graves, and Phyllis Thorne, Board Secretary, placed the flags as she has faithfully done for the past 18 years.
Space available!
Newer generations of Cedar Mill graves are to be found throughout the cemetery. In 1974 it was designated as an endowment-care cemetery, where lots are sold under the representation that the cemetery and lots will receive perpetual maintenance and oversight. This "endowed care" is provided free of further cost to the purchaser after payment of the original purchase price for a lot or burial space.
Come and visit this wonderful place. Perhaps you will be drawn to having this be your final resting place as well. For more information call 503-499-1144.