Business News
Cleary Med: What is MDVIP?
Thursday, June 23, 4- 6 pm, 11786 SW Barnes Road, Suite 270
Dr. Cleary is hosting an Open House for anyone interested in finding our about our MDVIP practice and what it means to have an MDVIP physician. Please contact the office at 503-526-0994 to RSVP.
Saturday, June 11 and 25 from 10 am- 12 pm
Dr. Cleary's "Walk with the Doc" events are continuing for the summer! Please join him and his patients as they enjoy the various hiking and walking trails throughout Oregon. Interested? Please contact the office at 503-526-0994 for specific details!
Cedar Mill Chiropractic on the Road to Rio!
Two chiropractors from Cedar Mill Chiropractic Clinic have been selected to assist track and field athletes on their Road to Rio! Lauren McCabe, DC, and Steve Hanson, DC, will be in Eugene at the end of June and beginning of July as part of the medical team for the USA Track and Field Olympic Trials. Cedar Mill Chiropractic Clinic is the only Portland metro clinic to have two chiropractic physicians selected for this prestigious multidisciplinary team.
The clinic is located at 12923 NW Cornell Rd. #201, and they're on the web at cedarmillchiro.com. Call 503-646-3393 to schedule a visit.
Something for everyone at the Grange Market
Saturday June 4, 9 am- 2 pm, Leedy Grange Hall, 835 NW Saltzman
Ready for nice weather and all the fun things to do? Don't forget to put the Leedy Grange Artisan Flea Market on your list. Check out one-of-a-kind treasures, curiosities, antiques, succulents, jewelry, glassware, shells, rocks, and more!
Fun for the whole family...FREE! Come and support this community event! In the Bales Thriftway parking lot.
OCAC Summer Events
OCAC Art degree summer application workshops
Saturday, June 18, 2 pm sharp, OCAC campus, 8245 SW Barnes Road
Find out how to apply for Oregon College of Art and Craft (OCAC) art degree programs in this free workshop. Come learn about applying, submitting a portfolio, finding scholarships, transferring credits, and more! RSVP now. Please RSVP at ocac.edu.
OCAC Summer classes and camps for adults and youth
Studio School art classes for adults, June 1-August 29
Jordan Schnitzer Family Art Adventures art camps for youth, June 13-August 19
Craft something wonderful at Oregon College of Art and Craft (OCAC) this summer! Choose from a variety of art classes and workshops for adults, and art camps for pre-K through pre-college youth. Register at ocac.edu/register.
Santosha prenatal yoga
Wednesdays, 8 pm, 4876 NW Bethany Blvd, L-4 in the Bethany Town Center
The Santosha Prenatal Class is one of the few in the area and will continue throughout the summer. It's a great opportunity to connect with other moms-to-be. $15 drop-in or six sessions for $78.
Santosha Yoga is open to anyone in the community. There are no memberships and nothing to join. They still have their "first class is free" policy. To learn more, visit santoshaforeverybody.com.
Sunset Credit Union offers summer financial safety tips
Summer vacations are a time of relaxation and fun. The last thing you need to take home from your vacation is the nightmare of losing your money, credit/debit/ATM cards, and other forms of identification because any or all of those were lost or stolen.
Here are some tips for holding on to your things:
Take only what is necessary in your wallet or purse. Remove extra cash, credit cards, checkbooks, and identification (especially your Social Security card) beyond what you need for your trip. That will minimize your losses if your wallet or purse is lost or stolen.
Use a credit card and leave your debit card at home. If your debit card disappears, its unauthorized use could result in your checking account being emptied very quickly. With a Sunset Visa or Debit card, you can register it and know when and where it was used.
Keep your wallet or purse in a place on your person where you can easily make sure it is with you at all times. That usually means somewhere on the front of your body—not in a back pocket, which can easily be picked, especially if you are distracted.
Don't leave extra cash and valuables in your hotel room, or in a rental car. Store them in the hotel safe.
Make photocopies of your credit/debit cards, financial documents, and other related information that you plan to take with you. If your cards or information are lost or stolen, you can refer to these copies when contacting your credit card company and financial institution.
When you return from your vacation, check your accounts online to confirm your transactions are legitimate and were made by you—not someone else.
By taking some simple precautions, you can reduce your chance of being victimized and can enjoy your trip. Sunset Credit Union serves anyone who lives, works, worships or attends school in Washington County. Visit www.sspfcu.com or call them at 503.643.1335 to learn more.
Village Gallery
Open hours: Monday - Saturday 10 am - 4 pm; Sunday 12 pm - 4 pm, 12505 NW Cornell Road, Portland, OR 97229, next to the Cedar Mill Library
June Featured Artist: Sandy Reeves
Opening Reception, Sunday, June 12, from 2-4 pm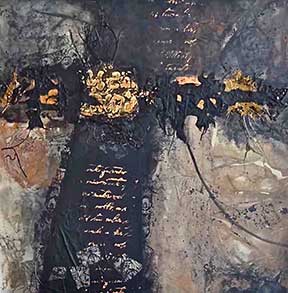 An abstract by Sandy Reeves
Sandy Reeves takes a "spontaneous and intuitive approach to my work, always remaining open and excited about new techniques, materials, and subject matter." Her artwork ranges from impressionistic to abstract with an emphasis on color, shapes, and texture. Her paintings use up to 20 layers of paint to build up texture and dimension.
New Classes Offered In June
For complete details on all classes please visit villagegalleryarts.org.
Liz Walker - Suminagashi Marbling: Monday, June 27 9:30 am to 3:30 pm
Explore this fascinating Japanese paper marbling technique using water-based inks floated on plain tap water. Suminagashi literally means spilled ink. Create intricate, patterned rice papers using this ancient method and then use these papers to build gorgeous layered collages.
Mary Burgess - Watercolor On The Go: Mondays, June 30, July 1 and 2, 10 am to 3 pm
Learn to make your own watercolor journal and discover techniques to help you create meaningful and visually pleasing journal pages. Begin your travel journal before you start your journey and learn to put together a watercolor journaling kit that suits your style of travel.
Couples Date Night Cooking Classes
Saturdays, June 24, July 30, August 27, The Wine Cellar, 525 NW Saltzman Road
You are invited to join us for a bottle of wine (red, white or bubbles), and a two-recipe cooking class. Yes, you eat the tasty food! $75 per couple (of any design).
Call 503-643-5655 or email wine@portlandwinecellar.com to reserve your space. 21 and over only, please. Interested in doing this as a private party for a group of your friends? Sure! We have an eight-guest minimum and would love to have you.
Summer Hours: From June 1-September 1: Tuesday: 11am-6pm; Wednesday-Saturday: 11am-8pm. We will continue to have weekly wine tastings on Friday nights from 5-8 pm and Saturdays from 12-5 pm.
Exceptionally good air conditioning! Remember, we have to keep the wine cool; so feel free to bring a book or a board game and come down to grab a little bite to eat and a beer or wine while keeping cool.
Mountain Man Franchise for Sale
Earn $25,000 to $45,000 a year with a strong customer base in a nine-year-established territory: Cedar Mill, North Beaverton, NW Portland, E. Aloha. Training will be provided that will give you all the confidence you need to be successful from day one.
Transferable Benefits: Two web sites –OregonMountainman.com and oregonmountainmanproducts.com. Membership in the Cedar Mill Business Association is included. You also get the business infrastructure—documents, forms, banners, shelving, customer list, equipment and more.
This is the franchise you want! You are your own boss, and you determine your schedule. Meet great people every day. The Beaverton North Mountain Man Nut & Fruit Co. franchise has all of the above benefits and more! Qualified inquiries please. $13,500.
Are you the next successful Mountain Man or Woman? Contact Joanne at MtmanLady@gmail.com or call 503-701-4005.
Cat Adoption at Mud Bay
Saturday, June 25, 12-3 pm, Mud Bay Timberland, 11830 NW Cedar Falls Drive Suite 114
Our newest local pet supply retailer will be having an adoption event with Felines First, a local non-profit cat adoption rescue. They will be bringing in several cats that are available for adoption, and frequently have kittens with them as well.
If anyone is interested in learning more, the website for the rescue is felinesfirstrescue.com. If you're not ready to adopt, they also accept donations during these events. Mud Bay is located in the same complex as Market of Choice in Cedar Mill.
Noyes Participates in Habitat Home-Builders Blitz
Noyes Development Co., based in Washington County, is building a home for Gabe Triplett, his wife Sylvia, and their two young children, including a son that is wheelchair baound and developmentally impaired. The family currently lives in a small two-bedroom apartment that can't accommodate their son's therapy equipment. The doorframes are too small for his wheelchair, so they have to move their son from room-to-room by picking him up: something that will become a lot harder as he gets older. The apartment also has steps with no wheelchair ramp. In addition to the lack of accessibility, there are electrical problems, single pane windows that make it very expensive to heat, and mold growing in many places. The Habitat home being built for the family will be built to ADA standards.
Noyes Development Co and local trades contractors and suppliers are donating labor and materials to get the new home built. The event culminates on Friday, June 10, when the family will receive keys to their new home at the Home Dedication Ceremony.
The Triplett family learned about Habitat for Humanity through their church. They were elated when they were selected into the Homeownership Program. Their home will be located at Helensview in the Cully neighborhood of Northeast Portland, allowing them to stay in their current neighborhood. Noyes Development is building the Triplett's home during the Home Builders Blitz 2016 this spring.
"We are so relieved. We had fear of being pushed out of our neighborhood by gentrification," said Gabriel, "but most of all we are happy to give our children a safe home that has a greater quality of life."
The Home Builders Blitz was started in 2002 by Tom Gipson, a professional home builder in Raleigh, N.C., who supported Habitat for Humanity's efforts to eliminate poverty housing in his community. Gipson rallied other local builders for an accelerated build, which was so successful that Habitat for Humanity International decided to promote it as a nationwide event.
The Home Builders Blitz 2016 is happening simultaneously across the nation, with a goal of building 250 Habitat homes in two weeks, helping families escape substandard housing and become proud Habitat homeowners.
Mike Frey, Vice President of Noyes, says, "Both Peter Noyes and I had been thinking about significant ways to use our skills and resources to make a difference in the community, but we hadn't ever discussed it with each other. Peter attended a Habitat for Humanity fundraiser in late 2013 where he was introduced to Steve Messinetti from the Portland Metro East Habitat chapter. Steve and his team mentioned the Home Builder Blitz to Peter and came in to make a follow-up presentation to us at our office. Both Peter and I were pleased with the opportunity and though we knew it would be a lot of work, we decided to jump in for the 2014 Blitz Build. After a successful build in 2014, we were certain we would continue the tradition in 2016 with Portland Metro East's next Blitz Build. It is a great privilege to be able to captain our team of tradespeople and vendors in order to support Habitat for Humanity and to provide a home for a family in need.