Redevelopment proposed for Milltowner I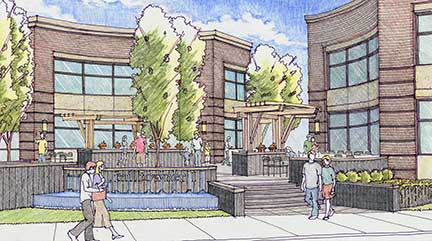 Concept drawing of the public plaza at the Dogwood and Saltzman corner
At a neighborhood meeting on July 2, Bales Findley LLC unveiled their plans for a total redevelopment and expansion of their shopping center at the northeast corner of Saltzman and Cornell. The layout will include one large "anchor" store at the corner, and several smaller buildings surrounding the parking area.
They are working to attract a mix of retail and restaurants to better serve the community. "The time is right for this," said Ken Findley, one of the property's owners. "We've been talking about it for a while, but the economy is better now and it's time for the community to get the kind of center we deserve."
The plans are in the first stage of the county's development process. Once completed plans are turned in to the planning department, and any needed changes are made, it will likely be one or two years before the work begins.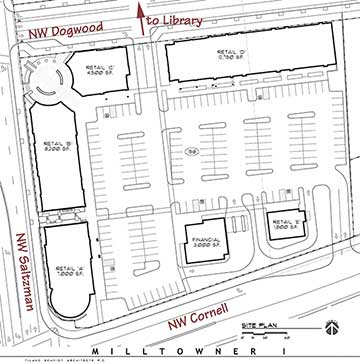 Milltowner I redevelopment site plan—click map to enlarge
They have been meeting with county planners to make sure they've covered all the bases. Because the property is in the Cedar Mill Town Center, they need to meet standards that include street-facing buildings and two-story structures at one of the corners.
Architect Patrick Tiland has gone beyond the basics to plan for several public spaces that will create places for people to meet, relax, and enjoy outdoor dining. They are also making a strong connection with the existing library building, and will be improving the library parking lot as well.
The current center only fills part of the property. The new center will be graded to include the eastern segment of the land. Buildings on the north side of the center will be stepped to accomodate the grade.
Dogwood Sreet will be extended along the north side because Town Center plans include an eventual connection with 125th. There will be an additional pad on the north for a future commercial property.
"It's nice to have some certainty," remarks Ramona Ruhr, who has The Madhatter, a sewing and mending business in the old center. "We've been hearing rumors for a long time, and now we can make plans." She welcomes the improvements but doesn't plan to move her business into the renovated center. "I have space at my home to continue my work," she says.
Walgreens will be moving to their property at the southwest corner of Murray and Cornell, once they complete a "standing wall" renovation on the east section of the building. We haven't heard from the other tenants about their plans, but they do have a while to figure it out. We hope they all decide to relocate in our area!