Featured Business


Bales Findley LLC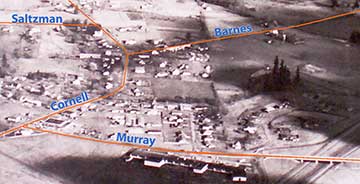 Aerial photo of Cedar Mill c. 1950. Sunset Highway, built in the late '40s, is at lower right. Saltzman was a dirt road and didn't connect to Barnes. Several farms were still operating.
When we study how Cedar Mill grew to become the thriving community that it is today, we have to look at the impact of the Bales-Findley family. Odus Bales was the visionary who saw the potential in the dusty intersection of Cornell and Saltzman (a dirt road until the late '50s). As redevelopment of the original Milltowner I center is announced this month, it's a good time to reflect on how his family shaped the community.
"When Beaverton got the railroad, Cedar Mill died," was the phrase that one old resident used to explain the slow growth of our community in the earlier part of the twentieth century. But Cedar Mill didn't die, it just ticked along during the thirties, forties and fifties until Portland outgrew itself and developers began to realize that there was a lot of space for homes over the hills.
"The grocery store didn't do very well when it opened in 1961," recalls Ken Findley. "There just weren't enough houses around to support it. The first set of new houses to come along was on Filbert Street."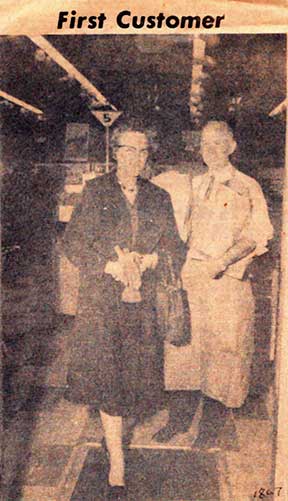 Descendant of the first store owner in Cedar Mill, Mrs. Hazel P. Young, was the first customer of the new $400,000 Milltowner Shoping center just completed in Cedar Mill. John Quincy Adams Young, the grandfather of Mrs. Young's late husband, settled in the Cedar Mill area in 1862 and began the first store there in 1867. Mrs. Young previously owned the property on which the Milltowner Shopping center now stands. [original caption from 1961 newspaper clipping—publication unknown]
Odus Bales had purchased the four-and-one-half-acre lot for the store from Hazel Young in 1960. It was the last remaining piece of the 160-acre Donation Land Claim of James McGill which John Quincy Adams Young had purchased in 1869. A newspaper clipping about the purchase (May 1960, publication unknown) notes, "Rezoning of this acreage for commercial purposes recently was the target of considerable controversy between some adjacent landowners and members of Washington county planning commission." So urbanization was controversial even before our land-use laws were a glimmer in anyone's imagination!
Odus Bales had moved to Oregon from Missouri in 1929. He worked in the grocery business, and built Bales for Food, a grocery store in St. Johns. In 1956 he came to Cedar Mill to purchase strawberries from Lillian Findley, a widow who was running a farm with her teenage son, Ken. "What do you do when you're not farming," he asked her, and they married later that year. He continued to run the St. Johns store for several more years, but he and Lillian started to dream of a Cedar Mill store.
Odus Bales was always concerned with competition, trying to offer something a little different to his shoppers. He was also focused on the customer. So he designed the new store to be welcoming and efficient.
"Odus traveled around the country looking at grocery stores to get ideas," says Ramona Ruhr, who has been leasing a space in Milltowner I, as the first shopping center is now known, for 30 years. "The courtyard was a wonderful nursery in the spring, summer and fall, and they sold Christmas trees during the holidays. There was seating too, and the flowers were laid out like landscaping, but they were all for sale. It was a community meeting place." By the late '60s, the area was getting built up and the store was doing well.
Ken Findley worked on his mother's farm as a teenager, helping to grow not just berries, but hay, apples, pears and peaches. He went to work in the St. John's grocery after Odus came on the scene. "We used to drive our truck down to the "Early Market," which was the produce center for the area in southeast Portland. But he was still interested in farming, and got a degree in Soil Science from Oregon State.
Odus kept on acquiring property in "downtown" Cedar Mill as it came on the market. He and Ken bought a lot of land from the Reeves family, which had owned a general store on Cornell near (old) Barnes Road. This included the land opposite the lumber yard, with Barnes Road running past it. Ken worked to renovate the old house on Barnes, and then rented it out. "Odus was trying to get me started in real estate," Ken says.
"We were making payments on all these pieces of land, and we never had any money at that time. And then one day Odus comes home from a meeting with Ross VanLoo and other county planners, and announced that he was giving away a piece of that property to the county to extend Saltzman between Cornell and Barnes," Ken recalls. "I was upset at the time, but he was right. That made a big difference in the business and in the community." They eventually sold the "triangle" center property to raise cash for other needs.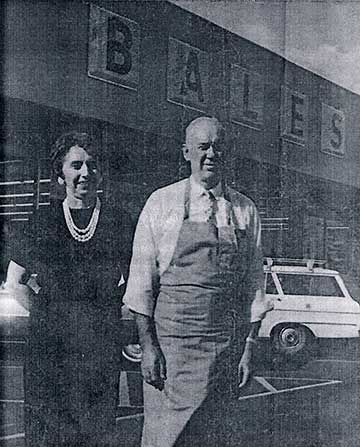 Lillian and Odus Bales in front of Bales for Food
In 1976, Odus offered space to the fledgling Cedar Mill library to open in the location currently occupied by Pacific Agricultural Laboratory. He later helped the library to build in its current location.
By about 1980, business was booming at the grocery, which by now had joined the Thriftway group, which does the marketing and maintains a warehouse for all the Thriftway-branded independent groceries.
Ken told Odus that they needed a bigger store. "Odus was happy to hear that, and got behind that idea," Ken says. "We bought up the land across Saltzman from several owners, including the Jackson family. When we took it to the county, though, they said it was too close to the apartment buildings on the north. They had bigger setbacks at that time. So we bought the apartment buildings!"
Odus had continued to study retailing trends and was determined that the new store would be something special. "We worked with a Seattle architect for a while, but his design was a little too wild. We spent a lot of creative time on what would be good for the area and for our customers."
Between working on the design and putting together the financing, it took some time to break ground on the new center. Ken laughs when he remembers, "We paid a farmer to bring his bulldozer down and push dirt around so it looked like we were working on the development."
Ken's sister Elaine Paul was an interior decorator, and she designed the original interiors for Milltowner I and II. Ken's father-in-law, Gene Jackson, along with local mechanic George Foege, built the metal work for the store in a vacant hardware store in Aloha that they rented for the purpose.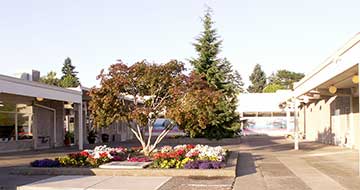 The courtyard was filled with plants for sale when the grocery was located in Milltowner I
"We wanted the store to be very welcoming, so we put the floral department right up front," he recalls. "And we put most of the investment and attention in the perimeter of the store—the deli, the bakery, produce, meat, and dairy. At that time, some stores were sort of guiding people past the aisles [like Winco today]. But we wanted people to feel welcome and for the store to be inviting." Their floral department was so nice that a couple of smaller flower shops in the area lost customers and eventually closed.
Odus' philosophy of retailing was simple. Customers are number one. Employees are number two. "We gave the managers of each department a lot of freedom to choose what to carry. They got a percentage of any increase in sales they were able to achieve in their areas," says Ken. Profits were number three, and would follow if they took care of one and two.
The store was well-known for developing their employees. "We had a system. We'd start with high-school kids—they would listen and we could teach them a work ethic. We'd start them off in bottle return and carry-out. Then they could stock bread and milk. If they had the right attitude—friendly, courteous, and reliable—they could move up." Ken explains. Some went off to college, eventually to return to the store. The Best brothers, Doug and Dave, followed their father's footsteps to become produce and grocery managers.
Ryan Egge and Ken Findley in the office. Plans for the redevelopment of Milltowner I are on the wall.
The new store finally opened in 1988. By that time, they also owned a Bales Thriftway store on Farmington in Aloha. Ken was firmly entrenched in the grocery business by then, and went over to manage the St. John's store. By the early '90s, he was back managing the Cedar Mill store and Odus was semi-retired. Lillian—Mrs. Bales to everyone but family—continued to work as a bookkeeper for several years after Odus died in 1998. She passed away in late 2012 at the age of 96.
In 1995, Ken hired his cousin Ryan Egge to manage the real estate part of the business. Ryan had worked his way through the "system," and then went to Portland State and earned a degree in geography, still working part-time in the store. He also completed the series of courses required for commercial real estate appraisal.
In 2004, the family sold the grocery businesses to Signature Northwest (1204cmnews). Ken feared that the business climate and the grocery industry was changing rapidly, and he was itching to return to his farming roots. The family had some acreage near Hermiston, Oregon, and Ken, "went to work for my son Ian." They grow alfalfa, corn and grain, and have a specialty bull-feeding operation called Beef City. Ken commutes back to Portland on the weekends.
Ryan continues to manage Bales Findley LLC, the property management arm of the family business. Each property is now a separate LLC. "We had been putting cash into Bales Findley over the years, but our lawyers said we should split it up," explains Ken. So now Ryan manages all dealings with the county on development issues, along with managing the heavy maintenance and landscaping operations for many of their properties.
They had a landscaping crew for many years, but now most of the work is contracted out. "We had a trailer with all our landscaping equipment inside, and people were always trying to break into it," Ken laughs. "Finally we put the landscaping name on it and the break-in attempts stopped. I guess they weren't interested when they figured out it was just a bunch of shovels."
Egge, who is married with three young boys (including a pair of twins), stays busy with all the day-to-day business of managing the shopping centers and other properties, and a project at the Farmington store, where Mt. Olivet Baptist Church is renovating a huge building for their congregation. But he still manages to get home most days to make the family dinner so his wife, who also works full-time, can get some relief, and so he can spend time with his boys.
He works with architects and planners, and is also spearheading the drive to bring a new set of retailers into the community for the redeveloped Milltowner I center. Ken says that Ryan is maintaining the Bales formula of putting the customer first. "He creates the buildings and structures that take care of our customers—the tenants—to keep them happy. He works hard to get the right mix of tenants so they all benefit."
So we can look forward to a new shopping center in a few years that will bring some exciting new retail and restaurants to the community, as the Bales/Findley family continues to shape the landscape.