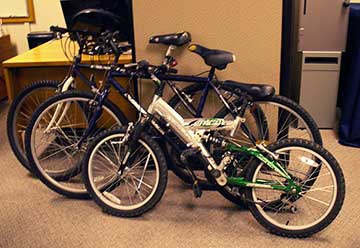 Are you missing any of these bikes?
Bicycle theft
Local business owner Sam Bosch noticed a bicycle shoved under some bushes near his office last month. It was still there later, so he guessed that it was stolen. He took it inside, and called the Sheriff's office. An officer came out and wrote up a "Found Property" report detailing the item.
The next day, there were two more bikes under the bushes! Sam took the bikes inside and put up a note on the wall nearby: "Missing something? Come to Suite 112." He hasn't had anyone claim the bikes, but if you're missing a dirt bike, it might be yours. His office is near Terra Linda. Email info@cedarmillnews.com to claim your bike.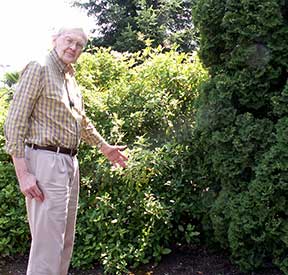 Sam Bosch shows us where he found the bikes
Lieutenant Jonathan Shaver, Washington County Sheriff's Office, says, "In a nutshell, WCSO does not "impound" bicycles that are simply found property. When a deputy responds to a found bicycle, they will attempt to determine if it is stolen and also document the find. If a query of the serial number/description does not match a reported stolen bicycle, it will be left where found or with the finder. This is in accordance with State Law, which is also referenced on the back of the Property Report.
"Undoubtedly, some of these bikes end up being stolen and for whatever reason not reported, or are reported on a later date. However, without knowing that it is stolen or otherwise evidence of a crime, we are unable to seize it just because it is "found". On occasion (but very rarely) we are able to match a previously "found" bike to a later stolen report, via the information documented on the Property Evidence report.
"I would always encourage bike owners to document, and keep somewhere safe, a detailed description of their bike. This should include the make, model, size, color and serial number. A digital photo is great as well. If their bike should happen to be stolen, this information would greatly increase the probability of it being located and returned."