School District vacant lot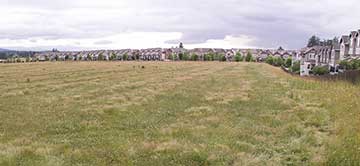 Looking southwest across the vacant field surrounded by the new homes and apartments of Timberland
In 2003, the Beaverton School District (BSD) condemned and then purchased an18-acre parcel in the middle of the former Teufel Nursery property for a future school site. This led to the Teufel family deciding to sell the entire property for development.
By Oregon Law, the District has ten years to use the land for "a public purpose" before the previous owner can buy it back for what they were paid for it plus 7% per year interest. That doesn't look likely now, since land prices have gone down since the purchase.
BSD Public Communication Officer Maureen Wheeler says, "The Beaverton School District has every intention of building a school on the land we own in the Timberland community. We have not decided if it will be a K-8 or a middle school. Planning is underway for a 2014 Capital Bond Measure; a team is putting together the potential elements of the bond. Building a school on this property is contingent on funding (passage of a capital bond)."
So look for a BSD capital improvement bond on your ballot in 2014. This is one of four vacant parcels the district owns north of Highway 26. Given the rapid pace of development applications for new housing in the last few months, our schools will be straining at the seams, particularly when North Bethany begins to fill with young families.