Cedar Mill July Community News
The Season for Asphalt
Washington County's Department of Land Use & Transportation wants to notify Cedar Mill residents that summer is paving season. Crews under contract with DLUT will begin paving work on a number of major county roads.
Much of this work will be done at night to reduce disruption to traffic. The county and its contractor, Baker Rock Resources, are working together to make sure traffic moves as smoothly as possible through this necessary but inconvenient work.
Advisory signs will be posted before the work starts. Roads will remain open, but may be limited to one-way traffic, controlled by flaggers. Expect up to 15-minute delays. Use alternate routes if possible.
Current roadwork schedules are posted on the Washington County Roads web site at wc-roads.com. Schedules may change due to weather, contractors' schedules, or availability of materials.
For more information, please e-mail wc-roads@co.washington.or.us or call 503-846-ROAD (503-846-7623). Washington County and Baker Rock Resources thank you for your patience and careful attention to driving.
Sunset Grad Party Fundraiser
Sunset High School will be running a fundraising for its upcoming 2014 graduation party on Saturday, July 13 from 9-4pm. Drop off your bottles and cans at Bales Thriftway to be recycled by Sunset fundraisers, then go for a carwash at Mikes Auto parts. If you would like fundraising volunteers to pick up your cans and bottles from home, call Kaye O'Brien at 503-703-5914.
Safe Driving Class
The Next AARP Driver Safety Class will be held at the Cedar Mill Library, August 17 and 23 from 9-12. Call (503) 640-4404 to register. This affordable, easy and interesting class can qualify you for a discount on your auto insurance.
Nature in Neighborhoods
If you have ideas on how to make nature thrive in your neighborhood, park, school or city, a Metro Nature in Neighborhoods grant could help make your vision a reality. Share your idea with Oregon Metro to see if Metro's Nature in Neighborhoods Capital Grants can provide financial support. These grants are funded by the voter-approved 2006 natural areas bond measure and support efforts to preserve or enhance natural features and habitats that will benefit communities now and for generations to come.
To learn more about the capital grants, get a copy of the handbook or see all the Nature in Neighborhood Capital Grants that have been funded to date, go to http://www.oregonmetro.gov/capitalgrants
Successful Nature in Neighborhood Capital Grants have fallen into four categories:
Land acquisitions that protect habitat or increase people's access to nature
Stream restoration projects that improve fish habitat and wildlife connectivity
Urban transformation projects that integrate nature into development projects
Neighborhood livability projects that enhance people's experience of nature
Metro staff is open and willing to provide guidance in project planning, direct you to potential partners and resources, and give feedback along the way. If you would like to discuss your project idea, please contact Mary Rose Navarro at 503-797-1781 or MaryRose.Navarro@oregonmetro.gov.
Run for Your Cause

The Cause + Event Foundation is proud to announce its second annual race in our area in November. Cause + Event Portland is a groundbreaking race format for runners who like to run for a cause. At registration, runners can choose from several charities to receive a donation from the Foundation, or they can run for their own cause by providing the necessary information to Cause + Event. The event features a 5K walk, 5K run or 10K run in the Bethany area of Washington County.
Launched in January 2012, the Cause + Event Foundation has created a signature race series. "I am passionate about a few causes that are close to my heart," said Amy Little, Race Director. "As with many runners, I want to have the flexibility to run and raise money for my cause. We hope this event is very successful for years to come."
Utilizing local resources and being environmentally responsible are two of the many unique aspects of the event. "Our goal is to be a zero-impact environmental event. We'll do everything we can to reach our goal," said Waste Management Coordinator and certified Master Recycler Audrey Schaab. The race will also feature an affordable childcare option so that both parents or significant others can run if they want to.
Cause + Event Portland will be held on November 16, 2013 at Bethany Village. Registration is open and the fees are $20 for runners and walkers, which include race bib & chip timing and a $10 donation to the cause of their choice. Runners can also purchase a commemorative participation medal and a long sleeve technical shirt in addition to the race fee. For more information, go to www.causeandeventportland.com.
THPRD Summer Concert Series
Quarterflash, Stone in Love and Curtis Salgado are among the musical artists tapped to appear during the Tualatin Hills Park & Recreation District's popular eight-event Concert & Theater in the Park series this summer.
This free series—seven concerts and one staged theatrical production—will run July 6 through August 22 at neighborhood parks throughout the Beaverton area. THPRD's third annual "Groovin' on the Grass" date night concert headlines the series on August 10 at the Howard M. Terpenning Recreation Complex. Gates will open at 4 for the 5-8:30 concert. For the full schedule, visit http://www.thprd.org/events/summerconcerts.cfm.
The remainder of the 2013 schedule showcases musical styles ranging from island music to Broadway hits to rock, soul, country and blues. With the exception of "Groovin' on the Grass," all shows will run 6-8.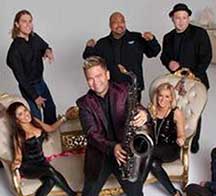 The Cedar Mill Park concert will be held on Thursday, August 22, 6-8 pm in Cedar Mill Park, adjacent to Cedar Mill School on Cornell near 95th. The Patrick Lamb Band will perform. Performer/songwriter Patrick Lamb fuses funk, soul, R&B, and jazz influences to create his own unique sound. The Jackson, Miss., born horn player paid his dues playing roadhouse music in the rural south, where influences included James Brown, Stevie Wonder, Ray Charles, and Wilton Felder. Upon moving to Portland as a teen, Patrick found a way to infuse his southern roots into his music. Patrick has been honored with numerous awards, performed at the White House, and released five studio albums. He also produced the award-winning "Let The Good Times Roll, A Tribute To Ray Charles," which opened the 2007-08 Oregon Symphony Pops season. He has performed for numerous fundraisers to raise consciousness about the loss of funding for the arts in public schools. Like the band on Facebook for more updates.
Bring your family, grab lawn chairs or blankets, and meet your neighbors and friends for a summer evening of fun and music. Seating is on the grass. Beach/sand chairs or blankets for seating are recommended. Regular height lawn chairs will be permitted only at the side and rear of the seating area. Food and beverages will be available for purchase, or you may bring your own picnic. No alcohol is allowed. Leashed dogs are welcome to attend with their owners.
Community partners and sponsors will be on site. Our Rec Mobile and Nature Mobile will also be on hand to engage kids with games, crafts and activities.
This year, THPRD has partnered with the Oregon Food Bank to accept donations of non-perishable food items at all shows. For more information on venues, musicians and other Park District events, visit www.thprd.org. Fans are also encouraged to like THPRD on Facebook for information, reminders and Park District news.
What's in a Name?
On Tuesday, July 9, 2013, from 7-8pm, at the Beaverton History Center, John Terry, member of the Oregon Geographic Names Board, will talk about some oddities that occur across our landscape. He will touch on the current move to fulfill legislative and Native American sentiment to remove all geographic names with the word "squaw" in the state.
John is the great-great-grandson of Richard Allen White, who was an 1843 Oregon Trail migrant. In 1844, Richard Allen White took a donation land claim in Washington County near Baseline and 195th in Reedville. He was helped by the Dr. John McLoughlin and the Hudson Bay Company.
During his career, John worked on a variety of Oregon newspaper publications, including the Oregonian. He wrote "Oregon's Trails," a column devoted to Oregon and Northwest history, from 1996-2011. He is currently working on an anthology of "Oregon's Trails" columns. He was appointed to Oregon Geographic Names Board in 2001 and re-appointed to the board in 2004 and 2008. He is also a member of the Oregon and Clatsop County historical societies and active in alumni affairs at PSU.
The Beaverton History Center is located at 12412 SW Broadway St. For more info, go to HistoricBeaverton.org.
Washington County K-9 Trials
Cedar Mill will host this year's annual Police K-9 competition, which features K-9 teams from around Oregon and Washington. This exciting competition is fun for the whole family to watch. The event is free and will take place at Sunset High School, 13840 NW Cornell Road on Saturday July 20, from 11-3.
Teams from many law enforcement agencies will compete in area search, speed trials, agility courses, suspect apprehension, vehicle extraction, and handler protection.
The event will kick off with a "Kids and K-9's Safety Fair" from 11-1. This is great fun for the kids. Have them bring their bikes, scooters or skateboards for a bike safety course. Make sure they wear their helmets.
The K-9 competition starts at noon. Bleachers provide seating but feel free to bring your blanket and picnic lunch, or lawn chairs. Food and beverage will be sold at the event.
Come root for the Washington County Sheriff's Office teams. The event staff requests that you leave your pets at home. For more information, call 503-846-5930.
A Message from Representative Greenlick
Rep. Mitch Greenlick will be holding two Town Hall meetings this month. The first, with Rep. Chris Harker on July 11, will be at 6:30 pm at the Cedar Mill Community Library (12505 NW. Cornell Rd. at Saltzman Road). The second, with Sen. Elizabeth Steiner Hayward on July 15, will be at 7 pm in the auditorium of Legacy Good Samaritan Medical Center (1040 NW. 22nd Ave. across the street from the main entrance to the Hospital).
In his latest "Mitch Message," Representative Greenlick observes, "As we near the end of this 2013 legislative session and my committees have closed, I have more time to contemplate the nature of the world. The House debate on SB 132 this week set me to thinking about a strong anti-science belief system that seems to be emerging in America. Consistent with a growing distrust of government and general anti-establishment feelings emerging in our society there is a particular distrust of "official" science. It lives on both the left and the right of the political spectrum.
"SB 132 was introduced in response to a growing disinclination of parents to vaccinate their children on entering school. State laws requiring children to be vaccinated are decades old and led to the virtual disappearance of dangerous childhood diseases such as whooping cough (pertussis), diphtheria, and polio. Under current law, when a child first enters school, a parent must either provide certification that the child has been vaccinated or is medically inappropriate for vaccination. Alternatively the parent may claim a religious or philosophical objection to vaccination. Over the past decade, partly facilitated by a court decision broadening the scope of possible philosophical objections, the unvaccinated rate in Oregon schools has tripled until it is the highest in the nation. There are classes in the state where the large majority of kids are unprotected.
"This bill requires a parent to certify that they have watched a video reviewing the evidence for vaccination before they claimed an exemption. The bill was modeled after a similar program in Washington that cut the refusal rate by half."
For more information on Mitch's current work, or to subscribe to his 'Mitch Message', go to http://www.leg.state.or.us/greenlick.