August 2013 Community News
Junior Grange
Do you want your child to have opportunities for positive growth, to participate in community service, and to have fun with others their age while being supported by caring adults?
The Grange recognizes that one of the greatest needs of young families today is a place the family can go together where children are welcome. Junior Grange provides an opportunity for children to build character, develop self-confidence, responsibility, and respect. Grange encourages honor, patriotism, and a concern for agriculture and the communities where the children live and play.
Junior Grange programs are designed to provide training for young members to take on leadership roles as they learn about parliamentary procedure and public speaking. They learn to serve on committees and have fun at the same time. Junior Grange members also create and lead teams to complete community service activities.
If you have a child between the ages of 5 and 14, and would be interested in learning more about what Junior Grange has to offer, come to an informational meeting at Leedy Grange Hall, 835 NW Saltzman, September 21 at 11 am. RSVP not required, although preferred. Please email Rosalea Peters, Washington-Yamhill Pomona Junior Grange Chair, at rosalea@weomedia.com, or call for more information at 503-593-0110.
You can learn more about the history of the Grange and Junior Grange at nationaljuniorgrange.com. They're also on Facebook at facebook.com/nationaljuniorgrange
Bonny Slope Reunion
Former students of the old Bonny Slope School on Thompson Road and local residents are invited to gather for a picnic to reminisce, meet neighbors, and learn more about the history of the area. The event will kick off at noon Saturday, August 10, and continue to dusk in Bonny Slope Park just east of South Road on Northwest Thompson Road.
Organizer Marie Grammer says, "Bonny Slope was a great place to grow up." She has organized the potluck for several years as a way for old residents to meet with people who grew up around them and for new residents to learn about the rich history of the area.
Hot dogs, hamburgers and buns will be provided. Grammer asks everyone attending to bring something to share, such as chips, salad or fruit. She'll have some tables and chairs set up, and she asks others to bring tables and chairs if they have them.
In past years about 40 people have attended the reunions, and Grammer would like to see even more come out to enjoy the day. Copies of a history written by a former teacher are available for a $5 donation. Donations to cover costs of the food are also accepted.
For more information contact Grammer at 503-656 0766 or mariegrammer@hotmail.com. Connect on Facebook by searching for Bonny Slope Reunion.
Drive Safe: AARP
The next session of the AARP Driver Safety Class will be held on Aug 16 and 23. The class is designed to sharpen the skills of drivers over age 50. Attending and completing the class may make drivers eligible for an insurance discount. Classes are three hours long each day, lasting from 9 to noon. Cost for the entire class is $12 or $14 (depending on AARP membership). Payment is made to the instructor on the first day of class.
For more information or to register, contact Gary Standley by phone at 503-640-4404. Further details can also be found on-line at aarp.org/drive.
Hillsboro History Takes Flight
On Tuesday, August 13, from 7-8 pm, Dana McCullough and Phil Brown will talk about the Hillsboro Airport History Project. Dana comes from a three-generation pilot family. Her father, Swede Ralston, soloed on the then 100-acre Hillsboro Airfield in 1934 and went on to establish a flight operation that is still in business today. This is the only continuous operation on the field.
Dana worked summers at the airport, soloed, obtained her pilot's license, and went on to Linfield College and Portland State University to become a high school and college teacher. When her father passed away in 2007, she began researching the colorful history of the airfield and, together with Phil Brown, created a presentation that traces its development through the years.
Phil worked for the Hillsboro Airport on and off for 40 years, and has a grasp of its history. Until working on the project, he had no idea of how much he didn't know. Phil was inspired by movie hero Sky King, after receiving a model of the plane on his sixth birthday. At 16 he started working for Eagle Flight Center at the glider port near North Plains. Since they kept the tow plane and equipment at Hillsboro, he always began and ended his day there. He went on to work for Aero Air, Erickson Air Crane, Your Call, and Soloflex. For the last seven years Phil has flown for a company based in Los Angeles, but the airplane is kept locally.
The event will take place at the Beaverton History Center, 12412 SW Broadway St. Admission is free, and donations are welcome. For more, go to HistoricBeaverton.org or call 503-430-0106.
Fun, Fitness, Friends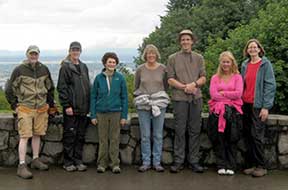 Strolling through the Tualatin Hills Nature Park, hiking up to Council Crest from the World Forestry Center, bicycling the Rock Creek Trail, dancing at Retro Rhythm: One year ago Dawn and Mark Anderson discovered Meetup, an online social networking website that helps people with shared interests meet in the real world. After joining a few groups and hosting activities, they decided in May to start the Beaverton Fun, Fitness & Friends Meetup group.
"Meetup is a wonderful way to meet people our age who are interested in fitness activities and attending community events, " said Dawn. The group is open to everyone (singles and those with partners) who is 45+ and lives in or near Beaverton.
The majority of the group's activities are fitness related. Says Mark, a Physical Therapy Assistant who works at a nursing home in Beaverton, "The patients I treat that are in their 50s and 60s are typically in worse physical shape than my patients who are in their 80s and 90s. We want to be hiking and bicycling when we're in our 90s!"
Join the group today for hiking, walking, bicycling, community events, theatre, live music, board and card games, dining out and picnics. Find more at meetup.com/Beaverton-Fun-Fitness-Friends.
Little League Victory
The Cedar Mill Little League's All Star Team recently claimed the state title for the first time in its 25-year history. The championship recently took place in Pendleton.
During the tournament, Cedar Mill played five games in five days in 90°-plus heat, and used seven pitchers to do it. On offense, the Cedar Mill team collected 55 hits including an impressive 14 homeruns by six different players. Ethan Wilson hit four home runs and Hayden Skiba and Gavin Meader each hit three home runs. Cedar Mill scored 42 runs while allowing only 21 on their way to their first State Championship.
Discover THPRD with a new map
The Tualatin Hills Park & Recreation District has updated its popular trails map and added a new nature section to help walkers, runners and bicyclists enjoy pathways across its 50-square-mile service territory.
On one side, the foldout map provides an overview of THPRD's growing trails network, and includes information about surface type, bike lanes, rail lines, parks, natural areas and greenways, and THPRD facilities. The opposite side features information on nature classes, wildlife watching, play sites, and much more for people of all ages.
"The new map helps people connect to nature in their own neighborhood," said Bruce Barbarasch, superintendent of Natural Resources and Trails Management. "We've included descriptions of common fauna and flora of the district, such as birds, beavers and wildflowers."
THPRD produced the map thanks primarily to a grant from the Washington County Visitors Association (wcva.org.). WCVA also provided financial support for the Park District's last trails map, unveiled in 2009. That map was an immediate hit with the public, and supplies of it were eventually exhausted.
The new map is available—free—at all THPRD patron facilities, Beaverton-area libraries, and bicycle shops, local hotels, REI at Tanasbourne, the Portland Running Company and Sports Authority stores in Beaverton, Portland Community College's Rock Creek Campus, the Beaverton Chamber of Commerce office, and the WCVA office.
A printable version of the map is available by clicking on the website thprd.org/nature/trails/home.cfm and then selecting "Nature and Trails Map" in the document center on the right. For more information, call 503/629-6350.
Oak Hills Garage Sale
The Annual Oak Hills Neighborhood Garage Sale will be held Friday and Saturday, September 6-7. For the past few years, Oak Hills has been organizing a neighborhood-wide garage sale, encouraging residents who have items they'd like to clear out of their homes and garages to hold their sales all at the same time. Maps to all the participating homes are available from each home.
Crossroads Lecture: The Story of the Tualatin River
Wednesday, August 21, 2-3 pm, Washington County Museum, 120 E Main St., Hillsboro
The Tualatin River has long been a source of drinking water, agricultural irrigation, and recreation for Washington County. It has played a big part in the growth of Northwestern Oregon. The river was once the home of twenty-four Atfalati Native American tribes. Dozens of logging companies dotted the river and paddlewheel steamboats traveled from Lake Oswego to Hillsboro. John Fervia, a Tualatin Riverkeeper member and volunteer archivist for the group, will discuss the history and revival of what was once Oregon's most polluted river.
CUMC celebrates 50 years!
Please join Christ United Methodist Church at our Jubi-Looza! We are so excited to be celebrating our surrounding community and 50 years as part of it on September 8th!!!
The church service will be at 10:15 and lunch will start around noon. Please join us for games and community building. Look for more information in the September issue and on the CUMC website.