History in the News
History Museum final weekend?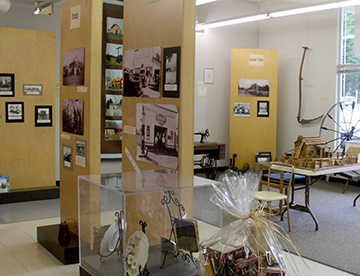 Discover the past of our shared place!
Friday, August 18, 10-5; Saturday, August 19, 1-4 pm, 12505 NW Cornell, near the former Bingo location
Have you visited the Cedar Mill History Museum yet? We still don't know if we can stay open beyond this month, so be sure to make it over while you can!
We have items from the JQA Young family and other early settlers; photos of early families, farms, schools and businesses; the story of the Atfalati band of natives who lived here; an amazing scale model of the Union Schoolhouse; a huge aerial photo of Cedar Mill in 1961, and so much more! Stop in and discover how folks have made a living here through the years, and how we have grown.
Do you have items to share? Some of the most exciting things that folks have shared include old newspaper articles, school photos and memorabilia, and family memories that fill in the missing parts of our story. History is anything from 1968 and before, and we treasure it!
Cedar Mill Cider Festival
Sunday, September 16, 1-4 pm, JQA Young House, 119th & Cornell
The Cider Festival is happening in September this year! We're hoping to avoid the anxiety about the weather by moving it up a month.
Troop 208 will be there turning the antique cider presses to provide delicious fresh cider to everyone. Retrolicious will serve lunch, maybe with another surprise food vendor! Lauren Sheehan and her band will bring the live Americana/roots/bluegrass music we always love. THPRD's RecMobile keeps the kids busy with fun activities, and we're hoping to have some surprises in store this year in the form of living history demonstrations.
Put it on your calendar and watch for more information in the next issue of the News.
History Club
Thursday, September 20, 2-4 pm, The Ackerly, 11795 NW Cedar Falls Dr. in Timberland
And speaking of sharing memories, we've just begun the Cedar Mill History Club. It's a chance for our "old-timers," and everyone who's interested in our history, to get together and share stories over refreshments. The Ackerly is sponsoring the first meeting. We're planning to meet every few months. Call the Ackerly at 503-350-3400 to RSVP. If you have a neighbor or family member who might be interested, please let them know about it!