Featured Business
Piggyback Plus
Say you have a few thousand feet of lumber that needs to end up in Chicago. Who do you call? Piggyback Plus is a local company that handles all aspects of freight moving for a wide range of customers –from Oregon agricultural products and lumber producers to international shippers. They coordinate "intermodal" freight – the containers that can be carried on ships, rail cars, and trucks across the US and to and from Mexico and Canada.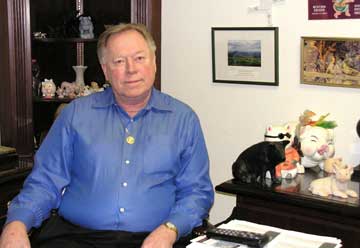 Thomas Cook and a few of his pigs
The intermodal shipping business grew quickly during the early eighties, as the government was looking for ways to save oil as a result of Arab oil embargoes, explains Thomas Cook, owner of Piggyback Plus. That's the time he began to get involved in the industry.
"I actually got a degree in this stuff," Cook says. He began his career with the Pacific Inland Tariff Bureau, a company that helps truckers set rates and meet regulatory standards. He later worked in the trucking industry and for railroads. He was with the Port of Portland for eight years and when he had had enough of the politics, he decided to start his own company. "Piggyback" is a common term for containerized freight movement, so Cook snagged it as the name for his new organization.
So to move those containers of lumber, you just call Piggyback. They arrange everything from door-to-door. "Our customer just gets one bill and we pay four bills," explains Cook. Telephones and computers have streamlined the operation but it still takes, "a lot of talking and personal contact. We are all public relations people here," Cook asserts. Because it's a small company they can offer some of the lowest prices in the industry. You can find out more about their business at "piggy.com"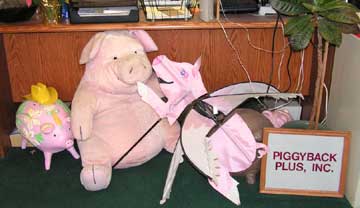 Office piggies at Piggyback Plus
He moved the business to Cedar Mill about 12 years ago, when he found a great buy on a building just south of Filbert on the east side of Murray. The Cook Building contains several professional offices in addition to Piggyback Plus. And their office houses the staff of fourteen and about a thousand piggies – from a huge stuffed pig at the entrance to a collection of carved stone pigs in Cook's office.
A couple of years ago, Cook found a house on Dale, right around the corner so he can now walk to work. And it's usually still dark when he arrives at around 4 AM since a lot of their business needs to be conducted on a global schedule.
Cook is concerned that the "eventual" annexation of our area into Beaverton may threaten the sense of community and closeness now felt by the small businesses here. He agrees that developing and asserting our identity is one of the best ways to keep Cedar Mill a vital community