History in the News


The Cedar Mill General Store

Mary Hall arrived in Cedar Mill with her family in 1852. George Reeves arrived here in 1865 and they married that same year. In 1882, they established the Cedar Mill General Store on land belonging to Mary's family. It immediately began serving as a focal point for the community. It housed the post office after Cedar Mill's first postmaster JQA Young retired, and provided a meeting place to exchange ideas, in addition to supplying merchandise and groceries to residents of the area. Located at the intersection of Cornell and Barnes Roads, it was an important landmark for over 75 years.
It was a typical country store providing feed, baling wire, block salt, clothing and food. Stocked items included Fithian Barker shoes, Bear Brand hosiery, Tillamook cheeses, large bolts of calico, ribbons, big Hoffler Chocolate candies for a nickel, and White King Soap. Local produce included cheese made by Swiss families in the area, eggs, butter, and big slabs of bacon. Sugar, coffee, salt and flour were sold in bulk. A punch board awarded prizes to lucky shoppers and soda pop was offered in a large iced tub.
The store was lit by gas lanterns until electricity arrived. A large potbelly stove with a brass spittoon nearby provided a male nightly gathering place where many social and political issues were discussed.
During economic hard times, the storekeeper generously extended credit to his needy neighbors. Produce was frequently delivered by horse drawn wagon. Later, a 1921 Ford Model T touring car was used to haul stock from Portland wholesale grocery outlets and soda pop from Blitz-Weinhard.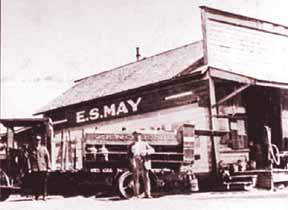 Several owners followed. In 1931 the Beaverton Enterprise newspaper reported: "RR Haskell, Cedar Mill store keeper, was ordered Tuesday night about 10 o'clock by a customer to "stick 'em up." The till and Mr. Haskell's pockets were emptied of small change amounting to about $20.00." Later owners Edgar and Nellie Hoak's daughter Betty Hoak told us she remembered selling penny candy – lemon drops and peppermint sticks – to children in the community around 1937. Other owners included the Reeves son, Burton who later sold it to Erastus Scott May. May's sons Clyde and Howard contributed many photos and lots of information to the Cedar Mill History book.
The historic building was dismantled in 1959 and the site is currently occupied by Xpresso Lube and Cascadia Car Wash.
Find out more in Cedar Mill History (cedarmill.org/history).