Cedar Mill's Hidden Treasure
Hobitt Café has something for everyone
Dabra Shields had worked at the Hobitt Café as a waitress for 12 years. She'd dreamed of owning the place, but didn't have the money. When the owner, Wong Chong Lee, decided to sell the restaurant last summer, she figured, "I guess I'll just go home and do my artwork. The next thing I knew I owned a restaurant!" Shields marvels.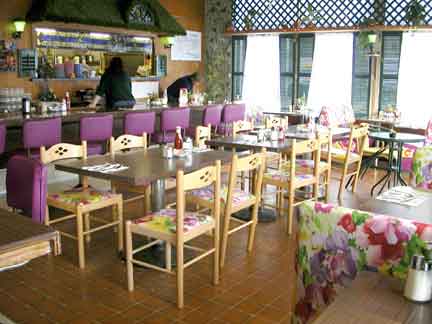 Word about the impending sale had gotten around and some former customers, Jan and Richie Faulbert who had moved out of the area, found out about the sale. They called Lee and said, "Don't give it to a realtor, we're going to buy it for Dabra Shields. "
" I almost fell off the stool when they told me!" Shields remembers. She's paying the Faulberts back and they may become partners at some point.
Hidden away in the heart of the Milltowner shopping center, at the northeast corner of Saltzman and Cornell, the Hobitt Café is one of Cedar Mill's best-kept secrets. Open from 7 am to 2 pm seven days a week, the Hobitt provides hearty breakfast and lunch offerings along with the kind of small-town friendliness and community that 's hard to find these days.
Some of the regulars have been coming in since the shopping center opened in the early sixties. Originally called "Nelson's," the café has changed hands nine or ten times, and acquired its present name in the late sixties during the first big Tolkien craze. (It was deliberately misspelled, but no one can remember why!) Bales market was next door in the present pharmacy location so the café was quite busy. Waitress Susan Salmonsen has been working here for 26 years, and she's now seeing the children she served in the beginning bringing their own kids in.
The community support didn't end with the purchase of the restaurant. Customers and people from neighboring businesses came in and helped her fix up the place – since June Shields has transformed a rather dingy hole-in-the-wallinto a cheerful and cozy meeting place. She's been painting vines and flowers on the wall, and a wizard has recently been installed over the kitchen pass-through.
Another thing Shields has changed is the quality of the food. "We make everything from scratch. We peel 700 pounds of potatoes every week. We fry in a vegetable extract that has zero cholesterol. We quit getting processed meats and mixes," she says. "I come in usually around 4 am. There's a lot of prep involved in serving homemade food. That's why we're not making a profit yet – so much labor is involved in preparing everything fresh."
Their homemade soups are really wonderful – customer favorites include cream of tomato and turkey noodle. Burgers are thick and juicy – the customer favorite is the bacon cheeseburger. "We have a lot of things on the menu that are great for people doing the "Atkins" diet because there's plenty of meat and cheese," Shields points out.
" Some of the recipes have been passed down from the original owners. The sourdough pancakes use a 25-year-old starter," says Shields. "My favorite is the Hobitt Scramble," she says. This is a delicious mixture of scrambled eggs, olives, chiles and cheese over their new potatoes, topped with homemade ranchero salsa. Portions are hearty – the ham steak nearly covers the plate when you order ham and eggs.
" The first couple of months after I took over were pretty crazy. There was so much work to be done, and a lot of stuff I didn't know," she recalls. One hectic morning, Salmonsen looked around to see one of the customers straightening chairs and sweeping the floor. "She went ahead and left a $5 tip. I felt bad, but she said she knew how it was when things get busy," Salmonsen says.
And they still get busy in the morning, especially on weekends. "But now we really have it down," says Shields. "I can go through a busy morning cooking without getting grumpy," she laughs. She works seven days a week except for an occasional day off, when Fran Sittel, a cook and waitress who has been there for 11 years, takes over for her.
Stop in for breakfast or lunch, or call in a takeout order at 503-646-3831. The Hobitt is located just west of Hi-School Pharmacy in the Milltowner Shopping Center at Cornell and Saltzman, behind Mike's Auto Parts.