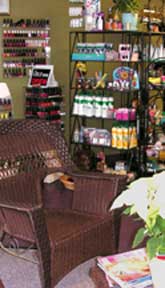 Waiting area at Nails Sophisticates
Nails Sophisticates
For some of us, there's nothing quite as relaxing as sitting back in a comfy massage chair and having a pedicure. There are several nail shops in the area, but the one with the most elegant and relaxing atmosphere has to be Nail Sophisticates located in the little strip at the southeast corner of Murray and Cornell.
Lana Cao started this successful business about seven years ago. She and her husband ran the store until last year, when daughter-in-law Kim Cao took it over. "My father-in-law retired, and Lana was scaling back her hours. My kids are a little older now, so since we wanted to keep the business in the family, I bought it," says Kim. Lana still comes in, but just when she wants to so it's a good deal for everyone. Since Kim took over, they've added more pedicure spa stations and redecorated, but they still offer the same friendly and professional service.
Kim Cao was a young girl in 1981 when her family boarded a boat with 120 others that took them from Vietnam to Thailand. "My dad wanted us to go to America. He died before we could do it. We were lucky because one of my brothers was the captain of the boat." Kim and her mother along with seven sisters and four brothers lived in a refugee camp in Thailand for a year, and then came to Vancouver, Washington with the assistance of the US government. A church in Vancouver helped the family get started.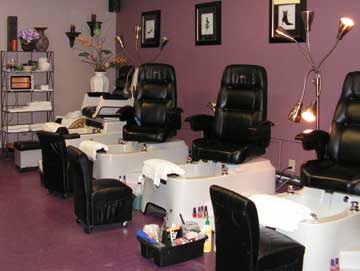 Spa pedicure area at Nails Sophisticates
Most of her family remains in Vancouver. Kim met Lana's son San Cao and moved to Washington County after they married. "My husband's family is all in high tech," Kim explains. The Cao's came from Vietnam to Minnesota in 1975. San went to Portland State and now works at Intel. Kim's family in Vancouver has a restaurant and operates other businesses.
Last summer the shop was one of the victims of a couple of vandalism incidents when BB pellets were shot through the windows. Her shop was spared the first time, but about two weeks later presumably the same vandals hit again. They broke the brand-new windows of her neighboring shops and this time broke hers. She believes that the Sheriff's department has apprehended the suspects.
As if that wasn't enough, now they're having to contend with the Cornell Road project. "It has slowed our business down a little, but our regular clients are loyal and it hasn't bothered them," Kim says. She mentions that quite a few of their customers are men, and they do a lot of pedicures for seniors who find it difficult to get to their toenails!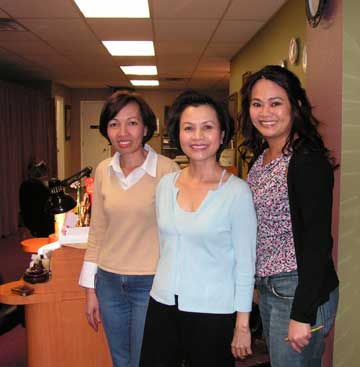 Lynn, Lana and Kim Cao
The shop offers full nail sculpting with acrylic, gel, and silk, plus fills and repairs. They also do regular manicures and they have four spa chairs for pedicures. Other services include facial and body waxing, European facials, body massage and special occasion makeup. They're located at 13405 NW Cornell, and they're open Monday-Friday 9 am–7 pm, and Saturday 9 am–5 pm. You can phone them at 503-526-2052.