Figaro's Pizza
Andrea LeGare and Brice Dick have successful careers, Andrea at Intel and Brice with his own promotional products business (BrandAid,LLC). But they both realized that something was missing in their lives. Examining their personal goals, they realized they wanted to have more flexibility in their lives, to work for worthy causes within a community and with youth. And the answer was pizza!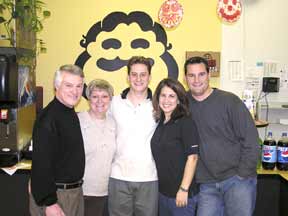 They began to explore the options for pizza franchises and were most impressed with the Figaro's chain, which began in 1981 in Salem. Ron Berger had been at the helm of the organization for three years, and Andrea and Jim were inspired by his vision for the company. They knew they had found a great location when they looked at a space in the Safeway shopping center between Blockbuster and the liquor store.
As Andrea and Brice became more involved with the project, their good friends Jim and Brenda Knapp got excited too and wanted to get involved. Jim also works at Intel, and Brenda is a teacher at Terra Linda. Now the four partners run the Cedar Mill Figaro's together. They celebrated their first year in business last December. Each of them spends time every week either in the store or doing the various operational tasks required when owning a business. "It's really working fabulously," Andrea says. "We all have unique skills that complement each other, and we're more successful as a result. "
Andrea says their biggest challenge is the number of choices available for pizza in this community. They've just launched delivery service for customers within a five-minute radius. Their "we bake, or you bake" policy offers customers a convenient choice. But they feel their greatest competitive edge is the quality and taste of their pizzas. "It's all 100% fresh food, with no fillers, no MSG, and high-quality fresh vegetables," Andrea mentions. Menu offerings include lasagna, calzones, salad and chicken strips.
Pizza as diet food?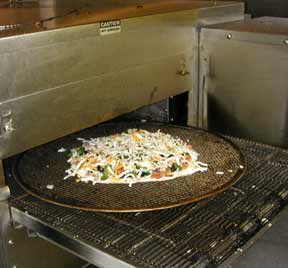 The Figaro's corporation has developed a genuine low-carb pizza. The 8" Low-Carb Personal Pizza contains less than 12 grams of net carbs per pizza. And it's delicious – I tried the Creamy Garlic Chicken and had to share it because it's so filling, dense with toppings. Figaro's CEO Berger drove the development of this offering. "As a low-carb diet advocate, for months I've been seeking an alternative to scraping off pizza toppings with a fork," he said. Made with a wheat-flour base, the crust is thin but robust enough to let you pick up a slice and eat it normally, and it adds a pleasant crunch to each bite.
Community supporters
" We chose the location because it was right on two main arteries, but we have since grown to really love this community. All the owners have developed special relationships with their customers," Andrea tells me. "We all believe that if you do everything with high integrity and honesty, it's going to come back to you. We invest in worthy causes and actively raise funds for those in need. "
Their bulletin board is filled with certificates of appreciation from a wide variety of groups. For some causes they have agreed to donate a percentage of a day's sales. Just after they opened last year, they agreed to donate 100% of a day's proceeds to help Sgt. Damon Coates, the state trooper who was shot in the head during a traffic stop. "We were able to donate over $6000 to Damon and his family. The community really supported the effort – we had people lined up out the door to buy pizza and contribute," Andrea exclaims, " and it was cold, it was January!"
Another benefit raised money in remembrance of a schizophrenic woman who took her own life. The daughter of one of Andrea's Intel colleagues, the young woman became distressed when her support was cut with the passage of Measure 28. Proceeds of that fundraiser support the mentally ill in crisis because of cuts to state mental health benefits, through NAMI (National Alliance for the Mentally Ill). Brochures about the fund are available at Figaro 's.
In keeping with their desire to work with youth, most of Figaro's employees are students of Sunset High School, right across the street. Casey Knapp, the store manager, is the son of partners Jim and Brenda. They love to host school groups for informative tours or as a reward. They even make special kids pizzas with pepperoni smiles.
Come in for lunch or dinner, or call to order takeout, or call for delivery. However you do it, give Figaro's a try. And we want to thank them for becoming our newest members of the Cedar Mill Business Association. You will be able to find The Cedar Mill News there every month, to read while you munch your pie.
Figaro's, 13567 NW Cornell, 503-626-7099