Proposed traffic light, road realignment to ease congestion and improve safety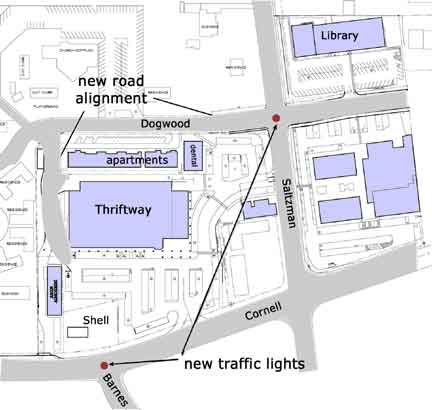 Bales/Findley LLC, the property management company of former Thriftway owner Ken Findley, has proposed a new alignment for Dogwood, the street that runs along the north end of the Thriftway parking lot, so that it crosses into the parking lot between the library and Walgreen's. A traffic light would be installed, improving safety for pedestrians crossing the road there. Dogwood would not be extended eastward until a connection can be made with 123rd or until the Milltowner I Center is redeveloped.
The ultimate goal of this realignment will be to alter automobile circulation around the shopping area. Ryan Egge of Bales/Findley LLC says, "Currently we are in negotiations with Shell Oil Products U.S. and Washington County to redesign the current Shell gas station site to allow for the extension of Barnes Road north to Dogwood Street. Shell has expressed interest in the proposed redevelopment of their property, and Washington County has been very amenable to the proposed plan, in part because this would create the connection between Cornell and Dogwood as described in the Town Center Ordinance." This plan was submitted to the County in a pre-application conference last month, says Egge.
The map doesn't show the redesigned Shell station because no agreement has been reached as of yet. However, the road to the north of the existing station is designed to connect with the proposed Barnes Road extension. It is hoped that an agreement can be reached in time to coordinate current Cornell/Barnes construction with the new alignment, however it's unclear whether construction of the new road would be done concurrently with existing road work.